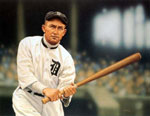 The 20 Most Desirable Bats in the Hobby
In part two of a four part series, we take a look at 5 of the 15 most desirable vintage game-used bats.
Vintage Era - The Top 15 of All-Time
Babe Ruth - A game-used bat from this legend is one of the most prized collectibles in the sports hobby. Imagine holding the lumber that once belonged to Sultan of Swat. Ruth was known to use a monstrous piece of wood, ranging from the mid-30's to the upper-40's in terms of ounces. For example, could you imagine using a bat that's 36 inches and 42 ounces? Amazing.
Earlier in his career, Ruth used bats in the heavy end of the range, but as he got older and his body started to show signs of dramatic deterioration, the bats became lighter but they were still a force to be reckoned with. Ruth also used a balanced bat with a thicker handle earlier in his career but eventually went to a thinner-handled, top-heavy piece of wood.

Ruth bats are not as rare as some other bats on this list, but in comparison to other collectibles, it would certainly be considered a rare item. According to bat experts, there might be around 50 Ruth bats in existence. This is the same number used when estimating the number of Honus Wagner T206 cards in existence. During a very brief period of his career, Ruth would carve a notch into his bat, around the center label, to keep track of every home run he hit. It sounds like stuff of legend and it is, but it's confirmed legend. In fact, four such bats are known to exist with one on permanent display in the Hall of Fame (28 notches) and one in the Louisville Slugger Museum (21 notches). The other two are privately owned, with 8 and 11 notches respectively.
As a player, what can you say? Babe Ruth is the greatest player who ever stepped between the lines. Ruth had a slugging average of .690 (1st all-time), scored 2,174 runs, his home run percentage is 2nd all time at 8.50 (2nd only to McGwire), has 2,213 runs batted is (2nd all-time), 2,056 walks (1st all-time for the moment - Rickey Henderson will pass Ruth soon), has a career batting average of .342, and he hit 714 bombs. Here's the key; Ruth did this much damage even though he had nearly 4,000 fewer at bats than Hank Aaron did. Wow!

Hank Aaron - We all know that "The Hammer" is the all-time home run leader with 755 long drives, but what most fans and collectors don't know is that Aaron is amongst the best ever in other key categories. Most collectors don't realize that Aaron is 3rd all-time in career hits with 3,771. Are you kidding me? Aaron is also tops in runs batted in with 2,297 in addition to being ranked high in many other career categories like runs scored and at bats.
Aaron was known for using both H&B and Adirondack bats. His final year came in 1976 when he used the popular Bicentennial H&B bats. Early in his career, Aaron was not known for using heavy pine tar, but that changed in the early 1970's. Some of his 1970's examples are found with very heavy tar. Due to his approach on Ruth's home run record, many bats were either taken from the locker room or given away during this time period. This is the main reason why you see many early 1970's examples with little to no use; people knew Aaron was going to break the record so his bats became a hot commodity.
One of the toughest bats to find on this list would be a game-used Aaron bat from the 1950's. I have kept nearly every major auction catalogue over the last several years and I cannot find one publicly offered example. They are extremely tough. Another rare Aaron bat would be the elusive home run bat. What could be better than a home run bat from the home run champ? I have seen only two regular season examples and one All-Star Aaron home run bat in circulation. These are great pieces to own, but make sure you have rock-solid documentation to accompany the bat.
Aaron bats may be the most undervalued ones on the list considering his phenomenal numbers. By the way, Aaron's 755 looks safe for now. Griffey and McGwire are chasing it but, to put this number in perspective, you would need to hit 35 homers for 20 straight seasons and then smash another 55 to tie Aaron. Albert Belle was a dominant hitter for a decade who put up great power numbers but, with 381 career bombs, he barely made it half way to Aaron's 755. Aaron's career numbers are incredible; he was a model of consistency.
Willie Mays - The greatest all-around player the game has ever seen, Mays bats are in very high demand. In fact, during the last couple of years, his bats have more than doubled in price. Why? How about a .302 average, 660 homers, 338 steals, 3,283 hits, 2,062 runs scored, over 1900 runs batted in and a slugging average of .557. Mays could do it all. Oh, by the way, Mays was perhaps the greatest centerfielder in baseball history with several Gold Gloves under his belt.
In reality, according to most true baseball experts, Mays is the only 5-tool player to ever reach such lofty heights. He could hit, hit with power, run, field and had a cannon for an arm. Many players have excelled in a couple of areas, but Mays could do all five with maximum ability. Bonds does not have Willie's arm, Mantle did not have Willie's glove, Williams did have Willie's speed, and DiMaggio did not have Willie's power. Mays has no real equal as an all-around player.
When it comes to his bats, Willie was split. He used H&B as well as Adirondack examples throughout his career. Many of his H&B bats are block letter and most only reveal his last name "Mays" because he did not have a contract with them. On the other hand, many of his Adirondack bats show his full signature. Today, Adirondack bats only use block lettering on the barrel. I have seen early photos as well as late photos with each brand in the hands of the great Mays while he was at the plate.
One thing that did change, much like Aaron, is the use of pine tar during his career. Early in his career, Mays was inconsistent with his use of pine tar but, later in his career, you can find Mays bats with a heavy layer of tar on the handle and up to the center label. Also, more Mays examples have the number 24 on the knob than not, so keep an eye out for this detail.

Ted Williams - He wanted to be known as the greatest hitter who ever lived. Are you gong to argue with him? If Ted Williams had not missed roughly five seasons in the service during his prime, his numbers would be absolutely astronomical. Williams finished with a .344 batting average (he is also the last man to hit .400 in a season with a .406 mark in 1941), the highest on base average of all-time at .483, the second highest slugging average at .634, and he hit 521 career homers.
All the way around, he certainly looks like the best hitter to me. His numbers have to be taken in context; those 512 homers could have easily been near 700 without the lost time. Williams hit for an average higher than modern batting champs Tony Gwynn and Wade Boggs, but also powered the ball over the fence at a faster rate than guys like Mickey Mantle and Mike Schmidt. His hitting legacy is nearly unbelievable.
As for his bats, they are amongst the most desirable bats in the hobby. Who wouldn't want a bat from baseball's most legendary hitter? Williams was one of the first players to use a lighter bat (for more control and bat speed). He would occasionally score the handle for grip and the knobs of his bats are interesting. The batboy for the Boston Red Sox used to hand paint the number 9 with a line underneath it on the knobs of Williams gamers. If your bat doesn't have this distinguishing mark, no need to worry, but it is common feature on many of his gamers.
According to Williams, he used H&B bats exclusively even though he did order a few Adirondacks along the way. Finally, Williams has been known to charge as much as $5,000 or more for autographs on game-used bats. The high price for Teddy's pen makes signed Teddy gamers highly prized.
Ty Cobb - One of the toughest bats on the list and the lumber used by a man whose career batting average may never be approached. Could you imagine anyone hitting .366 for his career? I can't imagine most players hitting .366 for a season or two. Cobb is also the all-time leader or amongst the all-time leaders in several key categories. Cobb is second (only to Rose) in career hits, among the best in runs scored, doubles, triples and, surprisingly, runs batted in. Cobb was not a "slap" hitter by any means; he could drive the ball when necessary.
Cobb may not be the most likable player in baseball history, but he was a fierce competitor. Despite his rough approach to people and life, Cobb is still one of the most collectible names in all of baseball. His performance on the field helped to overshadow his mean streak as a person. Cobb was even considered, by some, to be the best player of the first half of the century. That says a lot for a man who played in that first half with a guy named Ruth who would eventually take baseball by storm.
Cobb bats are usually characterized by spike marks along the barrel. Cobb used his spikes is more ways than one and the infielders weren't too happy about that. Luckily, his bats had no feelings. Cobb was also known for occasionally using a unique taping method along the handle, leaving occasional space between the taped portions of woods. This is probably due to his unique hitting style, one that had his hands separated on the grip area. Regardless, Cobb bats are very difficult to obtain and much more scarce than Ruth examples.
This is part two in a four part series that focuses on the top 20 game-used bats in the hobby. Parts 3 and 4 will appear in the next two issues of the PSA eCollector.