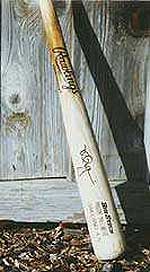 The 20 Most Desirable Bats in the Hobby
Hitting. It's considered the single hardest skill in all of sports. If you fail 7 out of 10 times (a batting average of .300), you are a star. Whether it's raw power or the uncanny ability to control the bat, fans are drawn to the players who make a living driving pitchers crazy. Fans don't go to the ballpark to watch Greg Maddux spot his curveball, they go to watch the hitters show their stuff.
Collectors feel the same way. If you look throughout the hobby, it's the hitter who receives most of the accolades. It is part of human nature. While some fans dream about throwing a fastball by a hitter or snapping a curveball to make a hitter look silly, most of us dream of being at the plate with the game on the line.
The winning run is on second and the count is now full. The fans roar with each pitch, you're down to your last strike. Here it comes, a fastball right where you like it. You connect and the ball explodes off your bat, the connection is so perfect that you almost cannot feel it. You can choose your own ending here. A line drive in the gap, a long home run over the wall in left. It's all the same; you stand alone as the hero.
Players come and players go, but a few batsmen become legends along the way. It is this select group of men who represent the dream. At some point in their careers, they were the players who the little leaguers emulated across the nation. For collectors of game-used bats, these players represent the top of the legendary lumber.
It is interesting to compare bats of different eras. In days past, players used heavier bats made of higher quality wood, which held up much longer than today's bats do. Today, the bats are lighter, much lighter, and they are made with thinner handles because of the focus on bat speed and power. "Slap" hitters of yesterday would often use bats much heavier than McGwire's modern stick. It tells the collector and baseball fans a lot about the changing techniques and styles of hitting; it's a real educating process in itself.
The Top 20 list is based on a combination of factors: offensive accomplishment, popularity and, to a lesser extent, rarity. For instance, there are only two known Monte Irvin game-used bats but, as great as Monte was as a hitter, his offensive statistics fall short and cannot justify inclusion on this list. Here are, in my opinion, the 20 (5 Modern and 15 Vintage) most desirable game-used bats in the hobby (in no particular order).
In part one of a three part series, we take a look at the five most desirable modern game-used bats.
The Modern Era - Top 5 of Today
Mark McGwire - Arguably, the greatest pure home run hitter ever. Now, I am not saying Mark McGwire is anywhere near the overall hitter that Ruth was. The numbers are clear in that regard but, as a pure home run hitter, McGwire is the guy. This guy can launch baseballs into areas of the stadium that are reserved for group discounts. When other top power hitters stand in awe of this guy, you know that Mac is something special. A bat used my Big Mac is a must for the serious bat collector.
From the mean goatee and the massive forearms to the 70 home runs in 1998, McGwire has become a part of baseball lore. If you were to design a power hitter, McGwire would be the prototype. Could you imagine if McGwire would not have lost so much time to injury in his career? He would be chasing 1,000 homers instead of 755. It's mind-boggling!
When it comes to his bats, there are a few things to note. McGwire has used the same bat for almost his entire career, Adirondack. Big Mac used a few Louisville Sluggers during his first year or so in the majors, but he has been a model of consistency since. Look for fairly consistent pine tar near the center label as well as grip marks near the base of the handle.
I have seen McGwire examples that were used nearly 8 years apart and the usage characteristics are frighteningly similar. Surprisingly, Big Mac's bats are not excessively large either and nowhere near the small trees Ruth used to swing. Finally, autographed gamers are tough to obtain due to Mac's very limited signing habits. For authentic game-used and signed St. Louis bats, charities are a good source such as Tony LaRussa's Animal Rescue Foundation.

Ken Griffey Jr. - Along with Bonds, probably the best all-around player since Willie Mays and a guy who, at this point in time, has a real shot at Aaron. Griffey just makes everything look so easy, especially when he has a bat in his hands. His fluid swing looks effortless as he propels baseballs into the bleachers time and time again. Griffey is so graceful at the plate and in the field that people forget that he is actually a big guy. At 6'3, 225 pounds, he breezes through the outfield like a hawk riding the gusts of the wind.
Only in his early 30's, Griffey has the chance to put up some phenomenal career numbers, but he has already done enough to warrant Hall of Fame induction without question. He has already accumulated well over 400 home runs, won several Gold Gloves, an MVP and he has filled highlight reels with some of the most amazing catches you have ever seen. Again, the great thing is that he is along way from done.
When it comes to Griffey's choice of bats, like McGwire, Griffey has been very consistent. Unlike McGwire, Griffey has been Louisville Slugger user for the vast majority of his career. In fact, I have never seen him use another brand. Griffey's earlier models were made with block lettering on the barrel, as with most rookies or young players, and they sell for a fairly significant premium. Since then, Louisville Slugger has produced signature contract models.
Many of Griffey's earlier models were made with natural colored wood while his later models, for the most part, are made in a solid black color. One unique characteristic of most Griffey gamers is the crisscross tape job found on the lower to mid portion of the handle. Brooklyn Dodger legend Duke Snider was also known for using a similar taping method. If I were looking for a classic Griffey bat, especially one used in the last few years, I would make sure I found one with this taping characteristic.
Griffey, like Bonds, provides game-used equipment direct to the hobby. These bats come with a letter, signed by Griffey, to ensure authenticity. These bats usually sell for a premium but, as a reminder, this fact does not render bats without Griffey letters bogus because most authentic Griffey gamers do not come with such documentation. Griffey has also been known to occasionally mark his home run bats with an inscription, but this is a practice that Griffey has only done over the last few years. These bats are also offered with letters signed by Griffey and provide a rare and historically important collectible for fans of the home run. With so much accomplished already and so many years ahead of him, Griffey bats are a very popular choice for bat collectors.

Cal Ripken - Where do I begin with this guy? We all know that Ripken will forever be linked to his incredible consecutive game streak, but that is not where his appeal ends. Ripken's appeal is extreme on almost every level; he excelled in almost every facet of the game on top of being one of the most personable players in the game. There's a lot more to this "Iron Man" than the fact he broke the record held by the "Iron Horse."
From the beginning, Ripken was a standout. In 1982, after drilling 29 homers and driving in 93 runs, Ripken was named the American League's Rookie of the Year. The very next year, Ripken was named MVP of the league after hitting .318 with 27 bombs and winning a World Series title. In 1991, he would win the MVP again with even more impressive numbers. Ripken hit .323 with 34 home runs and 114 RBI. Along the way, besides reaching the 400 home run and 3,000 hit clubs, Ripken has been recognized for his exceptional fielding with a few Gold Gloves. He's a first ballot Hall of Famer with or without the streak.
When it comes to Ripken bats, there are a few things to note. First, by modern standards, Ripken bats are fairly tough to obtain. Rumor has it that Ripken is very protective of his equipment and it is difficult for people to grab them from the locker room. Unfortunately, this is how many modern bats are obtained; they are taken from the clubhouse.
Second, Ripken primarily uses Louisville Slugger bats; however, he also has used a fair amount of Adirondacks over the years. Look for cleat marks on the upper barrel; Ripken is known for banging his cleats with his bats. It's one of his trademarks. As you can see, there are plenty of reasons why Ripken bats are so popular; he is an easy choice for the list.
Barry Bonds - I know what some readers are saying, "How could you include this guy on the list, we don't like him." In the card and autograph world, his collectibles suffer, but not in the bat community. His bats are one of the most valuable from the modern era and for good reason. Whether you like him or not, Barry Bonds is going to go down in history as one of the most devastating offensive machines and best all-around players ever. Statistics do not lie and Barry's numbers are simply phenomenal.
At this point in his career, Bonds has already reached and surpassed 500 home runs, he has won three MVP's, he is a fine outfielder with Gold Gloves galore, he is on his way to 500 stolen bases (he is already the only 400/400 player - 400 homers and 400 steals - and easily on his way to 500/500), was the first National League player to have a 40/40 season (second ever after Jose Canseco did it in the AL in 1988) and has a career average in the .290 range. I don't care how much people dislike him; he's a great, great player.
His bat of choice over the years has been Louisville Slugger but, in recent years, he has also been using quite a bit of SAM bats and Pro Stix bats. The maple wood Sam bats are very popular because of their unique designs and feel; most bats are made from white ash. Bonds is fairly consistent with his use characteristics. He will usually place a coating of pine tar, sometimes light and sometimes heavy, on the upper handle and grip marks near the base of the handle are often noticeable from his batting gloves.
Bonds actually sells his bats directly to the hobby with his own hologram and authentication system. This ensures that collectors are getting the real deal. You might have to pay a premium but, in my opinion, it is worth it. Earlier bats sell for a premium due to the increased population of Bonds bats in recent years; he started the company around 1997. Forget about what you've heard about him, his bat is must for a representative collection.
Mike Piazza - This slugging catcher is a long way from done but, when it is all over, he will go down as the greatest hitting catcher who ever lived. He can hit for average, power and drive in plenty of runs. His uncanny knack for hitting the ball the other way with authority has made him one of the most dangerous hitters in the majors. Most right-handed sluggers pull the ball quite a bit but Piazza, with his almost freakish strength, can hit the ball out from foul pole to foul pole. Piazza credits his high school field for the skill. You see, the fence in left was basically unreachable but the fence in right was indeed a short porch. Constantly taking aim at that short porch produced a habit that helps make Piazza a standout at the big league level. Another facet of his game that fans enjoy is his great intensity. Great intensity is basically inherent when you are talking about a catcher, but Piazza takes it to another level. He has taken a beating behind the plate, but Piazza is resilient and strong. That's what makes his numbers so amazing. I can tell you from experience that, when you are behind the plate, it takes a lot out of you. When the game goes into the later innings and you have to come to bat, your legs feel a little weak and you are drained from the time squatting behind the plate, especially if it's hot. Piazza's bat of choice has been Mizuno over the years, but he has also been known to use some Adirondacks in recent years. He has also used Worth (which no longer exists) and Louisville Slugger bats at times during his career. Autographed gamers are extremely tough because Piazza is just not a frequent signer; these signed gamers do sell for a premium. Many of his well-used bats have a coating of pine tar on the upper handle area, but not all bats exhibit this characteristic. Fine hitting catchers are extremely rare and Piazza might be the best of the group.
This is part one in a four part series that focuses on the top 20 game-used bats in the hobby. Parts two, three, and four will appear in upcoming eZines.