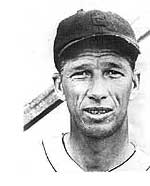 Born on March 6, 1900 in Lonaconing, MD, "Lefty" (for obvious reasons) was considered one of the greatest pitchers the game has ever seen. At 6' 3", 190lbs, this fierce competitor logged in one hundred wins before finally being called up to the big leagues at the age of 25. He often tested the patience of the gentlemanly A's patriarch Connie Mack, but helped produce three successive pennants. This all came before the Depression caused the Philadelphia team to sell off their stars in order to save money for the financially strapped team.
Despite his late start, Grove was able to compile 300 wins against only 141 losses. This included seven 20-win seasons and 2,260 strikeouts. His major league career included Philadelphia (AL) 1925-33 and Boston (AL) 1934-41 for a total of 17 seasons. In 1947, along with teammate Mickey Cochrane, Grove was inducted into the Hall of Fame (#52 via the BBWA). They were the first teammates to be elected during the same year.
Grove batted, threw and signed left-handed. During his playing career, his disposition was competitive, serious, temperamental, and sometimes downright nasty. He would sign his nickname "Lefty" along with his surname to autograph requests. On legal documents, such as personal canceled checks, he would use the more formal Robert Moses Grove.
During the 1940's, he often employed a hand rubber stamp which triggered the public into believing he was illiterate. He was responsive to his mail and receptive in person to autograph requests. After his baseball career ended, he became the proprietor of a bowling alley in his hometown in Lonaconing. He attended most annual Hall of Fame Induction ceremonies and was often a guest at reunions, testimonials and old-timers games. Team signed baseballs were often signed on the sweet spot, shared with another player. There were no physical limitations prior to his death on May 22, 1975 (at the age of 75) that prevented him from signing. He died in Norwalk, OH.
Throughout his life, his autograph remained legible, round, awkward and clear. In the early 1970's, he would often sign with a smaller, aging scrawl that became scratchier and the "ove" in Grove became less distinguished. His signature slant was typically acute; not exhibiting signature breaks until the 1960's when he separated the "G" from his surname. Most identifiable were the trademark large hook-like "L," the descending stroke of the "y" (which usually rose above to cross the "t") and the practically printed final "e."
Grove items are generally available in the marketplace. 3x5 index cards start at $60, black and white HOF plaque postcards $200, gold versions $150, cancelled checks $175, single signed baseballs $2500+ depending on condition and b/w 8" x 10" photographs start at $250. Typically, the majority of photos in the hobby feature Grove at the waist up wearing a Boston Red Sox cap that are captioned "Greatest Living Left-handed Pitcher Living/All-Time."
In 1969, during the Major League Baseball centennial, a poll was taken which named Grove #1 in both categories; apologies to Warren Spahn. His death preceded the Perez-Steele movement and don't expect to see any signed jerseys or bats.