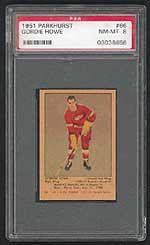 Over the past several years, the effect that PSA has had on our hobby has been unmistakable! More and more collectors have realized greater confidence in their own collections and in potential additions to their collections that have been attested to by PSA. With some brief analysis of the PSA Population Report, we can begin to better understand the true number of individual, high-grade examples out there of many different types of cards. It has shown us that some cards are much easier to locate than once thought, while at the same time recognizing cards that are surprisingly scarce.
The goal of this article is to point out to readers several of the most elusive NON-BASEBALL cards around! Now, most of these cards are not standard rarities that you think of immediately, but rather what would otherwise appear to be common, everyday cards. Hopefully, there will be a card or two from this listing that gives you some incentive to get out there and find a high-grade raw example or two and add some toughies to your collection! Here they are, in chronological order:
FOOTBALL
1894 N302 Mayo (Any cards, any grades)
These enormously rare cards are virtually unheard of in PSA holders. A few months ago, our auction company offered a few examples and we were astounded by the prices that they brought, even in low grades! For these cards, the rarity, when combined with the PSA assurance, adds up to some real value.
1935 National Chicle #4 Ed Matesic
The 1935 National Chicle set is well-loved by collectors for it's inclusion of big name players, great colors, and scarcity. Most cards in the set are somewhat available, with pops of 9 or higher on most of the low numbers. Card #4, however, of one Ed Matesic, has proven to be virtually impossible, as only 1 copy has graded PSA 8 or higher! Other rare cards in high-grade (Pop of 4 or less in 8 or better) are high numbers Dale Burnett, Bull Tosi, Jim Macmurdo, Ernie Caddel, Nic Niccolai, Luke Johnsos, and the set's final card, Bernie Masterson! Dig out a few of these and you're eating caviar!
1948 Bowman
This popular black and white issue features unique number related scarcities, which generally make any card number that's divisible by three tougher to locate than the others! The 108-card set has several rarities in PSA 8 or higher, with the ultimate rarity belonging only to card #27, Tony Compagno, with 0 copies graded 8 or better! Nearing that level are these 5 cards, each one has only one copy graded 8, with none higher: #18 Vince Banonis, #74 Boley Dancewicz, #103 Tom Farmer, #104 Bruce Smith, and #106 Ernie Steele, a man with one of the best football names ever!
1948 and 1949 Leaf
The apex of post-war rarity, these monsters are virtually non-existent in NM-MT or Mint! Interesting to note is that, while at least one copy of every first series card from the '48 set exists in PSA 8 or better, none of these second series cards have been graded that high, and some have never been graded a NM 7! They are #'s 50, 51, 53 Charley Conerly, 54 Chuck Bednarik, 55, 56, 57, 59, 61, 62, 63, 64, 71, 72, 78, 79, 87, 92, 94, 95, and 98! Now that's rare! The 1949 set is only half the size of the '48, but, proportionally, many fewer cards have been graded from this set when compared to the 1948 set! In fact, none of these numbers have seen a single copy grade PSA 8 or better: 3, 4, 10, 23, 31, 37, 38, 43, 47, 49, 52, 57, 74, 81, 90, 126, 144, and 150. Are they out there?
1952 Bowman (Large) Short Prints
There are several of these tough cards that make building a set in PSA 8 or higher a daunting challenge, indeed. Front and center is the card of Eagles star running back Steve "Big Boy" Van Buren, which has seen 11 copies grade NM 7, but none any higher! Other notorious rarities include #9 Joe Spencer, with only 1 copy graded 8, #27 Bob Miller, with (2) 8's, #36 John Lee Hancock (2) 8's, #54 Glen Christian (2) 8's, and #72 John Schweder, with only 1 example graded PSA 8! These are tough, colorful cards!
1952 Bowman (Small)
This is the smaller sized version of the popular 1952 set, and has always been considered to be much easier to find than the Larges, but suffice it to say that, in high grade, these cards are also very challenging! Try these on for size: #75 Joe Kuharich and #108 Hubert Johnston have ZERO examples graded 8 or higher, and #73 Vitamin Smith, #82 Harry Minarik, #87 Mal Cook, #91 Leon Heath, and #133 Bob Williams have only 1 copy each graded PSA 8, and none have any higher! Now that's tough!
1953 Bowman
This colorful set lowered, to 96, the number of cards in Bowman's football set. By 1954, they sprang back with a 128-card beauty before finishing up in style with a 160-card behemoth in 1955. The rarest card in the '53 set is that of #40, Horace Gillom, as only 1 copy has graded 8, with none higher.
1955 Bowman
This is a moderately popular set of cards, which finished Bowman as a challenger to Topps for the gum card championship. There are several rare cards in PSA 8 or higher, and this is a set where a hard worker could really make some easy money by digging and finding these cards: number's 30, 80, 81, 98, 99, 100, 103, 105, 124, 129, 138, 143, 145, 146, and 148, with each having either 0 or 1 copy PSA 8 or better.
1956 Topps
This is Topps first set picturing NFL players and Team Cards. There is a wide disparity of rarity within the set due to the fact that some cards were obviously double or even triple printed, with many of these having populations up in the 30's or 40's or higher. Of the 120 cards in the set, the toughest in PSA 8 or higher are (no surprise) #1 Jack Carson, #25 Leon Heath, #49 Eddie LeBaron, and #70 Don Stonesifer, each with 4 copies graded PSA 8 or higher. The kingpin is currently #94, the great Chuck Ulrich, with only 2 examples graded NM-Mt 8 and none higher!
Certain 1957 Topps HOF'ers in PSA 9
Cards of Hall of Famers like Y.A. Tittle, Dick "Night Train" Lane, Ray Berry, and Lenny Moore are not only undervalued in high grade from this set, they're also non-existent in the Mint 9 grade! Are there untouched diamonds out there somewhere?
1959 and 1960 Topps Johnny Unitas cards in PSA 9
The awe-inspiring "Johnny U" was the leadoff card (or would that be kickoff card?) in both sets, and as of the present time, there are no PSA Mint 9's of either card! I guess the number one toughness combines with the popularity of the great quarterback to make for a couple of vintage rarities!
1962 Topps
These cards are just flat out tough in high-grade! Even nice NM-MT 8's are cause for celebration when they are stumbled across. Not surprisingly, the following key cards have NO examples graded PSA Mint 9: Johnny Unitas, Ernie Davis, Bart Starr, Y.A. Tittle, and both of the Checklist cards, while these keys have a meager Pop of 1 in PSA 9: Jim Brown, Don Meredith, Frank Gifford, and Bobby Layne!
1963 Topps
The 1963's are similar to the '62's in that, with colored borders, they are tough to locate in the Mint grade. These toughies have yet to see a single example grade Mint 9 at PSA: Deacon Jones, Y.A. Tittle, Bart Starr, Sonny Jurgensen, and Checklist #2. Go out and find them!
1965 Topps in Mint 9
These oversized cards are a gorgeous blend of bright colors, white borders, and great players from the AFL, but they all have one thing in common: they're tough to find in Mint condition! Since PSA has only been grading these for a short while I'm sure that some will turn up, so get out there and find them!
1966 Topps Funny Ring Checklist
This is one of the most unique cards that Topps has ever put out, and for some reason also one of the scarcest! The brown borders and the fact that most were probably discarded because it sure doesn't look like a football card combine to create a semi-modern rarity! There have been no examples graded Mint 9 or higher by PSA!
Basketball
1948 Bowman
This granddaddy of all Basketball issues features many expensive cards! These are all extremely desirable, and fortunately most are available in auctions from time to time. The scarcest cards are the 2 final cards in the set, #'s 71 and 72 of the "Guards Down Play" and Carl Braun, respectively. Each has seen only 3 copies come through PSA with the NM-MT 8 grade, and none higher!
1957 Topps
I always found it interesting that Topps issued a basketball set in 1957, but ceased until much later. This set is very colorful and easy to look at. Ultra high-grade examples are pure pleasure to review, and while none of the cards in this set are "impossible," many are surely difficult to locate in high-grade! The toughest are the 2 final cards in the set, #79 Ed Fleming, with only 2 copies graded 8, and #80, Dick Schnittker, with a mere 3!
1961 Fleer
This is one of the most highly collected sets of basketball cards due to the incredible player selection and the fact that they're often available in high-grade! A few have remained very scarce in Mint 9, though, such as #1 Al Attles, with (2) 9's; #2 Paul Arizin, with (1) 9 and (1) 10; #4 Walt Bellamy, with (2) 9's; #31 Tom Meschery, with (2) 9's, #32 Willie Naulls, with (2) 9's, and #33 Don Ohl, with only (1) 9 and (1) 10!
Hockey
1951/52 Parkhurst
These cards will never get the prize for being the most visually appealing, but with so many key rookie cards, such as that of Gordie Howe, in the set, it's got to be respected! Many of these fragile little cards are tough in high-grade, with these four currently holding the crown of toughest: #17 Gerry Couture, with only (1) 8 that's been graded, and none higher; #18 Ross Lowe, with (1) 8 and (1) 9; #70 Harry Watson, with (2) 8's, and #71 Danny Lewicki, with only 2 copies graded 8!
1952/52 Parkhurst
This set is noticeably more colorful than the previous year's issue, while still being exceptionally difficult to find in high-grade! In fact, the following numbers have a grand total of ZERO copies graded PSA 8 or higher: #1 Maurice Richard! #7, #15, #17, #32, #41, #51, #53 Alex Delvecchio, #57, and #98! Are they out there somewhere? If you live up in the North Country, get to work!
1954 Topps
The average card in the 1954 Topps hockey set has seen around 13 examples grade 8 by the wonderful folks at PSA, with most of them having Pops in the teens. One card, however, has somehow eluded collectors and remains the rarest card in the set with only 1 copy graded 8, with none higher! It is none other than card #59, the great Marcel Bonin! Wasn't he a mime? Oh, well, this one's tough!
1966 Topps Bobby Orr Rookie in PSA 9
Finally, we have the incredible rookie card of the greatest defenseman of all-time, the great Bobby Orr! His 1966 Topps rookie card is simply unavailable in PSA Mint 9! There has never been one graded! Only time will tell if this legendary card will show up and take its place as one of the best hockey cards ever!
Well, that's it! Hopefully you've enjoyed this listing of some of our hobby's great rarities! Feel free to e-mail me at chris@superiorsports.com if you want to add to the listing! Happy Collecting!