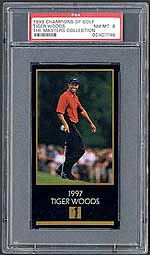 In the beginning there was no golf - which is really a shame considering what a magnificent course the Garden of Eden would have made. Granted Adam's long game may have suffered a bit due to that rib surgery, and his concentration on the greens may have wavered due to Eve's lack of attire, but hey, ya gotta believe it would have been a mighty "tempting" course.
But alas, the world would have to go through battles, wars, and floods of, well - Biblical proportions - before someone finally got around to creating golf. Just who that someone was, we really don't know.
What we do know is that the earliest documented mention of golf occurs in a law passed by the Scottish Parliament in March of 1457, and both Belgium and Holland had passed ordinances pertaining to an unnamed ball game using clubs in 1360. Still, it's hard to settle on any of those sites as golf's genesis when the origins of the sport can be traced back thousands of years. The Romans had a golf-like game called Paganica that made its way to Western Europe as early as 400 AD (anno Domini) and, according to the Chinese Nationalist Golf Association, the game of 'Ch'ui Wan, "the ball hitting game," was created in China sometime in the second century BC (Before Christ).
The debate over who actually invented golf may never be resolved, but the one thing that is known, and open to no viable argument, is that this year marks the sport's fifth anniversary - at least as we have come to know it. Sure your calendars may say we're living in The Year of Our Lord 2001 AD (anno Domini), but in the world of golf it is The Year of the Tiger 5 AT (anno Tigris).
From the moment Tiger Woods turned pro and joined the PGA Tour in 1996, the game experienced its "Second Coming." Golf was born anew - never to be the same again.
To the purists and historians, it should be clearly acknowledged that Tiger is a part of a noble lineage that has defined the game, hovering up there in the rarefied air of golf's royalty with Gene Sarazen, Ben Hogan, Gary Player, Sam Sneed, Arnold Palmer, and Jack Nickalus. However, Tiger did more than just excel at the game; he changed the game, and he changed the way golf is perceived around the globe.
Just as Robinson changed America's pastime, Ali transformed the fight game, and Jordan redefined hoops, Tiger has opened the links. He opened them to millions, who back in the BT era (Before Tiger) considered golf to be the chasing of a little white ball by the white-Anglo Saxon privileged, while they otherwise strolled through well-manicured parks and compared their investment portfolios.
Today, golf has taken on the obsessiveness that was once reserved for games played on diamonds and gridirons. Men and women, who for years pooh-poohed the "so-called" sport as a time-consuming diversion for retirees in God's waiting room, began taking lessons and making tee times. Perhaps most importantly, children, with ancestries other than Western European, who live in the inner cities, and had never identified with the sport in any way other than seeing it as a way to make a few bucks by carrying someone else's clubs, now had a role model.
So just who was this messiah? And from whence hath he come?
Tiger, who was born Eldrick T. Woods on December 30, 1975 to Earl and Kultida Woods in Cypress, California, was dubbed with his nickname before he was a week old. His father bestowed the name upon him as a tribute to his Vietnamese friend Nguyen Phong. Earl and Nguyen had fought side-by-side during the Vietnam War and were each responsible for saving the other's life. Earl always considered Nguyen to be a man of strength with the will of a tiger. Thus he never addressed Nguyen by his given name but rather by the nickname he gave him - Tiger.
In 1970, Nguyen disappeared in the jungle of Vietnam never to be seen or heard from again. Five years later, when Earl's son was born, he nicknamed him Tiger in hopes that his offspring would be as courageous as his lost friend would. Earl has also said there was another reason he called his son Tiger. "I truly believe that Nguyen is still alive," Earl has said. "And I have always hoped that someday, somehow, Nguyen would see the name Tiger and Woods together and make the connection."
In graceful willingness to bow to what has always seemed to be his destiny, the toddling Tiger was as proficient with a putter as his contemporary three year olds were with a rattle. By the time he was eleven years old, Tiger had made a chart comparing himself to Jack Nicklaus and by the time he was in his mid-teens he was able to outdrive the pros that were performing at the top of their game.
After a three year stint at Stanford University, Tiger left the hallowed halls of academia for the fairways and greens that had been beckoning him to turn pro since, as a precocious four year old, he performed his putting prowess to Bob Hope on The Mike Douglas Show.
And thus, in the year of 1996, golf as we knew it ceased to exist. Everything we had come to know about the game had passed away, and behold, the game became new. He performed miracles at Pebble Beach, astounded the masses at Augusta National, and for all we know may have been hitting wine shots where lakes of water once stood at Royal Lytham and St. Annes.
Tiger didn't just change the game of golf; he changed the way people felt about the game. He did it by ministering to those lost souls, who didn't know the difference between a driver and a divot, and drawing them to their television sets and local courses like a mulligan moth to a fairway flame.
And so, is this young man whose ancestral roots can be traced to Africa, China, Taiwan, Eastern Europe and native America, really the "god of golf"? Well consider the words of another man who reigned supreme over his sport - Michael Jordan.
"I admire (Tiger) for establishing a new plateau, a higher ground if you will," said Jordan. "I really do believe he was put here for a bigger reason than just to play golf. I don't think he is a god but I do believe he was sent by one."
Tiger himself referenced the name of the prophet Jordan early on in his career. "I want to be the Michael Jordan of golf," said Tiger. "I want to be the best ever."
So it shall be written...So it shall be done.
The Tiger Sportscard Outlook
We all know by now what a phenomenon Tiger Woods really is. His ability to change the way we perceive golf, as a sport, has been nothing short of miraculous, but what has Tiger Woods meant to the hobby?
The demand for Tiger Woods sportscards has been so great that once obscure modern cards such as the 1997-98 Champions of Golf/Masters Collection and the 1996 SI for Kids examples have outsold some classic vintage issues. In fact, PSA Gem Mint 10 examples have brought $40,643 (Masters card) and $125,000 (SI for Kids card) respectively. The $125,000 sale places the Tiger card in exclusive company.
Here is a list of the 30 highest prices realized of all-time for PSA graded cards:


| | |
| --- | --- |
| PSA Card | Price Realized |
| T206 Honus Wagner PSA NM-MT 8 | $1,265,000 |
| T206 Honus Wagner PSA NM-MT 8 | $640,500 |
| T206 Honus Wagner PSA VG-EX 4 | $325,000 |
| 1951 Bowman Mickey Mantle PSA Gem Mint 10 | $325,000 |
| T206 Eddie Plank PSA NM-MT 8 | $203,000 |
| T206 Joe Doyle Variation PSA Good 2 | $178,598 |
| 1952 Topps Mickey Mantle PSA Gem Mint 10 | $160,000 |
| T206 Honus Wagner PSA VG 3 | $145,314 |
| 1915 Cracker Jack Joe Jackson PSA 9 | $125,000 |
| 1996 SI For Kids Tiger Woods PSA Gem Mint 10 | $125,000 |
| 1952 Topps Mickey Mantle PSA Gem Mint 10 | $121,000 |
| 1954 Topps Hank Aaron PSA Gem Mint 10 | $110,000 |
| 1941 Play Ball Joe DiMaggio PSA Mint 9 | $109,510 |
| 1952 Topps Mickey Mantle PSA Gem Mint 10 | $104,500 |
| 1933 Goudey Babe Ruth #181 PSA Mint 9 | $100,050 |
| 1933 Goudey Babe Ruth #144 PSA Mint 9 | $100,000 |
| 1951 Bowman Mickey Mantle PSA Mint 9 | $100,000 |
| 1933 Goudey Napoleon Lajoie PSA Mint 9 | $95,700 |
| 1953 Topps Willie Mays PSA Gem Mint 10 | $94,798 |
| 1953 Topps Mickey Mantle PSA Gem Mint 10 | $94,000 |
| 1933 Goudey Napoleon Lajoie PSA Mint 9 | $91,466 |
| 1933 Goudey Babe Ruth #181 PSA Mint 9 | $90,000 |
| 1952 Topps Willie Mays PSA Gem Mint 10 | $90,000 |
| 1952 Topps Mickey Mantle PSA Mint 9 | $88,217 |
| 1933 Goudey Babe Ruth #181 PSA Mint 9 | $87,729 |
| 1933 Goudey Sport King Babe Ruth PSA Mint 9 | $85,174 |
| T206 Christy Mathewson (portrait) PSA Mint 9 | $84,100 |
| 1952 Topps #1 Andy Pafko PSA Gem Mint 10 | $83,870 |
| 1863 Harry Wright Benefit Card PSA Authentic | $83,542 |
| T206 Eddie Plank PSA Near Mint 7 | $82,411 |
It's hard to imagine a card made in 1996 could possibly make this list of vintage rarities, but that is clear indication of the power of Tiger.
Until now, no major card manufacturer has produced a Tiger Woods card. The wait is over. Upper Deck, one of the nation's most notable card manufacturers, has decided to produce a golf set that is now available on the market. This issue will include a special subset dedicated to Tiger and interesting chase cards similar to the game-used jersey cards we have seen in other sports except, this time, it will be a game-used shirt card.
The news of the Upper Deck golf card has caused quite a stir in the hobby with many collectors and dealers eager to get their hands on the hot product. With this Tiger card being the first one to be produced by a major manufacturer, many hobbyists are unsure as to how that will affect the other Tiger cards. Will this Tiger card ever reach the price levels of the extremely condition sensitive SI or Masters Tiger cards? Which one will be considered his official rookie card? Only time will tell but the collectors will surely make their stance known in the coming months.
Stay tuned for the card battle.