Mark McGwire hit a home run on opening day in 1998, and the chase was on.
McGwire was chasing Roger Maris and his single-season home run record.
Sammy Sosa was chasing the 61-home-run mark, too.
McGwire and Sosa were chasing each other.
Reporters were chasing each of them.
Today, autograph seekers are chasing McGwire.
Sosa signs through Total Sports Concepts, so his autograph is readily available. Sadly, so are Sosa forgeries.
McGwire does not sign for a fee, but does sign. His autograph comes in variations depending on the signing circumstances, the perceived value of the item and, well, his mood of the moment.
At the ballpark, Big Mac offers a short-handed scribble, something along the lines of initials along the top of an inner-office memo. He can write it as fast as you can say it. "MMG." A few complete autographs are funneled to the marketplace through sources, often coaches, who have befriended McGwire over the years. When McGwire returns home and visits his handlers, he'll typically sign balls to be put away in a vault and sent out at his direction.
McGwire made an appearance at the Cardinals' "winter warm-up" back in February. After a one-year hiatus in 2000, McGwire returned to the winter event.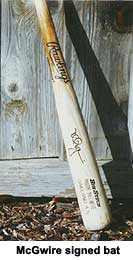 In 1998, his first at the warm-up, McGwire reportedly signed everything in front of him including bats, baseballs, and mini-helmets.
Of course, that season was the most spectacular single performance in 38 years, if not 71 years (Ruth in '27). Collectors began to be flat out crazy for McGwire items. The slugger was well aware of how the free enterprise system was playing with his name the next year, so in 1999, he agreed to sign only flat items and limit the number to 400 items. The Cardinals filled its charity coffers nicely, raffling off 400 tickets.
Macmania worsened with another colossal home run year and he backed off from the 2000 Cardinals preseason affair. He did sign 250 8x10 photographs. Once again, the Cardinals sold raffle tickets for the right to win one of the signed photos.
This year, raffle tickets, designed as a scratch-off game like a state lottery, were hot sellers at five bucks a pop. The lucky 400 would redeem their cards for the McGwire signature. Some winning cards were even fetching between $700 and $1,000 on eBay.
Patrons who had formed a queue to McGwire's signing area were told that their hero would sign nothing larger than a 12x16-inch flat item. For the first 10 minutes of the event, people who'd won the right to obtain McGwire's signature were actually cutting down larger flat items to conform to size requirements. The clamor for scissors became so ridiculous that event officials finally notified the fans that Big Mac would sign all flats, any size.
With a videotape recording every collector and collectible, McGwire signed for one hour. Then, he was gone.
Randall Hahn of Horsham, Pennsylvania., as extensive and feverish a McGwire collector as there is, said McGwire adjusted the variation of his signature based on the item. "I think he does this at his discretion," Hahn said. "If the item is going to carry a premium price with his signature, I think he cuts down on the length of the signature. One woman came through with a jersey. She literally pleaded with him to sign it. The situation was really getting out of control. He finally picked up her raffle ticket, signed it and she was escorted away."
Some fans reached a new level of ingenuity in defining a flat item. They came through the line with his numbers "2" or a "5." What do you know? A flat item.
The numbers taken from a replica jersey would be properly restitched with the signature. What do you know? A signed jersey.
"This is a guy who doesn't like to do this, so anything you get out of him is a plus," Hahn said. He hates the idea that anyone is selling his autograph. The only thing he hates is worse is the notion that someone is forging his autograph. When he saw a copy of Tuff Stuff showing him and his autograph on the cover, he nearly blew a bicep. The magazine was distributed at a National Sports Collectors Convention gathering in St. Louis and was recalled like a car with suspect brakes.
Larry Canale, then Tuff Stuff editor and currently editor of a new sports collectibles publication published by the folks who produce the Antiques Road Show, remembers the embarrassing incident. He said a senior editor got the photo from a dealer (believed to be legitimate). "I'm still not convinced it was bad," Canale said. "But when McGwire protested and said it was bad we had no choice but to black out the signature. Mark actually signed a cover of the magazine, and there were a lot of similarities and some things that didn't look right."
Back to the fest in St. Louis. Obviously, having McGwire at the festival was better than just having his signed product. His presence means more people, more action and more money for the Cardinals Care foundation.
McGwire also made available a game-worn jersey and Tony LaRussa lineup cards from Cardinals Care. The signed jersey sold for $6,000 and came with a letter from the Cardinals, stating that the jersey had been worn in the team's first game last year. The lineup cards ranged from $700 to $2,000.
The one product that deserves McGwire's name, but he will not sign, at least yet, are items connected with the 500 Home Run Club. Hahn says and others confirm that Big Mac is leaving a big hole on 500 Club items. He refuses such items for now for reasons that are consistent with his thinking regarding other premium items. Whether he changes his mind in future years, even long after retirement, and signs items with a new generation of 500 HR Club items is anyone's guess. By that time, collectors will be contemplating the more exclusive 600 Home Run Club baseballs.
Meanwhile, Hahn keeps a close watch on the McGwire traffic on the Internet. "People are getting smarter about not putting one McGwire signature after another on the Internet," Hahn said. "There was a guy who did this. They were all forgeries."
Hahn accepts fees to review and issue his authoritative opinion concerning the authenticity of McGwire signatures, but he isn't so mercenary that he won't offer a quick free opinion.
"There's a guy who keeps emailing me signatures," Hahn said. "I tell you what. They are close, scary close. He sent one that looked like a recent signature, and another that looked like a signature from 1988, but it was obvious that it came from the same pen."
Hahn recently contacted eBay concerning a seller who kept submitting McGwire balls that he believed were forgeries. In turn, eBay contacted McGwire's representatives, who couldn't determine one way or another.
That neutral opinion didn't change Hahn's mind. "I knew they were no good," he said. "After a couple of days, they told me that McGwire's agent - they didn't say which one - said he thought it looked good."
Hahn acted like an interested buyer in snuffing out another forger. A guy was promoting the fact that he had 76 McGwire-signed baseballs. "I inquired for how much could I buy a dozen?" Hahn recalled. "The guy said, 'How much do you want to spend?'"
Hahn said there's an increasing number of talented McGwire forgers in the market. He contends, though, that the forgers give themselves away "because they're trying to make money. I ask them if they have others and they usually have an accommodating answer."
Perhaps his best examples are attainable through select few charitable causes. He may sign items that home team officials leave for him in the visiting clubhouse. McGwire is known to meet those few requests during the last day of a homestand.
McGwire's passion to fight child abuse is known at least in the sports world. He has his own foundation in Long Beach, California. Of course, if he wants to see money flow into a charity like the Ganges during the monsoon season, all he needs to do is sell his signature for a C-note. He'd get a kick out of deflating the market price for his signature. The flow of money would help build the futures of many abused children. Well, off of the soapbox.
McGwire is also a solid player when it comes to helping Tony LaRussa's pet charity, the Animal Rescue Foundation. McGwire is actually a participating board member.
Elena Bicker, ARF director of marketing, said McGwire has come through with a number of highly desireable items for the Foundation. These items have sold in more highly publicized auction venues than the ARF website. More than a dozen McGwire signed items, including a 1998 game-used bat with "Mac25" on the nob and signed "Mark McGwire 1998," and the cache netted ARF around $10,000.
"Memorabilia comes to us in two ways," Bicker said. "People recognize us and choose to get involved or people know Tony and support him. Mark gave him a special cracked bat inscribed 'To Tony.' It says 'To Tony' so he wouldn't use it for an auction. I think it's the bat he used to hit a home run that punched a hole in a scoreboard."
LaRussa writes two lineup cards, one that's posted in the dugout and one that he keeps and makes notes on. "He sometimes has the players sign the posted lineup cards," Bicker said. "He makes notes on the personal cards, and I've never seen the personal ones sold."
The other lineup card is the one posted in the dugout. At the end of each game, LaRussa notes the players who contributed positively to the game on the back of the card. Often, he'll get those players to sign the card himself. Other times, the task is delegated to a clubhouse official or batboy. Barry Clark, an ARF volunteer who loves baseball and has adopted two ARF dogs and four ARF cats, said, "He gets many of them himself because he realizes issues concerning authenticity, but he's also sensitive to infringe on the players' time and privacy."
McGwire's signature is on quite a number of the cards for offensive and defensive contributions. Other times, middle relievers make earn a spot or even someone who sacrifices a runner along. The discretion is all LaRussa's. He's been doing this from his days with the Athletics.
ARF has a limited inventory of cards from the 1998, 1999 and 2000 seasons, bearing McGwire's signature. Lineup cards in which McGwire hit high-number home runs from 1998 generally sell for between $3,000 to $5,000 apiece. Lower number cards from the same year typically sell in the $2,000 range. Thirteen cards remain from 1998; 16 from '99. Clark said ARF takes care to place the cards in auctions where the price tends to be driven north.
The lineups are made available at the end of the year, not during the year, when he is focused on baseball. One exception is spring training and another is when the Cards return to the Bay Area just before the All-Star break for a series against the Giants. ARF plays host to a golf tournament and fundraiser. LaRussa also gets involved with a Baseball Stars to the Rescue show in Tacoma, Wash. McGwire doesn't do shows, not even for his pal LaRussa.
"Mark has been generous in the past in providing ARF with memorabilia items," ARF's Bicker said. "Like every other charity, we would love to have Mark McGwire-signed memorabilia, but Tony has embedded one thing with everyone here and that is all of these relationships with players are precious. We're always careful never to ask too frequently.
"Tony is not out hustling for memorabilia. It's an important part of our business, but not a large part of our business. Tony is very respectful of his relationships, including Mark McGwire's."
This year, The Animal Rescue Foundation will conduct its charitable golf tournament on July 2. ARF also continues to sell its poster of a LeRoy Neiman image of LaRussa with Dennis Eckersley in the background, when both were with the Athletics. The poster, signed by both Eck and LaRussa, costs $35. For more information call (925) 256-1ARF(1273).