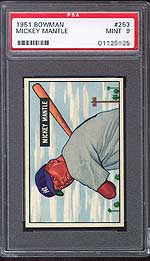 Gerry Hopkins
Computer Consultant
At the age of 47, Gerry Hopkins has been an avid collector for nearly four decades. Gerry and his two sons, Tom(18) and Steve(14), have assembled a monstrous collection of sportscards. In fact, while collecting baseball, hockey and basketball cards, they have surpassed 500,000 total cards. How they fit all those cards into one place I'll never know, but their passion for collecting is so strong that the 500,000 number might seem minuscule after another 10 years of collecting. Gerry was kind enough to spend some time with us and discuss his passion for Mickey Mantle, the New York Yankees, and classic cardboard.
JO: When did you start collecting?
GH: I was about 6 years old at the time. It was about 1960 and I was buying a lot of those nickel-packs of baseball cards. In those days, we didn't have any plastic holders or sleeves to protect our cards. We just threw them in shoeboxes, surrounding them with rubber bands. Another practice, that didn't help the condition of the cards, was "flipping." My friends and I would take our baseball cards and "flip" them along the concrete and against a wall. This was great for the condition of the cards (laughs).
JO: What is your focus?
GH: My collector focus is, without question, baseball cards. I also collect non-sports material from the 1960's. Both of my sons have different interests. Tom is an avid hockey card collector while Steve collects basketball cards. We all try to collect the key issues and players from the respective sports. I really enjoy going after the key rookie cards, especially vintage and Hall of Fame players. It's fun to chase great cards of players like Yogi Berra, Ted Williams and Joe DiMaggio.
JO: What are some of your favorites?
GH: My two favorite gems are my 1951 Bowman Mickey Mantle, a PSA 7, and my 1952 Topps Mickey Mantle, a PSA 6. I am very proud of these two cards because I worked hard in order to upgrade them. In fact, I am going to try to obtain a PSA 8 of the Bowman example and a PSA 7 or 8 of the Topps issue within the next couple of years. I think the constant goal of upgrading is a good lesson for my sons and to any young collectors out there. As you get older, you end up with more disposable income and, if you are patient, you can increase the quality of your cards. I always encourage people to buy quality items; it's the best way to go. The other favorite in my collection would have to be my 1948 Leaf DiMaggio. As the number one card in the set and with the great eye-appeal it has, this one is a keeper with a lot of potential.
JO: In your opinion, why are Mickey Mantle collectibles so popular?
GH: As a lifelong New York resident from Bayside Queens, I have fond memories of "The Mick." Even though 99% of the current residents from Queens are Mets fans, the Yankees were the team to watch when I was a child. It was just a magical time in baseball during the 1950's and 1960's. I remember going to the ballpark and watching the Yankees play, they were just so dominating. There was no question as to who was the main man in New York; it was always Mickey Mantle. He was the ultimate sports icon.
JO: How has grading changed your collection?
GH: This one is easy for me to answer. A few years ago, I made a big mistake. I bought two cards from a dealer, one 1952 Topps Mantle and one 1979-80 O-Pee-Chee Wayne Gretzky rookie. I sent them in to PSA and they both came back trimmed. At first, I was frustrated and angry, but then I told myself I would never buy another ungraded, high-grade, key card unless it was already graded by PSA.
JO: What are your collecting goals for the future?
GH: My goals are somewhat simple but, in reality, quite expensive. I am looking to upgrade most of my keys but I am also trying to assemble complete sets. I recently bought a 1969 Topps set because it was the last year that Mantle played and I also am trying to finish my 1952 Topps set. The 1952 Topps set is about 40% graded and, eventually, I want every card to grade PSA 6 or better. Now I am going trying to obtain every set in between (laughs). It's going to be difficult, but I want a Topps set from each year that Mantle played.