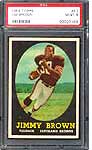 Vintage Jerseys Steal the Spotlight at Hunt Auction
Ty Cobb and Lou Gehrig; these are two of the most recognizable names in sports history. We have all seen the recent surge in the "piece of jersey" card market over the past year or so, but how would you like to own the entire jersey? Hunt Auctions offered a 1927 game-used Lou Gehrig jersey and a 1928 game-used and autographed Ty Cobb jersey in their latest sale. When the bidding stopped, the Gehrig jersey closed at $187,000 and the Cobb closed at $236,500. Both items clearly dominated the Hunt sale, but there were also several interesting prices to report. Below is a sampling of highlights from the auction:


| | |
| --- | --- |
| Item | Price Realized |
| 1928 Ty Cobb game-used/autographed home jersey | $236,500 |
| 1927 Lou Gehrig game-used road jersey | $187,000 |
| Lou Gehrig store model glove | $1,870 |
| 1915 Cracker Jack Joe Jackson PSA 6 EX-MT | $8,800 |
| 1916 Sporting News complete set (GD/VG-NM) | $22,000 |
| Lot of 7 PC760 Rose Co. Picture Postcards (1908-1909) | $4,290 |
| 1942 St. Louis Cardinals World Series press pin | $2,200 |
| Ty Cobb single signed baseball | $9,900 |
| Babe Ruth single signed baseball | $38,500 |
| Babe Ruth/Lou Gehrig signed barnstorming photo | $22,000 |
| Lou Gehrig photo circa 1939 | $1,870 |
| Hank Aaron game-used bat circa 1965-1972 | $3,850 |
| Christy Mathewson (team) cabinet photo circa 1901 | $4,400 |
| Babe Ruth pitching photo circa 1915 | $3,300 |
| Charles Conlon photo collection of 66 | $50,600 |
| Johnny Unitas game-used jersey circa 1970-1972 | $22,000 |
| Satchel Paige Coca Cola advertising piece circa 1953 | $4,290 |
| 1980 Tug McGraw game-used glove | $4,455 |
| Group of Addie Joss Day panoramic photos (3) | $35,200 |
| Satchel Paige/Josh Gibson signed baseball | $36,300 |
As you can see, there were some outstanding prices realized in the auction. David Hunt, president of Hunt Auctions, offered some insight into the sale. "I was pleased overall, and going into the auction, there were a lot of people watching so the pressure was on," explained Hunt. "Initially, we were concerned about the high-ticket items, but they all did fantastically well which was comforting to see, not only for us, but also the collecting public."
If you are a current client of Hunt Auctions, you may have noticed the increase in quality of the items and the catalogue. "Our bidder registration was up 30% which was an encouraging sign," said Hunt. "We are always looking for fresh items, that is something we try to offer our bidders each auction. At Hunt Auctions, we don't keep running the same material over and over again, we have a very loyal following so we are constantly trying to acquire quality items."
As far as trends were concerned, Hunt noticed a slight softening in one price area. "Items that fell between $2,000 and $7,000 were a little soft this time around," explained Hunt. "Ironically, that price range is usually where we excel. I guess that is just proof that some collectors were affected a bit by the economy. It certainly wasn't major by any means, but I did notice a slight change."
Hunt Auctions will be holding another high-quality offering sometime over the next few months and we will keep you informed of the latest prices from their sales.
Top of the Pop Features Cream of the Crop at Goodwin Sale
The focus was clear and the bidders responded. If you have low population cards, no matter what year or sport, the collectors will come. After some very active bidding, the latest Goodwin and Co. auction closed with a total of $130,241. This is despite the fact that the auction only featured a grand total of 40 lots. Quality, not quantity, took center stage.


| | | |
| --- | --- | --- |
| Card | PSA Grade | Price Realized |
| 1915 Cracker Jack Rube Marquard #43 | 9 | $6,950 |
| 1952 Bowman Phil Rizzuto #52 | 9 | $2,356 |
| 1957 Topps Dodgers Sluggers #400 | 9 | $23,558 |
| 1958 Topps Jim Brown #62 | 9 | $14,300 |
| 1958 Topps Eddie Mathews All-Star #480 | 9 | $4,718 |
| 1959 Topps Bill Skowron #90 | 9 | $483 |
| 1961 Topps Whitey Ford #160 | 9 | $1,597 |
| 1962 Topps Yankees Team #251 | 9 | $2,284 |
| 1962 Topps Harmon Killebrew #70 | 9 | $1,936 |
| 1963 Topps Dodgers Big Three #412 | 9 | $3,119 |
| 1964 Topps Stand-Up Roberto Clemente | 9 | $5,125 |
| 1964 Topps Stand-Up Juan Marichal | 9 | $1,610 |
| 1964 Topps Eddie Mathews #35 | 9 | $2,695 |
| 1963 Topps N.L. Batting Leaders #1 | 9 | $3,450 |
| 1964 Topps N.L. ERA Leaders #1 | 9 | $2,212 |
| 1965 Topps A.L. Home Run Leaders #3 | 9 | $1,646 |
| 1968 Topps N.L. Home Run Leaders #5 | 9 | $2,200 |
| 1969 Topps Carl Yastrzemski All-Star #425 | 9 | $1,997 |
| 1970 Topps Willie Mays #600 | 9 | $3,933 |
| 1963 Topps Carl Yastrzemski #115 | 10 | $6,820 |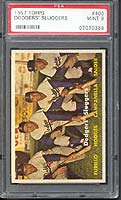 After the sale, Bill Goodwin, president of Goodwin and Co., saw some very encouraging signs. "I was very happy with the sale; it was nice to see so many new bidders participate in conjunction with our loyal customer base," explained Goodwin. "The combination made for an exciting auction."
Goodwin was also quick to point out some trends from the sale. "I continue to see surging interest in the league leader cards," said Goodwin. "When you can get more than one Hall of Famer on a card, it turns out to be a real bargain. With so many collectors assembling runs of players like Mantle, Mays, Aaron, Musial, etc., there are so many options. I also believe that we will be seeing a lot more collectors get involved with sets again. If that happens, it will only fuel the demand for these leader cards even more."
The 1964 Topps Stand-Ups also grabbed the attention of bidders; Goodwin noticed the interest. "The 1964 Topps Stand-Ups really offer the collector a great value," Goodwin explained. "The set is small in total number, but full of Hall of Famers, so the potential seems great. The only problem is that they are very tough to come by in high-grade so collectors are left with few buying opportunities."
Look for future auctions and direct sales from Goodwin in the Sports Market Report. "I would like to get back to doing more direct sales through catalogues and at shows," said Goodwin. "Direct sales really help facilitate relationships between the dealer and the collector. I hope to make some innovative strides in this area."
Fresh Cracker Jacks to Hit the Market
It's not often when you come across an untouched group of ungraded cards these days. With interest in vintage sportscards and prices at an all-time high, the raw cards have been consumed by the dealers and collectors alike, searching for that elusive gem that might pass PSA's strict standards. When a truly impressive group does surface, it is news to the hobby and collectors take notice.
As the editor of SMR, I constantly get email and phone messages from collectors asking me if I know of anything fresh entering the market. Is there anything in the auction that you think I might like? Is there anything in that group for me? The questions are repeated each week and it's understandable. An informed collector is a happy one; I used to pester dealers with calls each week asking the same questions. It was the only way to get an opportunity at a new gem.
Here's sneak peek at some fresh gems that will soon hit the market:
It all started with a phone call to SportsCards Plus of Laguna Niguel, California. "The gentleman who owned the cards saw our ad and was eager to strike a deal with us," explained David Kohler, President of SportsCards Plus. "He was a big collector of toy trains from the 1950's and other collectibles, but baseball cards just weren't his thing."
Then where did he get this set?
"This gentleman, who lives out on the East Coast, was left this set by his grandfather," said Kohler. "In 1971, when his grandfather passed away, the set was placed in a bank vault and preserved there even since. It remained there untouched for 30 years; this was a nice find and one that came out of nowhere."
As you might imagine, the quality is outstanding and each card has recently been graded by PSA. "The overall quality is truly fabulous, with most of the cards grading PSA NM-MT 8," explained Kohler. "Some of the keys were so nice that they made the Mint 9 grade including the Christy Mathewson, the Connie Mack, and the Ed Walsh card. We are happy to announce that we have decided to offer these cards for direct sale as singles rather than hold them for auction months down the road. Many collectors are looking to fill sets and they are excited at the opportunity to pick up a high-grade example."
SportsCards Plus can be contacted toll-free at 800-350-2273 for more information about the Cracker Jack cards.
Superior Sale Features the Best of the Best
On Thursday, March 22, Superior Sports Auctions will be offering some of the finest sportscards seen on the market in a long time. If you are interested in bidding, there's no need to wait. Superior is taking bids as we speak via fax, mail or the Internet. PSA 8's, 9's and 10's fill this fantastic sale. Gem Mint examples of players like Hank Aaron, Mickey Mantle, Ernie Banks, Yogi Berra, Pee Wee Reese, Duke Snider, and Roger Maris are all here. Some of these examples are so rare that you may not see them again for quite some time.
Other interesting highlights include a Mint 9 Nolan Ryan rookie, a NM-MT 8 Gordie Howe rookie, various Roberto Clemente cards graded Mint 9, and several high-end cards for you basketball, football, and hockey fans. From a Mint 9 T206 Miller Huggins to a Mint 9 Derek Jeter SP rookie card, there is something for everyone.
To bid online, click here. For more information, you can contact Superior at 231-922-9862.