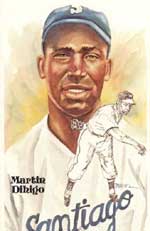 Martin Madaleno Dihigo (Llano) was born on May 25, 1905 in Matanzas, Cuba. Dihigo means "son of somebody" in Spanish. During his playing career in baseball he weighed 190 lbs at a height of 6'3". He was married and had children including Martin, Jr. who played professional ball in the United States (San Diego of the Minor Leagues).
His professional career included seasons in many leagues in the countries of Cuba (1923-27, 1930), Mexico (1940-44), Venezuela (1933), United States- Negro League (1929-31, 1935-36, 1945) and the Dominican Republic (1937). The versatile right-handed Dihigo played all positions well although he entered Cooperstown (1977-# 159) as a second baseman. He equally excelled as a pitcher (218 wins vs. 106 losses), batted .319 lifetime, and is recognized by many historians as the greatest third baseman and outfielder in Negro League history. He is the only man inducted in the Cuban, Mexican and United States Hall of Fames.
Dihigo's right-handed signature was always legible and often ended with the initials LL, an abbreviation for his mother's maiden name Llanos. Lifetime individual characteristics of his autograph included a slanted dash in place of a dot over the "i", high upper loop in the "h" -taller than the capital "D", and an odd elevated connection between the "D" and the "i".
Most surviving signatures in existence today were retrieved from team baseballs, typed and handwritten (in Spanish) letters, documents and books from his estate. I have seen few baseball related examples in the hobby. Dihigo was family-oriented, well read (he loved poetry), warm and humorous. Letters to his son were filled with racial awareness and fatherly advice. According to his Grandson Martin III, who resides in the ancestral cement row home, his grandfather had suffered a debilitating stroke in 1965, which ended his radio career. This also incapacitated his autographing habits in which his wife willingly assumed the signing duties. It was common for her to non-maliciously handwrite letters with content about her husband's career and then sign his name. The final three years of Dihigo's life were confined to an institutional nursing home where he could not even recognize visiting family members.
Dihigo's autograph is not an easy acquisition and I would classify as being rare. His signature should carry a minimum value of $1500. Although he was an obliging signer to autograph requests in person and by mail, American collectors had little interest in obtaining or recognizing his significance. And for the few that diligently pursued him; they had limited access due to a poor mail system, unpublished address and inability for visitation. He retired to his hometown of Cruces; near Cienfuegos, Cuba where he served under Castro as the national Minister of Sports and hosted a popular radio show "Excelsior" in the nearby city of Santa Clara. His death at the age of sixty-six on May 22, 1971 in Cienfuegos preceded his posthumous National Baseball Hall of Fame election by six years. Although his countrymen have revered him as a national hero during his lifetime, his destitute community, or the Country of Cuba have failed to honor him with an appropriate burial site. In comparison, the elaborate shrine and museum of fallen revolutionist Ernesto "Che" Guevara that is just miles from the "grave" of Dihigo is a shameful oversight to the greatest athlete in Cuban history.