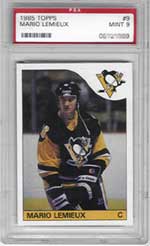 It's hard to say who is happiest about the stunning return of Mario Lemieux: the Pittsburgh Penguins and their fans, the powers that be of the National Hockey League, or hobbyists whose collections include some of Super Mario's prime cardboard.
Following Lemieux's retirement after the 1996-97 season, fans in Pittsburgh still had reason to cheer. Having inherited the title of World's Greatest Player from Lemieux, Jaromir Jagr earned three consecutive league scoring titles to reinforce that status. But even with Jagr repeatedly claiming the Art Ross Trophy, team success eluded the Penguins. And in the weeks prior to Lemieux's return, the franchise faced a crisis of sorts. Mired in a personal slump, Jagr reportedly asked for a trade from the struggling Penguins.
So when Lemieux, who also happens to head the ownership group of the Penguins, announced in late December that he would attempt a comeback, cynics suggested that Number 66 was returning to preserve both Jagr's relationship with the Penguins and the franchise's marketability. While such pragmatic reasons may have influenced Lemieux's decision, one could not doubt his passion for hockey and his desire to play the game only at its highest level.
Le Magnifique officially returned to that level on December 27, 2000. In his first game back, a 5-0 whitewashing of the Toronto Maple Leafs, Super Mario netted a goal and added two assists. Three nights later, he torched the Ottawa Senators for a goal and three assists. A 50-goal, 100-point season seemed within reach, even though Lemieux did not play in the team's first 36 games-let alone in a NHL game in more than three years. More importantly, the Penguins suddenly became contenders for a berth in the Stanley Cup Finals. The possibility of Lemieux and the Penguins garnering more NHL hardware this season may seem implausible, but Lemieux has made a career of making the astounding seem routine.
The first selection of the 1984 NHL draft, Lemieux earned the Calder Trophy as the league's top rookie of 1984-85. Two more 100-point seasons followed. On the heels of a sublime performance in the 1987 Canada Cup against the former Soviet Union, Lemieux reached new heights in the 1987-88 NHL season. With a 70-goal, 168-point season, Lemieux broke Wayne Gretzky's stranglehold on the Art Ross and Hart trophies. The following year, he tallied 85 goals and came within one point of joining Gretzky's exclusive 200-point club. Lemieux seemed poised for a third straight scoring title in 1989-90 -- and for a career that would rival Gretzky's in terms of statistical magnitude-when a herniated disc cut his season short. Though his recovery from offseason back surgery limited Lemieux to just 26 games in 1990-91, he led the Penguins to their first Stanley Cup championship and earned the Conn Smythe Trophy, registering 44 points in the playoffs. A year later, Lemieux won his third scoring title despite playing in just 64 games. And Pittsburgh won its second straight Stanley Cup with Lemieux again taking playoff MVP honors.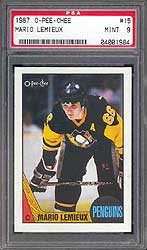 Lemieux's torrid start in the 1992-93 season put Gretzky's single-season records of 92 goals and 215 points in jeopardy. But in January 1993, a biopsy of a node removed from Lemieux's neck revealed Hodgkin's disease. Radiation treatments forced Lemieux to miss two months, but he returned to finish the season and posted an eye-popping 69 goals and 160 points in 60 games, enough to earn him his fourth scoring title and second MVP award. Unfortunately, complications from another back operation caused Lemieux to miss most of the 1993-94 season. Pain and weakness also forced him to miss the entire 1994-95 season. Super Mario returned, though, and won back-to-back scoring titles in 1995-96 and 1996-97. Still at the top of his profession, Lemieux left the game in 1997 at the age of 31.
Of course, the impact of Lemieux's comeback at age 35 cannot be measured merely by statistics and standings. Prior to Lemieux's return, the biggest NHL story of 2000 may very well have been Marty McSorley's vicious slash on Donald Brashear and McSorley's subsequent criminal trial. A likely first runner-up: the continuing acrimony between Eric Lindros and the Philadelphia Flyers, which is closely linked to the league-wide problem of head injuries. Lemieux, though, has single-handedly thrust the NHL back into the forefront of the sporting nation-and for all the right reasons.
Lemieux embodies the artistry and valor of the sport like no other active NHLer. The league certainly has its icons-Jagr, Patrick Roy and Mark Messier, to name a few-but none has the presence of Super Mario or The Great One. With Lemieux, the NHL again boasts one of the few truly transcendent active athletes. Perhaps only Tiger Woods and a healthy Mark McGwire possess auras as captivating as Lemieux's.
And while the trend may not rival the mass demand for McGwire's 1985 Topps card during 1998 and 1999, or the recent meteroic rise of the Tiger Woods SI for Kids and Champions of Golf/Masters Collection issues, Lemieux's return has sparked renewed interest in his key cards.
Interestingly, while demand for 1980s hockey cards heated up over the course of 2000. Lemieux's major issues seemed to be sluggish sellers during the year. A pair of PSA 9 1985-86 Topps Lemieux rookies sat for a while in the Collectors Universe eShop, apparently drawing little interest at $175 a piece. PSA 9 O-Pee-Chee rookies regularly sold for $300 to $400. I vividly recall a November Teletrade auction that included a perfectly centered PSA 9 O-Pee-Chee Lemieux RC. Having scored a few hockey cards at great prices in Teletrade auctions, I thought I might have been able to come away with a high-grade Lemieux rookie for under $300. But I wound up dumbfounded by the winning bid of $475, thinking to myself that whoever purchased the card had badly overpaid.
Two months later, however, that winning bidder is enjoying the spoils of foresight and good fortune. While PSA 9 Lemieux rookie cards were probably destined to bounce back to and eventually exceed SMR levels, nobody could have predicted Lemieux's return. The effect of that return on the hobby was nearly immediate. By mid-January, PSA 9 O-Pee-Chee rookies were on fire while PSA-graded MINT Topps rookies sold consistently. A scarce PSA 9 second-year O-Pee-Chee Lemieux card sold for nearly $180. The comeback also created a hobby halo effect, heightening the demand for Jagr rookies and piquing interest in the rookie cards of talented youngsters Jan Hrdina and Milan Kraft.
Lemieux's successful return to the ice undoubtedly has sent collectors searching for striking raw examples of Lemieux's early cards and has increased the volume of his cards submitted to PSA. If Super Mario can continue scoring at his two points-per-game clip and again lead the Penguins to playoff glory, demand for his key issues will continue to outpace supply.