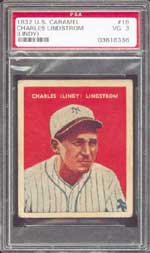 The Hall of Shame Voting Process
Most collectors know how a Hall of Fame induction can significantly affect the value or the demand for an athlete's autograph, card, or bat. The call from the Hall can turn an otherwise mildly popular athlete into a necessity to a hobbyist's collection. For instance, if you are focusing on Hall of Fame pitcher autographed baseballs, you have to find a Don Sutton and Phil Niekro example if you want your collection to be complete. Those guys may not have been the most exciting players to ever walk on the field, but once they were inducted to the Hall, they immediately became desirable.
Now to the 2001 voting. Once again, the voters have left me perplexed beyond comprehension. The voters never cease to amaze me with their lack of logic and inability to leave their own personal bias out of the equation. As many of you know, Dave Winfield and Kirby Puckett were inducted and they are both deserving guys if you ask most people. So what about the rest of the group?
Take Gary Carter for example. This guy has career numbers and accomplishments that almost mirror Carlton Fisk's. Fisk was voted in already, but Carter was rejected again in 2001. Why is this so? If a player has the credentials to get in, he should be inducted. Carter, as a catcher, easily deserves to be in the Hall, but for some reason, he has been denied once again. Carter, during his era, was the best catcher in the National League. He picked up more votes this year so I guess he must have hit .400 on his softball team.
Carter is just one of several guys who have been overlooked and here is a look at four examples of the dilemmas that face potential inductees.
"Too many deserving players on one ballot" - This approach is ridiculous. Once again, if a player deserves to get in, he should get in no matter how many great players appear on the ballot. Unfortunately, it is obvious to a lot of fans that this factor does come into play. It never should.
"This player wasn't the absolute best so we will make him wait a few years" - Making a player wait to be inducted, just out of principle, is ridiculous. If the player is deserving of induction, he should be inducted the first time that he is included on the ballot. What is the point of making the player wait? Even if the player is a borderline Hall of Famer, he should be inducted right away. What if the poor guy dies after being overlooked for years and then he gets in? What's the point? Let the player enjoy it while he is alive.
In addition, remember that you don't have to be the best to make the Hall, you have to be one of the best amongst the thousands of men who have played the game of baseball. If only the best were included, the Hall would be filled with four or five players. Please! If the numbers and the accomplishments are there, there should be no question.
"This player's team didn't win enough" - What? It's nice to have a World Championship under your belt, but how can you judge a player on team performance? One player cannot dominate baseball, unlike basketball or football, over the course of a season. It is true that a pitcher can dominate like Pedro Martinez or Bob Gibson, but a team cannot ride the performance of one man the whole way. It's just the way the game is designed. Why is it that many voters use this as part of their criteria?
I don't get it. It's true that there are guys in the Hall who never won a World Series but should it even matter? If I were voting, I would focus on the performance of the player. If the player had a World Series under his belt, it would be icing on the cake in my book.
"He didn't dominate his position enough" - This factor is not really discussed too often, but I think it should be. The reality of baseball, as well as other sports, is that there are certain positions on the field that are made for the key players on each team. It is not always the case, but it is tradition. For example, for every great second baseman or catcher, I can name five or ten great outfielders.
Here's my problem. If we can all recognize the disparity here, the fact that some positions are talent-laden while others are not, why do voters focus on this factor as much as they do? I do think it is a legitimate factor, but there are guys that will never make the Hall who were actually better players overall than players who are in the Hall. If you were a general manager, are you telling me that you would pick Rick Ferrell or Phil Rizzuto over Jim Rice or Dale Murphy? Please!
I hope that the voters do a better job in the future and stick to the facts. There will never be concrete criteria, but hopefully, there will be more consistency and logic applied to the voting.
1932 US Caramel Fred Lindstrom Highlights
SportsCards Plus' February 28th Auction
Laguna Niguel, CA -- The Southern California based company will offer one of the scarcest cards ever produced, the 1932 U.S. Caramel #16 Fred Lindstrom. Until 1990 little was known about the card and price guides were listing the card as "not issued." The fact is the US Caramel Company, fearful that too many prizes may be redeemed, deliberately short-printed this card to prevent collectors from finishing their sets. During a period when times were tough, the US Caramel Company of Boston offered either 3 baseballs or one fielder's glove, a $3 value, to anyone who sent in a complete set of 32 cards.
The first example, a card that was cancelled by two puncholes, turned up a decade ago and proved that the company made at least one! For years this card stood alone as arguably the rarest major issue card in the hobby. Then, in 1998 a man came forward with another Lindstrom! This one had no punch holes! He had originally found the card in a pack back in 1932 and had never sent it in for redemption. Entering the hobby through the auction process, the card sold in an ungraded state for $92,000 back in early 1999. This card brought National notoriety with a 2 or 3-minute segment on Fox sports news! SportsCards Plus obtained the rarity and has since had the card encapsulated by PSA. The PSA 3 VG card represents the only known PSA example ever to be offered. Collectors will be thrilled at this once in a lifetime opportunity.
The February 28th, 2001, 242 lot auction will also offer the opportunity to own a PSA 10 GEM MINT 1998 Grand Slam Ventures Tiger Woods, a card that some believe to be the most valuable modern card ever put up for sale. Golf's "Golden Boy" has accomplished more in his 4 years on tour than most in the profession could only hope to attain in a lifetime, eclipsing even early records of the immortal Jack Nicklaus. The set was issued as "Champions of Golf-The Masters Collection" and featured past Masters winners up to 1997, the year Woods took the Augusta course and Masters title by storm. The phrase CONDITION SENSITIVE definitely applies to this oversized, black-bordered beauty that is always the last card in the cellophane wrapped packs, other than a cover card. Over 3,700 of these cards have been graded with only two making the GEM MINT grade. The Hobby is abuzz with speculation as this is the first pristine example to be offered for public sale in a major auction.
And what would any auction be without Mickey Mantle! SportsCards Plus will offer 45+ lots that will contain regular issue, team and combo cards of the legendary Bronx Bomber. Leading the way are his 1951 Bowman (RC) and 1952 Topps cards in PSA 8. PSA 9 Mint cards are also plentiful, starting with the ultra-popular 1953 and 1956 Topps Mantle cards that are sure to garner much attention. In addition to these gems, the Laguna Niguel based company will offer one of only three 1954 Dan Dee Mantles to be graded PSA 9 MINT, one of two 1962 Topps #318 The Switch Hitter Connects PSA 9 MINT and a 1969 Topps Super Mantle PSA 10 GEM MINT (1 of 5 graded PSA 10).
On top of all that, this auction also boasts several other rarities, sets, and exclusive offerings. A 1934 Zee Nut DiMaggio PSA 5 card, accompanied by the coupon on the bottom which one rarely sees, leads the way here. Following closely behind is another one almost never seen, an E107 Cy Young in PSA 5. Other rarities include the T206 Sherry Magee, which incorrectly spells his name Magie and the T205 Hoblitzell card that is missing his statistics on the back! Another offering that really stands out is a blistering T213 Ty Cobb/batting, the only example to be graded an outstanding PSA 9 Mint. A partially autographed 1933 Goudey set including a Ruth signature and a 1986-87 Fleer basketball set with every card graded PSA 9 Mint highlight the set offerings.
For more information on this auction, please contact Sportscards Plus at (800) 350-2273 or email them at [email protected]