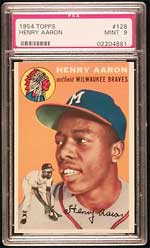 Collector Profile: Hal Lewis, Attorney
SMR: When did you start collecting?
HL: I think it was the summer of 1973. My friends and I would go to the baseball field and play all day long. We would bring soda pop bottles with us and, after we were done playing, we would turn them in at the local store in exchange for 1973 wax packs. My first entire set was the 1977 Topps set and I put that one together a few years later. I would eventually stop collecting altogether.
SMR: What brought you back to the hobby?
HL: I give a lot of credit to PSA and the Internet. I got back into collecting because I now felt comfortable spending significant amounts of cash on sportscards. PSA was a respected, third party authenticator and I felt a new excitement about buying, and I felt secure. The Internet just made things so much easier for me as a buyer. There just aren't too many big hobby shows or conventions around here and that's where the Internet comes into play. The Internet allows me to keep swapping with other collectors and it allows me to buy sportscards from dealers nationwide. PSA has been a great compliment to the Internet sector of the hobby. I don't even need to see the card if I know that it's graded by PSA; I know the quality I will be getting and the market is there. I always dreamed about collecting great sportscards and now I can.
SMR: What does your collection mainly consist of?
HL: When I got back into collecting, I realized I had to be selective. I had to remind myself that I couldn't own everything. I started by trying to assemble a collection that contained at least one card of every baseball Hall of Famer. Then, my goal changed. The revised goal was to acquire a rookie card, or best card if there was no official rookie card, of every Hall of Famer. The current goal is to acquire the best rookie card (or best card if one doesn't exist), in the highest grade, of every Hall of Famer. I have a complete run but I am still trying to upgrade. I felt that this was a great way to teach my son about the history of the game and have fun doing it. He is the only child in his class that can tell you who Heinie Manush is (laughs).
SMR: If you had to choose, what would be some of your favorites?
HL: Without question, it would be my Hank Aaron rookie card in PSA 8. He was my favorite player growing up. As a boy in Tallahassee, Florida, the Braves were the only team within 1,000 miles (laughs). I got the chance to witness Hank's 713th home run and that stands out as a great memory for me. It wasn't 714 or 715 but it was special to me. A few other favorites would include my Nolan Ryan rookie card graded PSA 9. There are no PSA 10's yet so this is the highest one so far. Another favorite would be my PSA 7 Cap Anson 1887 N28. This card is also my kid's favorite card because it is just so old. My son also really enjoys the PSA 10 Mark McGwire rookie card we have too; McGwire is a hero to many kids today. That reminds me, I also collect modern players, who seem to be headed for the Hall of Fame, in PSA 10.
SMR: Where do you go from here?
HL: Well, like I said before, I am always trying to upgrade. The two cards that seem to be giving me the most trouble are two 1948 Leafs, Larry Doby and Hal Newhouser. I just can't find them in high-grade. I have at least a PSA 6 of everyone on the list. From the 1932 US Caramels to the 1952 Topps cards, I have every card in at least a PSA 7 and, from 1952 to present, I have at least a PSA 8 of every Hall of Famer. The hunt for upgrades continues to be a lot of fun.
If you would like to view Hal's wonderful collection of Hall of Famers, you can visit www.lewisbaseballcards.com on the Internet for a look at his run.