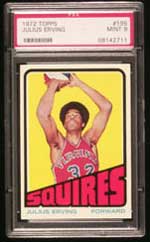 While analyzing a list of the 10 greatest NBA players wasn't easy, I'm sure some of my picks will no doubt be questioned. While it was definitely fun putting together the list, I tried to focus on players that were not only great on the court, but also great to their team. A desired rookie card of the player, for collecting purposes, was also included on the list. Here's my top 10 player list in NBA history.
Kareem Abdul-Jabbar of the Milwaukee Bucks and Los Angeles Lakers
A man not only known for his signature shot "the sky hook," but perhaps the game's greatest center and one of the most dominant forces in NBA history. His list of personal and team accomplishments may be one of the most impressive in the league's history: Rookie of the Year, member of six NBA championship teams, six-time NBA MVP, two-time NBA Finals MVP, 19-time All Star, two-time scoring champion, and a member of the NBA 35th and 50th Anniversary All-Time Teams. Jabbar, who was also known as Lew Alcindor in his earlier playing days with the Bucks, owns 8 playoff records and 7 All-Star records. Jabbar has a notable resume indeed.
In 1995, Jabbar was selected to the Naismith Memorial Basketball Hall of Fame. His career statistics include a 24.6 scoring average and 38,387 career points, a NBA record.
Rookie Card
Jabbar's rookie card, actually Lew Alcindor's rookie card, is found in the 1969-70 Topps set and the card is worth close to $1,500 in NM-MT condition. Not many high-grade examples of his rookie card are floating around so expect to pay a premium for this rookie if you can find one.
Larry Bird of the Boston Celtics
One of the game's greatest shooters and a true superstar, Bird was a life-long Celtic playing for one of the game's greatest franchises. A product out of Indiana, Bird was a 12-time All-Star and won three straight regular season MVP awards from 1984-86. At the end of his storied career, Bird finished with 21,791 points (24.3 ppg), 8,974 rebounds (10.0 rpg) and 5,695 assists (6.3 apg). During his career, Bird won three championships for the Celtics and, while he would only play for one team, Bird coached the Indiana Pacers for three seasons and led Indiana to the 2000 NBA Finals before losing to the Los Angeles Lakers in six games.
Rookie Card
It almost seems unimaginable, but Bird's rookie features not one but two players who find themselves on this list: Bird of course and Earvin "Magic" Johnson. The card comes out of the 1980-81 Topps set and besides the two above-mentioned players, Julius Erving is also included. The three-panel cards are very tough to find with the rookie card worth around $900 in mint condition and more than $4,000 in gem mint.
Wilt Chamberlain of the Philadelphia Warriors, 76ers and Los Angeles Lakers
Many call Chamberlain basketball's most unstoppable force. It would be rather difficult to prove them wrong. The record books don't lie and, in Chamberlain's case, the accomplishments are many and are as follows: Chamberlain was the only NBA player to score 4,000 points in a season, he set NBA single-game records for most points (100), most consecutive field goals (18), and most rebounds (55).
One of his most awe-inspiring statistics include the 50.4 points-per-game Chamberlain averaged during the 1961-62 season-and, not to mention, the 48.5 minutes per game he averaged the same year. Second all-time (behind Jabbar) in career points with 31,419, Chamberlain is tops in rebounds with 23,924 and, of the 30 best regular-season scoring performances of all time, Chamberlain claimed 20. While the numbers died down in his latter playing years, Chamberlain was a member of perhaps the greatest NBA team ever assembled. The 1971-72 Lakers set a NBA record by winning 33 games in a row en route to a 69-13 record and a NBA title. Chamberlain retired in the 1972-73 season and was elected into the Naismith Memorial Basketball Hall of Fame in 1978. Chamberlain passed away on October 12, 1999, but his legacy will live on forever.
Rookie Card
When looking at a price guide you would be hard pressed to find any Fleer releases in the early 60's or even the entire 70's. Fleer's lone release in 1961-62 features Wilt's rookie card and it is worth around $1,700 in NM-MT condition with not many mint and gem mint Chamberlain rookies floating around. Expect to pay a "pretty penny" for his rookie in top grades.
Bob Cousy of the Tri-Cities Blackhawks,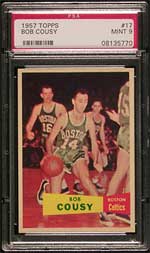 Chicago Stags and Boston Celtics
Cousy ranks as one of the greatest passers and playmakers in NBA history. He was one of the main reasons the Boston Celtics were such a dominant force in the 50s and 1960s. A 1970 selection into the Naismith Memorial Basketball Hall of Fame, Cousy left the Celtics with 16,955 points (18.5 ppg), 6,945 assists (7.6 apg), and an .803 free-throw percentage in 917 games. In 109 playoff games, he averaged 18.5 points and 8.6 assists and, in 13 All-Star Games, the two-time MVP averaged 11.3 points and 6.6 assists. Cousy was also a member of the NBA's 25th, 35th, and 50th Anniversary Teams.
Rookie Card
Cousy's rookie can be found in the 1957-58 Topps set and lists for about $1,000 in NM-MT condition. Any true mint copies of the Cousy rookie are worth much more and you would be very hard pressed to find one. Not many exist.
Julius Erving of the Philadelphia 76ers
The man simply known as "Dr. J" was one of the most dominant players of his time, an innovator whose on-court moves were nothing short of amazing. Erving began his career in the American Basketball Association as a member of the Virginia Squires and the New York Nets. An amazing ABA career led many to believe that Erving was one of the main reasons for the ABA-NBA merger in 1976.
Once in the NBA, the 6-foot-7 forward played 11 seasons for the 76ers and was an All-Star each season, the league's Most Valuable Player in 1981 and a five-time member of the All-NBA First Team. He scored 30,026 points in his combined ABA and NBA career; only Jabbar and Chamberlain have scored more points in the history of the NBA. Erving's 1982-83 76ers also won the NBA title and are considered by many as one of the top 10 greatest NBA teams ever assembled. Erving was elected to the Naismith Memorial Basketball Hall of Fame in 1993.
Rookie Card
"Dr. J's " rookie card can be found in the 1972-73 Topps set and is easily the most desired card of the set listing for approximately $375 in NM-MT condition with true mint copies fetching over $1,000.
Earvin "Magic" Johnson of the Los Angeles Lakers
Not only one of the most unique players to play the game but also one of the best, the man they called "Magic" was simply a gift to the basketball world. A 6-9 player from Michigan State who could play any position on the floor and do it easily, Magic was a talent on the court that will never be seen again. On the floor, Magic could do it all and he did, he was a member of five championship teams, he won the MVP award and Finals MVP award three times each, he was a 12-time All-Star and a nine-time member of the All-NBA First Team.
In his 13 NBA seasons, Johnson compiled 17,707 points (19.5 ppg), 6,559 rebounds (7.2 rpg) and 10,141 assists (11.2 apg). While Johnson stunned the basketball world with his announcement that he tested positive for the HIV virus in 1991, he still coached the Lakers for a brief time and even returned to the court in the 1995-96 season. With a place in the NBA Hall of Fame already assured, Johnson can still be found at Laker games and owns a chain of movie theaters in minority neighborhoods around Los Angeles and other areas.
Rookie Card
As stated earlier, Johnson's rookie can be found in the 1980-81 Topps set right along with fellow NBA rival Larry Bird. The three-panel card, which also features Julius Erving, is worth $900 in mint condition and fetches thousands in gem mint condition.
Michael Jordan of the Chicago Bulls
The man they call "Air Jordan" was very simply the game's most dominant force in the 80's and 90's and very well may be the greatest ever to play the game. Jordan's many notable accomplishments include six championships, five MVP awards, six NBA Finals MVP awards, 10-time All-NBA First Team selections, nine-time All-NBA First Defensive Team selection and 11 NBA All-Star Games. Jordan's honors could take up the entire SMR and the highlights could run for hours and hours. When it comes to Jordan and his game, the word "amazing" isn't enough. His place in the game is permanently etched at the top and his retirement may have come too soon for fans. Jordan left the NBA as one of the greatest, if not the greatest, to ever play the game and it will stay that way for a long time.
Rookie Card
In Jordan's case, he has many cards but one stands out amongst the rest. His 1986-87 Fleer rookie, a key is a very popular modern set, is worth about $3000 in mint condition but, in gem mint form, it is worth over $20,000 and the card has sold for even more on occasion. Beware of chipping along the edges. It can severely damage the eye-appeal.
Oscar Robertson of the Cincinnati Royals and Milwaukee Bucks
"The Big O" may go down as one the NBA'S best all-around players and, if you need any evidence of this, just look at his 1961-62 numbers. During that season Robertson averaged 30.8 points, 12.5 rebounds and 11.4 assists per-game, an average of a triple-double for an entire season. Have you ever heard of numbers that impressive? During a 14-year career, Robertson averaged 25.7 points and finished with 26,710 points, his scoring average is the seventh-highest mark ever, and he averaged 30 points or more in six seasons. Other notable feats for Robertson include 12 straight NBA All-Star Game selections, 9 straight All-NBA First Team selections; he won the NBA MVP award in 1963-64 and helped the Milwaukee Bucks win the NBA Championship in 1971. He was elected to the Naismith Memorial Basketball Hall of Fame in 1979.
Rookie Card
Robertson's rookie card can be found in the very popular 1961-62 Fleer basketball set. Robertson is one of a few major rookies that help make the set so collectible. Rookie cards of Wilt Chamberlain and Jerry West, two other legends on this list, are also included. While you can find this one sharp, centering has always been a problem.
Bill Russell of the Boston Celtics
Russell was the cornerstone of the Celtics' dynasty that ruled the 60s and cemented Russell as one of the game's most dominant forces. A five-time NBA MVP and a 12-time All-Star, the 6-9 center amassed 21,620 career rebounds, an average of 22.5 per game and he led the league in rebounding four times. He had 51 rebounds in one game, 49 in two others and a dozen consecutive seasons of 1,000 or more rebounds. One more notable fact about Russell was he won enough championships to fill his entire 10 fingers and one toe; Russell's Celtic teams won 11 titles in his 13 seasons. This is a feat not even the great MJ could achieve.
Rookie Card
Bill Russell's rookie card might just be the toughest of the group. The 1957-58 Topps basketball set is notoriously difficult and a real condition rarity. A young, slender Russell is pictured in a full body pose against a very dark background. Everything from centering to print defects causes this card to be at the top of many collector want lists in high-grade.
Jerry West of the Minneapolis and Los Angeles Lakers
West was one of the game's deadliest shooters and a great defender. During a 14-year career, West established himself as one of the best guards and best players to compete in the NBA. During his career, West was the third player to reach 25,000 points (after Chamberlain and Robertson). He was an All-Star every year of his career and led the Lakers to the NBA Finals nine times. He left the game holding records for career postseason scoring and the highest average in a playoff series. West was a member of one of the greatest NBA teams ever assembled, the record breaking 1971-72 Lakers, and was enshrined in the Naismith Memorial Basketball Hall of Fame in 1979.
Rookie Card
The Jerry West rookie card has always been one of the most popular in the hobby. It can be found in the 1961-62 Fleer basketball set, a set filled with early basketball stars including other key rookies like Wilt Chamberlain and Oscar Robertson. Look for centered copies on this one; centering is certainly one of the card's condition obstacles.