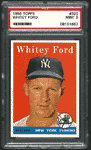 "The Bargain Hunter"
We all know who these guys are. They might be one of your friends or just a fellow hobbyist that you see at the shows or local baseball card shop. We have all heard the stories, each one more ridiculous than the next. No, I am not talking about the sensible buyer or the collector who works hard to find a truly great deal. I am talking about the dreaded "Bargain Hunter."
The "Bargain Hunter" is the guy who brags about every "great deal" he makes. He wants you to know that you were the one who paid too much for your item while he stole his from some unsuspecting soul. He's the guy who doesn't understand card grading, the difference between fine quality and poor quality, the truth about what a good deal is and what is not, and he certainly would never buy anything from an auction because auctions are all for dummies in his mind. Whatever you do, don't become a "Bargain Hunter!" Here's why:
First, the "Bargain Hunter," while he thinks he is brilliant, is more susceptible to fraud than any type of collector. You might be wondering, "Why?" I'll tell you why. "Bargain Hunters" are fraud magnets because their refusal to pay for quality items leads them down a road of forgeries and junk. For instance, when authentic Mark McGwire single signed baseballs are selling for $800 or more, this guy wants to pay $250 because he thinks the other thousands of collectors are crazy or stupid. Nine times out of ten, it is the "Bargain Hunter" who is left holding the worthless or overpriced item. A McGwire signed ball might not be worth $1,500 but I would rather overpay for a real one than pay $250 for a fake. The fake is worth absolutely nothing.
Second, the "Bargain Hunter," while he thinks he is getting great deals all the time, is sacrificing quality for quantity. This is always a mistake. For instance, some collectors think they are getting a great deal when they pick up a "raw" VG-EX card for about 40-50% of the so-called "book" value. The thing that they do not realize is that, when they go to sell their "deal" cards, a dealer will offer them about 10% of book if they get an offer at all. With quality items, you may have to pay a premium at the time you buy it, but there is a much greater chance that the item will increase in value or at least retain value by the time you decide to sell. There is always a market for nice material.
Finally, the "Bargain Hunter," while he thinks he is outsmarting people and entertaining us with his stories, is very annoying. He is an annoyance to other collectors and to the market. Let me explain. If there were less "Bargain Hunters," the authentic items would be worth much more than they currently are. For instance, if collectors did their homework and realized that they had to pay a huge sum for a beautiful Lou Gehrig signed baseball, the market price would actually increase. The problem is you have these "Bargain Hunters" thinking they are getting great deals when they pay $7,500 for a Gehrig ball (though a fake) when they should be paying in the neighborhood of $40,000 or more. If all of that "Bargain Hunter" money were used towards only the authentic items, there would be more competition as a result.
The bottom line is that we should all try to avoid becoming "Bargain Hunters" because it's better for you and certainly better for the hobby. Again, I am not talking about those collectors who do find legitimate deals on sports memorabilia or those who work hard to find them. I am talking about the collectors we have all seen or at least heard about, the legendary "Bargain Hunter."
Ron Oser Auctions Steps Up With $2,000,000 Auction
After some very competitive bidding, the final numbers were in and Ron Oser Enterprises finished with $2,003,849 of total bids. With a noticeable improvement in catalogue quality, the auction house received a great response. Some of the more notable items were as follows: A pair of autographed 1933 Goudey Ruth and Gehrig cards ($18,055), a Bobby Jones signed photograph ($3,069), a 1991 game-used/autographed Mark McGwire bat ($3,537), a Bill Terry game-used bat ($5,700), a rookie era Johnny Bench game-used, autographed bat ($1,599),

a Mike Piazza game-used/autographed bat from 2000 ($2,618), a Lou Gehrig signed photograph ($9,934), a Cumberland Posey handwritten letter ($5,983), a 1959 Topps N.L. Hitting Kings graded PSA 9 Mint ($3,739) and a 1958 Topps Whitey Ford graded PSA 9 Mint ($3,739).
Where are the Superstars?
Recently, I was talking with a bunch of friends about football and a very interesting topic came up. We were trying to name as many football superstars as we possibly could, but we could only discuss active players. Needless to say, most of us had a hard time naming more than a few and some of the players we mentioned were marginal at best. There are a lot of "flash in the pan" stars but we were trying to name perennial superstars.
A few years ago, you could have mentioned players like John Elway, Dan Marino, or Joe Montana. Even the active players, who were once superstars as recently as a few years ago, seem to be fading fast. What happened to Troy Aikman? I guess he has just been hit too many times. What happened to Brett Favre? He still shows occasional signs of greatness, but he is no longer dominating. Other players are still performing at a high level, but for some reason, they have lost some of their appeal as individuals. It's almost like you can't put your finger on it, but you know it's there.
There are a few guys who are future Hall of Famers that can still put up some good numbers like Jerry Rice and Chris Carter, but they will be gone soon. However, there is hope. Some of the young quarterbacks in the NFL seem to have the ability to take their performance to the next level such as Daunte Culpepper and Peyton Manning. There are also some great young athletes in the league at the running back and wide receiver positions. It will be fun to watch them improve. There are a few guys capable of very big things.
The next thing that came into my mind is how the lack of superstars in the game might affect the modern football sector of the sportscard hobby. Every sport experiences a time like this where the true superstars of the game begin to age and, perhaps, the young crop of talent has yet to blossom. It happened to baseball in the 1970's and into the early 1980's to some degree, but due to the nature of the game, football is more easily affected. There are very few positions in football that can produce a true superstar. Offensive linemen and punters never get the chance to steal the spotlight, it is just the way the game is played. The quarterbacks, running backs, and wide receivers are the focal point.
Will collectors scramble to predict who the next big star will be? There is always a scramble, but there just might be more urgency. Will football, as a sport, suffer from the lack of marquee players? Most hard core fans actually like it because the league is more competitive when there are fewer "bullies" smacking the rest of the teams around like San Francisco did for a stretch several years ago. Will modern football cards take a dive? I don't think so because there are always items to collect. The choices are virtually unlimited for the modern fan and, as the game becomes more competitive and interesting, collectors may be even more likely to immerse themselves in the game.
I would just keep your eyes out for the next true superstar; he might stand out and receive more attention than you can possibly imagine.