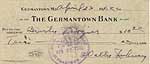 Our hobby has long embraced the popular collectible of Baseball's Hall of Fame signatures. These autographs come in countless forms including photographs, balls, bats, postcards, and index cards. With the increased demand for such treasured valuable keepsakes, a formidable adversary has plagued our hobby – namely forgeries. No segment of collecting signatures is immune from this gnawing cancer, but one form of autograph shines bright above all others – the cancelled check.
The processed bank draft has been coveted by a growing force in the industry as a safeguard amongst the high percentage of forgeries in other areas. One attractive consideration that has been a growing acceptance is the number of different possible signatures that can be obtained. Of the 249 Inductees into the National Baseball Hall of Fame, there are 143 different full cancelled checks known at this writing – fifty-eight percent of the total number of Inductees! This is an incredible sampling considering that latent new checks surface every few months and many of the bank notes that are not part of this current population are that of living (i.e. Sandy Koufax, Bob Gibson, Nolan Ryan) or recently deceased Hall of Famers (i.e. Luke Appling, Lefty Gomez). This fact increases the chances of new checks to be added to our checklist due to their recency. Obviously, if a Hall of Famer died some 70 plus years ago, the likelihood of uncovering his checks is far more remote (i.e. Addie Joss, Joe McGinnity, Rube Waddell).
Why are cancelled checks so desirable? Primarily, they are legal documents that have the date of the exact transaction. This enables the authentication process to pinpoint the specific time and reason of when and why the draft was generated. More often than not, the check has the additional handwriting that includes the date, payee, amount, and even a memo. The check is unique in the sense that it is a specific payment for a bill for a certain time.
I find it to be a tremendous interest to be able to peek into a small window of the makeup of the person. Often the check tells a story. Perhaps it shows how generous the player was to charities, what country club dues he generated, how much money he had to part with due to taxation or if his disposable income was spent on booze, cars, traveling, or medical expenses.
The individual prices vary depending on a number of factors: rarity, condition, and the grandeur of the player/executive/umpire. For instance, the value of a relatively obscure Hall of Famer such as Travis Jackson (d. 1987) may not seem significant but if it is the only one known in existence, then collectors are willing to pay a high premium for it. A 3x5 index card of the New York Giants Shortstop may on carry a retail of $25, but a unique check from him may sell as high as $2,000. A "new find" of others would drastically alter this high figure. On the other hand, there are an ample number of Walter Johnson checks in the marketplace, but because of his high status in the industry and a careful control of the distribution by family members the price has maintained a $1,300 retail. A check's condition, like all other collectibles, is important. If the check possesses tears, mechanical perforations, or rubber stamp cancellations that violate the signature, smudges or severe folds, one can expect a decrease in its value and desirability. A Christy Mathewson check in any condition is valuable but a pristine one will deserve a premium price tag. A check written out to a significant subject (i.e. Jackie Robinson check made out to the NAACP) would demand a much higher price than him simply paying his gas bill.
Some players have been reluctant to part with their cancelled checks. They may feel it is an invasion on their privacy. To convince the Hall of Famers, I have often asked them when purchasing their drafts to segregate the ones deemed sensitive and perhaps only sell me the ones that pay their mundane cable TV or electrical bills.
What about a wife signing the player's name to facilitate a time constraint? Over the years I have rarely seen this occur. Many spouses have their names also printed on this joint account, thus removing the need to sign their husband's name. In rare cases the wife may have accommodated in the players absence but she does not have the skills of a forger and often it can easily be identified by comparison.
I've heard the unsubstantiated rumors of Mrs. Claire Ruth signing for the Babe but I've yet to see an example where she signed her husband's name. Admittedly, I've examined versions where she filled out the balance (or body) of writing on the check; however, the signature has always been that of the G. H. Ruth's.
The most commonly asked question I get in reaction to the public awareness of check collecting as a hobby: Where did you find these things? There are many different ways they surface. Often the players or their heirs release or sell them into the market. At one time when the hobby was not consumed with the capitalism of today, a family member would graciously send a full check upon request. Now that money is a consideration, players/family members have sold them in bulk (i.e. Max Carey, Waite Hoyt) or a few even sell them directly to the public (i.e. Gaylord Perry, Rick Ferrell). Some checks have literally been rescued from the trash. Aaron checks were inconceivable until the Atlanta Braves changed stadiums, cleaned out some old pesky files, which included some business checks written in the 1980's. Otherwise I saw little to no chance of Hammerin' Hank letting go of his personal ones. Another method of bringing these desirable signatures to market is when a player makes out a check to a party and the payee does not deposit it. If Joe DiMaggio gave you a check for $80 for payment of his dry cleaning, it would be silly to cash it when its value is $1,500. True, it is not cancelled but I'd live without the bank markings and $80.
The most disheartening stories come from relatives of deceased Hall of Famers that bear the bad news that the checks were destroyed, never known to exist (G. C. Alexander), thrown away (Chuck Klein), or lost in a flood (Jimmie Foxx). After some players died, their family members would cut off the signature portion of the whole check to satisfy an autograph collector. Ouch! This was the case with Mel(vin) Ott, A. C. (Dazzy) Vance, J. Franklin Baker, J. J. (John) McGraw, and Charles A. (Kid) Nichols. I've omitted placing any altered or player endorsed (back signed) checks from my checklist. Full front signed cancelled versions only!
Checks come in various sizes. There was no standard throughout the years. Some are pre-printed others and others are entirely filled out by hand. They come with and without the player signatures printed, an assortment of designs and colors and have been cancelled by the banks, gently or indiscriminately obliterated.
A recent nuisance has created a potential problem to the future of collecting potential Hall of Famers. Banks now often do not return the cancelled checks to their private customers. Only a detailed statement comes back in the mail with a listing of the checks issued. On the other hand, business checks typically are processed and returned spared from the paper shredders.
My favorite two stories about convincing Hall of Famers to sell me their checks are as follows:
Leon Day, the Negro League hurler told me he had not had a checking account in 40 years. Meeting him at a weekend card show, I told him that if he were to open an account, I would purchase every check he signed. He smiled widely and told me "I'll be at the bank first thing Monday morning". I bought every one from Day or after his death from his wife.
Ernie Banks, member of the exclusive 16 man 500 Home Run Club, has given power of attorney to his accountants to cover his financial affairs, including check writing. Along with the assistance of my friend Ron Santo, Jr., we opened an account with Ernie's permission and had 100 one dollar Chicago Cubs logo checks generated to accommodate our needs. Otherwise, no Banks checks would be in existence today.
Checks make wonderful matted and framed display accents, especially when coupled with a Perez-Steele Art Postcard or quality photograph. With all the whining and horror stories I hear in the hobby from collectors who were "duped" into buying non-authentic autographs, here is a great way to enjoy the pastime of gathering Hall of Famers signatures and feel confident with ones purchase.