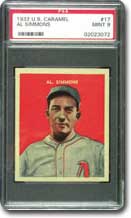 Let's not waste any time, this set is awesome. If you want rarity, superstar selection, eye-appeal and multi-sport inclusion, this set is for you.
The 1932 U.S. Caramel set, while not quite as popular as the 1933 Goudey Sport King set, represents the ultimate challenge. Across the board, these cards are incredibly difficult to locate in high-grade. If it weren't for a small find of quality examples several years ago, there might not be any high-grade examples in existence.
The cards are commonly found with extreme toning and wear. The cards can be pretty unattractive when you see them like this, but when you locate an example pulled from the small find mentioned above, the cards take on a whole new look. The borders are white, the backgrounds are a beautiful reddish-brown color and the wear is minimal.
Unfortunately, very few cards were part of the find. If you check the PSA Population Report, you will see how scarce high-grade examples are. It's amazing. They are much tougher than the more popular 1933 Goudey Sport King cards. Below is a breakdown of some of the more popular cards in the set. Let's begin.
#1 Eddie Collies - As the number one card in the set, this card is a condition rarity. Rubber bands victimized poor Eddie much like a Boa Constrictor kills its prey. The fact that he is a Hall of Famer just adds to the desirability of the card.
#3 Bobby Jones - As a sport, Golf is as popular as ever. Bobby Jones cards have enjoyed incredible upswing in the past year. His 1933 Goudey Sport King receives most of the credit, but don't overlook this beauty. Overall, it's tougher than the Goudey example.
#11 Rogers Hornsby -Considered one of the best right-handed hitters of all-time, Hornsby cards receive a lot of attention. This one is tough and has actually sold at a slightly higher premium than his Goudey counterparts over the last year. This is rare (for a Caramel to outdo a Goudey), but it shows the sophistication level of the buyers. Collectors are becoming more advanced.
#14 Ty Cobb - This Cobb example, while made after his playing days, is a great card. His 1933 Goudey Sport King card was also made after his playing days but collectors have paid big bucks for that issue lately. Look for some upswing on this one; it may only be a matter of time before the price jumps on this sleeper.
#23 Jimmy Foxy - Most people don't realize this, but this is "The Beast's" first mainstream sportscard. While it is not labeled technically as a rookie, it's the earliest major card of Foxx available. As you might imagine, there is major potential of this one. His Goudeys' are going through the roof!
#26 Lou Gehrig - The "Iron Horse" has always been a hobby favorite because of his bat and his personality. This card, like the Foxx card, is really Gehrig's first mainstream card. I remember when this card sold in the $4,000 range years ago. With Gehrig's 1934 Goudey examples trading in the $15,000-$25,000 range, this card is a steal considering its rarity.
#32 Babe Ruth - The "Sultan of Swat" rounds out this great set and as the last card, it was no stranger to rubber bands. This Ruth card has dragged behind the Goudey examples in price, but I would look for a surge soon. All you have to do is look at the population numbers on this card and compare it to Ruth's other difficult issues; it's incredibly tough. When is the last time you saw one in any grade let alone high-grade?
That just about does it for our look at the key cards in this incredible set. The 1932 U.S. Caramels seem to offer a solid value at this point. The set contains a multitude of sports stars and the cards are very rare in high-grade. It has all the ingredients of a winner.
Remember that if you have a concern about the authenticity of a particular card or simply want more information about the grading process, please write us at the address listed below. Mike Baker can be reached via postal mail by addressing your questions to:

Grading Corner
C/O Mike Baker
P.O. Box 6180
Newport Beach, CA 92658