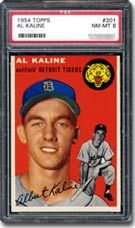 Ben Wade, a Brooklyn Dodger and Saint Louis Cardinal catcher in 1954, had been assigned card number 126 in the 1954 Topps set. Little did he know, in 1954, or little did we collectors know that this obscure Dodger/Cardinal would be the absolute hardest 1954 Topps card to find in a PSA NM-MT8 holder.
I finally finished the set in PSA NM-MT8 or better in the Fall of 2000. It took me about one year to pry the Ben Wade card away from a dealer. I bribed him, I wrote him letters, and I called him on the phone. He would not sell the card. When I saw him in person at the National Convention, I became so obnoxious that he relented and he sold me the card for a "gizzillion" dollars.
What other card did I find to be real tough? It was Gene Woodling #101. The PSA Population Report tells the rest of the story as to the PSA 8 common cards with low population reports such as #39 Sherm Lollar.

51 Johnny Lindell
52 Vic Power
54 Vern Stephens
55 Phil Cavarretta
72 Preston Ward
75 Bob Scheffing
97 Jerry Lane
134 Cal Hogue
150 Dick Kryhoski
157 Don Lenhardt
195 Bill Consolo
The set has the first Topps combo card being the O'Brien brothers card #139.
What the graders seem to look at are the top left and right corners. To the naked eye, they may look sharp and square with minimal paper loss. Then look with a six-power lens and you can check to see if the corners are fuzzy or not. The set has many cards with rough-cuts on the side. That's all right as long as there are actual pointed corners. Some rough-cut sides cause the corners to be rounded. Here are some quick notes about the set:

When the card has a yellow background, watch out for too many black spots that can cause a grade with a PD (Print defect).
On the Ernie Banks cards, check to see if his seat on the right side is or is not cut off at the border.
Don't ignore the backside of the card. "Green is the name of the game." The color chips easily. When you buy the card raw or graded, look at the reverse to be sure it has a green border that is reasonably attractive.
When you buy Ted Williams #250, don't be alarmed if the reverse or back of the card has some toning more so than the other cards in the set . The toning is typical for that example.
Card #1, Ted Williams, is difficult when it comes to centering. When I found my childhood collection that I hid from my mother, I had 14 #1 Ted Williams' cards. They were directly out of the pack and 12 of them were "way off center". Only two were centered and they both received PSA 8's. No, I'm not lucky. Most of my cards I collected as a kid were in horrible shape except one other: my 1953 Topps Willie Mays graded PSA 8.
The next question is whether you should collect the set and in what grade? Here's my advice. A high-grade set can have a mix or PSA 7 and PSA 8 cards. Here is my prediction. The set will be worth more in high-grade than the breakup value. Why? Because there is a recognized appreciation for how hard it is to put a high-grade set together. So put the PSA 7's in your set such as the Wade and Woodling examples.
As to the star cards, collect as many PSA 8's as you can. I would definitely, if you can, collect in PSA 8 the following:

Hank Aaron (rookie)
Ted Williams (at least one)
Willie Mays
Ernie Banks (rookie)
Al Kaline (rookie)
Billy Martin
Moose Skowron
Well, I know you want to know what star cards and minor star cards in PSA 9 are in my set. Before I list them, I collected the star cards beginning in 1995 when it was lot easier and cheaper. Here is the list:

Hank Aaron
Ernie Banks
Yogi Berra
Al Kaline
Eddie Mathews
Warren Spahn
Jackie Robinson
Willie Mays
Ted Williams (250)
Duke Snider
Phil Rizzuto
Monte Irvin
The minor stars in PSA 9 are:
Gil Hodges
Billy Martin
Larry Doby
Heinie Manush
Ted Kluszewski
Moose Skowron
Al Rosen
Ed Lopat
O'Brien Bros.
The 1954 Topps set is a great one. All together the set contains 76 PSA 9 cards. I hope I have helped all of you readers. Write or email Joe Orlando if I can further answer your questions.