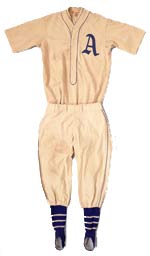 SMR Pricing
Before we get to the latest auction results, I want to take some time explaining how pricing is accomplished in SMR. Even though many collectors understand the theory behind SMR pricing, I want to fully explain the thought process I go through in order to set prices in our magazine and online guide.
To begin with, we try to avoid speculation at SMR. In some cases, we may need to speculate to some degree by relying on hobby experience and market analysis of similar cards, but we try not to predict pricing when we can. The philosophy here is basically: "The item is worth whatever collectors are willing to pay for it."
There are exceptions to that rule. For instance, when an auction takes place and an outrageous price is realized for a card, we have to look beyond the price itself. First, I have to ask the question, "Was this the result of two collectors in a bidding war or was the action balanced?" The next step is analyzing the card itself. Even if the card is currently scarce according to the PSA Population Report, I still need to look deeper.
For instance, there may only be one or two PSA Mint 9's of a particular card in the PSA Population Report, but here is where I need to fall back on hobby experience and market analysis. I have to ask myself, "Is the card truly rare in that grade or is the price a result of misconception."
Advanced hobbyists know that a 1948 Leaf Satchel Paige is a truly rare card in high-grade, but what happens when a PSA Mint 9 enters the market for a card that is not rare, maybe that card is not frequently submitted in proportion to the amount in existence. I have seen instances where collectors will go into frenzy over a card that simply isn't rare and the price that results is staggering. In my opinion, it would be unethical and improper if SMR reflected a price that is a mere reflection of two uninformed buyers slugging it out. One of our goals here is to educate collectors because an educated collector is a happy one.
Another problem is that some collectors believe that one price realized, whether it's strong or weak, should alter the price guide. At SMR, we look for patterns not anomalies. If a card sells one time, regardless of whether it is a low population card or not, that does not necessarily equal the card's true value. In a rare case, like the PSA 8 T206 Honus Wagner card, advanced hobbyists know that it is the only example that exists in that grade so we can simply insert the actual price paid for that card. In most cases, once a card has established a value in the marketplace, we can then accurately determine an average selling price for that card.
In addition, there are strengths within each grade. For example, there are sportscards that are considered high-end PSA 8's, because they just missed being graded a PSA Mint 9, and there are other PSA 8's that are considered low-end PSA 8's because they just barely missed being placed in a PSA 7 holder. The prices listed in SMR should be used for average cards within the grade. So, don't be surprised if you have to pay more for an ultra high-end example, within the grade, or if you might be able to buy a low-end card for under the price listed.
Finally, remember that auctions are great, but they are not the only source for prices realized. At SMR, we work very hard in order to gather pricing information each month. We talk to dealers and collectors and examine auction prices in order to make changes to the guide. Keep in mind that I want your feedback. If you feel a card has been overlooked in the guide or want to report sales of a particular card, feel free to email me at joe@collectors.com. The feedback has been great so far and I am always looking for more.
Lefty Grove Uniform Sets Record at Grey Flannel Auction
With a tremendous selection of game-used memorabilia, Grey Flannel was able to break the $2.7 million mark. The auction also included autographs, sportscards, and other memorabilia as well. The most impressive item in the entire auction was the incredible Lefty Grove uniform from his glory days with the Philadelphia Athletics. The bidding was fierce for this treasure and when the phone wars stopped, the lot closed at $140,488. This is a record for any pitcher jersey known to exist. This is also one of the highest prices ever paid for a game-used baseball jersey. Below is a look at some of the highlights.


| | | |
| --- | --- | --- |
|   | Item | Price Realized |
| 1 | 1976 Hank Aaron game-used/autographed Bicentennial bat | $5,946 |
| 2 | 1961-64 Duke Snider game-used/autographed bat | $5,089 |
| 3 | 1976 Johnny Bench game-used/autographed Bicentennial bat | $1,452 |
| 4 | 1998 Barry Bonds game-used/autographed bat | $1,658 |
| 5 | 1968-69 Willie Mays game-used/autographed bat | $7,212 |
| 6 | 1976 Rod Carew game-used/autographed Bicentennial bat | $2,403 |
| 7 | 1936 Lou Gehrig signed check | $20,333 |
| 8 | Mickey Mantle handwritten letter | $10,732 |
| 9 | PSA 3 VG 1911 T206 Eddie Plank card | $13,009 |
| 10 | PSA 9 Mint 1933 Goudey Sport Kings Carl Hubbell | $9,775 |
| 11 | 1999-2000 Kobe Bryant game-used Lakers jersey | $8,349 |
| 12 | 1999-2000 Shaquille O'Neal game-used Lakers jersey | $7,653 |
| 13 | Babe Ruth single signed baseball | $37,041 |
| 14 | Mid-1920's Babe Ruth game-used bat | $50,931 |
| 15 | 1950's Yogi Berra game-used/autographed bat | $4,627 |
| 16 | 1960-1964 Mickey Mantle game-used/autographed bat | $25,347 |
| 17 | 1999 Derek Jeter game-used/autographed bat | $4,535 |
| 18 | 1977 Mike Torrez NY Yankee World Series trophy | $21,084 |
| 19 | 1998 Dick Williams NY Yankee World Series ring | $34,787 |
| 20 | 1947 Phil Rizzuto game-used/autographed jersey and pants | $20,333 |
| 21 | 1948 Joe DiMaggio game-used/autographed jersey | $61,625 |
| 22 | 1995 Bernie Williams game-used jersey | $4,061 |
| 23 | 1931 Lefty Grove game-used uniform | $140,488 |
| 24 | 1959 Roger Maris game-used/autographed uniform | $14,623 |
| 25 | 1970 Reggie Jackson game-used vest-style jersey | $10,436 |
| 26 | 1898 Vic Willis autographed 3x5 | $10,611 |
| 27 | 1955 Sandy Koufax game-used jersey | $82,885 |
| 28 | 1963 Bob Gibson game-used jersey | $15,043 |
| 29 | 1980 Mike Schmidt game-used/autographed uniform | $9,597 |
| 30 | 1971 Hank Aaron game-used jersey | $31,859 |
| 31 | 1964 Al Kaline game-used/autographed jersey | $14,115 |
| 32 | 1972 Carl Yastrzemski game-used/autographed jersey | $8,222 |
| 33 | Mel Ott single signed baseball | $20,372 |
| 34 | 1998 St. Louis lineup card (McGwire's 62nd homer) | $29,632 |
| 35 | 1975 Walter Payton game-used/autographed jersey | $28,327 |
| 36 | 1960's Y.A. Title game-used jersey | $26,409 |
| 37 | 1975 Roger Staubach game-used/autographed jersey | $20,240 |
| 38 | 1989 Jerry Rice game-used/autographed Super Bowl jersey | $10,634 |
| 39 | 1968 Joe Namath game-used jersey | $32,535 |
| 40 | John Elway game-used/autographed jersey | $8,349 |
The auction featured some great prices and the auction team at Grey Flannel was very happy with the results. "We were all very pleased with the auction. There were some incredible prices realized," said an excited Richard Russek, President of Grey Flannel Auctions. "The key is that the auction performed well for our consignors and they are the ones who help make these auctions possible. We all work very hard for our consignors here at Grey Flannel."
The auction wasn't without its share of spectacular pieces. The lot that was perhaps the most impressive was the Lefty Grove uniform circa 1931. Andy Imperato, COO of Grey Flannel Auctions, explained the importance of the piece. "There are only two known all-original Lefty Grove uniforms in existence," explained Imperato. "The only other example is from the 1941 Boston Red Sox, but this one is the only one from his days with the Philadelphia Athletics team. When you look at Grove's statistics, you can make a great case for him being one of the best pitchers in the history of the game."
The bidding was almost as interesting as the jersey itself according to President Richard Russek. "The great aspect to the bidding was that all the bidders were pure collectors," said Russek. "When we had this uniform on display at the National Sports Convention, it stole the show and one gentleman thought he could scare off the competition by starting the bidding at $75,000. The funny thing is that three different bidders placed bids after the initial bid so there was some serious action on this lot. The gentleman who started the bidding eventually won the piece, but he had some stiff competition. When the bidding was over, this lot brought the highest price ever for a pitcher's uniform at auction "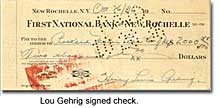 In addition to the Grove uniform, there were many other lots that performed well. "Some of the interesting pieces were the Roger Staubach jersey, the Dick Williams World Series ring, the McGwire scorecard from home run number 62, the Fenway Park signed seat and a Mickey Mantle signed baseball with the inscription "Happy Chanukah," explained Grey Flannel CEO Howard Rosenkrantz. "The price for the Dick Williams World Series ring was amazing because the ring is only 2 years old and it sold for well over $30,000. The 1998 St. Louis Cardinals/McGwire 62nd home run lineup card sold for almost as much as the lineup card from his 70th home run and sold for nearly double the price it sold for only one year ago. The Fenway Park signed seat only started at $750, but ended up in the $10,000 range so that lot received a lot of hits. Finally, the "Happy Chanukah" Mickey Mantle ball sold for $3,526 and the winner was comedian Billy Crystal."
The entire Grey Flannel team was quick to point out the key to all the lots that performed well. "Quality always holds up over time," explained Rosenkrantz. "We have also seen an increase in interest for vintage football and basketball jerseys. Overall, we were thrilled with our prices and in turn, our consignors were thrilled with us. We try to get as much publicity as possible for each and every lot. I travel to different cities and do radio, television and newspaper interviews in hopes of bringing more attention the items. This is a real benefit for our consignors. We will always be known as the standard for game-used jersey authentication, but we are trying to increase our presence in all areas"
The next Grey Flannel auction will take place in May of 2001. They are currently seeking quality consignments for that auction and future ones as well. SMR will bring you a full preview and recap for their next offering.
Superior Sports To Feature Rare Offerings
On December 7th, Superior Sports will be holding another high-quality auction featuring several high-grade examples that rarely come up for sale. Some of the key cards include a Tim Keefe 1888 N162 Goodwin Champs card graded PSA NM-MT 8, a 1911 T205 Gold Border Cy Young graded PSA NM-MT 8, an incredible 1934 Goudey Dizzy Dean graded PSA Mint 9, a 1952 Topps Andy Pafko graded PSA NM-MT 8, a 1953 Topps Satchel Paige graded PSA Mint 9, a 1969 Topps White Letter Mickey Mantle graded PSA Mint 9, and a 1955 Topps Sandy Koufax rookie graded PSA Mint 9.
Keep your eyes on the T205 Gold Border Cy Young and 1934 Goudey Dizzy Dean cards. The T205's are one of the hottest issues in the hobby right now due to their incredible rarity (in any grade) and their aesthetic beauty. A T205 Ty Cobb just sold for approximately $60,000 in a PSA NM-MT 8! The Dean card represents a rare opportunity to obtain a true mint example of a pre-war condition rarity. This card is incredibly tough in PSA NM-MT 8, let alone a Mint 9.
There are also a few other cards that collectors should keep their eyes on. The Gem Mint 1959 Frank Robinson, the 1959 Topps All-Star Willie Mays, and the Gem Mint 1961 Topps Don Drysdale cards are sure to break records for those issues. Mays and Drysdale are amongst the hottest players in the market right now and many collectors are trying to complete high-grade "runs" of these guys. The bidding should be fierce.
Perhaps the most interesting item in the whole auction might be the 1956 Hank Aaron game-used jersey. Two other Aaron jerseys, from near the end of his career (1970's), have sold between $22,000-$32,000 in the last month. This jersey has blazing eye-appeal and is nearly 15 years older than the other two so keep your eye on this fantastic piece of history.
The auction is currently in progress at www.superiorsports.com. Internet bidding is available until December 7th, so place your bids now.