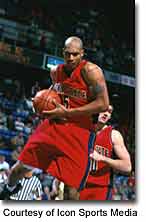 With the new 2000 NBA basketball season already here, there has been some new and unexpected changes to the league. Among the notable changes include Grant Hill and Tracy McGrady joining forces in Orlando, Patrick Ewing has become a Seattle Supersonic and Brian Grant and Eddie Jones have joined the Miami Heat. But while some old faces are in new places, there are also the new faces in places they've never even been before. Of course I'm speaking of the new crop of 2000 NBA rookies that have joined the league.
Last season's 1999 class saw the emergence of several new stars. Among them were forward Elton Brand of the Chicago Bulls, guard Steve Francis of the Houston Rockets, and forward Lamar Odom of the Los Angeles Clippers. Other 99 rookies that made not as quite big impacts but had promising first years included forward Wally Szczerbiak of the Minnesota Timberwolves, forward Shawn Marion of the Phoneix Suns, and guard Baron Davis of the Charlotte Hornets.
This season's batch of rookies may not boast any future Michael Jordans, Vince Carters, Shaquille O'Neals, or Kobe Bryants to the mix, but the group is mixed with some solid players that should have basketball fans and collectors anticipating their respective rookie cards.
Slam Dunks
Kenyon Martin of the New Jersey Nets
The first pick of the 2000 NBA Draft should be an intimidating force for the Nets in 2000. A 6-9 power forward out of Cincinnati University, Kenyon Martin averaged 29.9 points, 9.7 rebounds and an amazing 3.4 blocks in 1999 as a Bearcat in his senior year. A season ending injury forced Martin to miss the 2000 NCAA Playoffs, but Martin is back at full strength and in the early part of the 2000 NBA season has started at power forward in the early portion of the Nets schedule. On November 7, Martin had a game that showed his potential as he scored 20 points, grabbed seven rebounds, and had three blocked shots in a Nets 102-86 win over the Washington Wizards.
Collectibility
The Nets last number one pick was Derrick Coleman, who had his share of attention as a rookie in 1991. For Martin his focus on defensive play may not be a draw to collectors, but if he puts up solid numbers and gets the Nets marching towards a 2001 playoff run, collectors will take notice.
Darius Miles of the Los Angeles Clippers
The 19-year old from St. Louis was the talk of the 2000 Draft as his versatility and shining endorsement from the man they call Air Jordan made teams take notice. This high school superstar bolted to the top of the draft and has now found himself leading a youth movement with the Clippers. Beginning November 7, Miles has started for the Clippers and finds himself fifth in rookie scoring at 8.5 points and second in rebounds with 5.5 per game.
Collectibility
A fascination with players out of high school is understandable. The hype surrounding Miles is no different then there was for Kevin Garnett and Kobe Bryant. The youngster is a talented player and has a chance to showcase his talents in LA with 1999 rookie standout Lamar Odom and a young Clipper squad. Collectors should jump on Miles' rookies early and if they have any incentive to do so, just check out the price of PSA 9'S and 10's of Bryant or Garnett rookie cards.
Mike Miller of the Orlando Magic
This rookie out of Florida may have the best situation of any 2000 rookie. Miller has landed a spot on a Magic team that includes the above-mentioned Hill and superstar in the making McGrady. Miller is a talented player who at 6-8 can play small forward and has the shooting touch and ball-handling skills that can make him an imposing shooting guard. With Hill's early season injury, Miller has been forced to make an immediate contribution. The rookie has responded with an 8.2 scoring average and 4.8 rebounds per game. Given time, Miller should prove to be a serious threat to opposing teams and a serious playmaker for the Magic.
Collectibility
Overshadowed by Hill and McGrady and a cast of various rookies, Miller may have a hard time breaking into collectors' hearts. But Miller's skills and all-around play will make him hard to avoid.
Stromile Swift of the Vancouver Grizzlies
An imposing 6-9 forward who in two seasons at LSU, became one of the NCAA's most feared players. In 2000 at LSU, Swift averaged 16.2 points, 8.2 rebounds, and had an impressive 60.8 field goal percentage. Expected to be a bruising presence in a Vancouver lineup that includes Shareef Abdur-Rahim, Mike Bibby, and Michael Dickerson, Swift will not be expected to make an immediate impact. The second pick of the draft will need to score points, get rebounds and blocks when needed.
Collectibility
A monstrous player, but if Swift doesn't get off to an impressive start, his star may fade fast. One of the reasons's may be due to the fact that he's out in Vancouver, a team that has good players such as Bibby and Abdur-Rahim, but gets no respect from collectors and fans alike.
Desmond Mason of the Seattle Supersonics
The 17th pick in the draft and the player many consider the steal of the draft is Desmond Mason. This former Oklahoma State Cowboy is a rugged player that will not only get major minutes with the Sonics, but in the early portion of the season, has started every game for the Sonics alongside Gary Payton at shooting guard.
Collectibility
A type of player like Mason is not what collectors will be looking for. His non-flashy style and defensive ability may be respected on the court, but in the collector world, he doesn't have the flash.
Marcus Fizer of the Chicago Bulls
As an Iowa State Cyclone, Fizer averaged an impressive 22.8 points and 7.7 rebounds in 2000 while leading his team into the Elite Eight. While Bulls' Elton Brand may get most of the points and rebounds, Fizer is expected to contribute and ease some of that burden for Brand. In the first four games of the season, Fizer is averaging 9.0 points and 3.8 rebounds for the rebuilding Bulls.
Collectibility
If Fizer could boost his scoring average and the Bulls could win more then 20 games (they only won 17 last season), look for minor interest in Fizer cards. Until then, collectors will just have to remember the good old days of Chicago Bull basketball.
Chris Mihm of the Cleveland Cavilers
The big 7-0 center from the University of Texas was expected to be one of the draft's top prospects. But while he slipped to seventh in the draft, at the center position Mihm's size and brute strength is expected to help the Cavs. Center has been a position that has been a question mark due to an injury to center Zyradnus Ilgauskas.
Collectibility
In the early season while the Cavs have gotten off to a quick start, Mihm's has been buried behind Ilgauskas at center and has made little impact. But the season is early and Mihm has lots to prove to collectors and NBA fans alike.
Mateen Cleaves of the Detroit Pistons and Morris Peterson of the Toronto Raptors
While the duo competes on different teams in the Eastern Conference, they were both part of the Michigan State Spartans, the 2000 NCAA champions. Chosen 14th, Cleaves has a good shot in his hometown to turn into a star with the Pistons. He is a playmaker that gets his team involved and finds himself in a rebuilding situation in Detroit. Peterson was chosen 21st and the forward's versatility and strong 3-point shooting (he shot 42.5% from 3-point range in 200 with MSU) have allowed Peterson to get off to an impressive early start in 2000. He is second in points scored among rookies as of November 7th.
Collectibility
Don't let their lower draft standings fool you. Both Peterson and Cleaves could turn out to be solid NBA players. Peterson may be overshadowed due to Vince Carter Mania in Toronto, but the Raptors did lose Tracy McGrady and may need someone to fill his shoes. Cleaves could make his mark in Detroit as long as he shows the skill he possessed in college and may help the rebuilding Pistons make a run towards the playoffs.
Free-Throws (Rookies to Watch)
Jamal Crawford of the Chicago Bulls
Jerome Moiso of the Dallas Mavericks
Jamaal Magloire of the Charlotte Hornets
DeShawn Stevenson of the Utah Jazz
Khalid El-Amin of the Chicago Bulls
Eduardo Najera of the Dallas Mavericks
Stephen Jackson of the New Jersey Nets