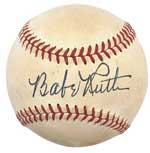 Rarity, Derek Jeter, Prices Realized and a Product Update
As collectors, most of us understand the different factors that affect the market price of a collectible. There's popularity and appeal, condition and hype, but the single most powerful force behind the changing sports collectibles market seems to be rarity.
Rarity, of course, has always been a major factor, but the influence it is having on the market is astounding at this point. The focus on it has helped obliterate our notions of what accurate price levels should be on certain items. It is affecting all markets, not just sportscards, but it is the sportscard market that has helped change the way collectors view all collectibles.
Take, for example, the 1958 Topps Hank Aaron All-Star card. This card, in days past, would be considered worth only a fraction of Aaron's regular issue Topps card. That's how we collectors were raised; the regular issue card is always worth much, much more than the All-Star example. Well, you can throw that theory out the window right now. In a recent auction, the only PSA Mint 9 example of the 1958 Topps Hank Aaron All-Star card sold for nearly $20,000.
Obviously, there is a chance that more PSA Mint 9's could be graded on that particular card, but the point is that there doesn't seem to be that huge discrepancy anymore between the regular issue cards and the "special" cards like All-Star cards or multi-player cards. If a "special" card is more difficult, it is reflecting in the price realized.
The same can be said about newer cards versus older ones. The basic premise in the older days of the hobby was that, "If the card is older, it's generally more valuable." You can throw that theory out the window as well. Again, if a newer card is viewed as more difficult today, collectors are ignoring that prior approach and paying more for the newer card. For instance, a PSA Mint 9 1962 Topps Willie Mays sells for more than a 1956, 1957, 1959, 1960, or 1961 Mays card in the same grade. It even sells for more than a 1954 Bowman Mays card in the same grade. That would never happen 10 years ago.
This approach has also affected other fields such as autographs. For instance, two Jimmie Foxx single signed baseballs have sold in excess of $38,000 with one of the two reaching the $50,000 range recently. Just a year or two ago, you could have bought those same two baseballs for around $8,000-$10,000. Why the change? Well, Babe Ruth signed baseballs have sold in that range for a while (now gems sell between $50,000-$75,000) but collectors started to realize that Foxx examples were far more difficult than the Ruth examples. What happens is that, while Foxx will never catch Ruth because of "The Babe's" incredible popularity, the gap between the two price levels was closed. It makes good sense... the demand far outweighs supply.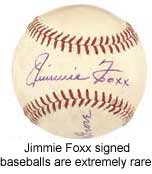 Finally, this new approach has continued to affect the pricing of cards that are not particularly rare in lower grades, but rare in the top grades. For instance, there is nothing incredibly rare about a 1956 Topps Mickey Mantle in a PSA Near Mint 7 but that doesn't prevent collectors from paying big bucks for PSA Mint 9 or Gem Mint 10 examples. If the card is rare within the grade, that is all that matters today. It is what drives the modern market as well. We know a 1986 Fleer Jordan is not tough to find in NM-MT condition but Gem Mint is a whole different story.
Today, rarity is king.
The Incredible Appeal of Derek Jeter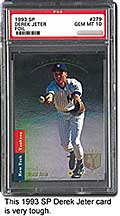 I know that some baseball fans and collectors are probably sick and tired of hearing Derek Jeter's name, but his affect on the market is incredible. While he is certainly one of the most recognizable faces in sports and one of the best players in the game of baseball, his mass appeal goes way beyond that.
There are, arguably, several players who are better than he is. He may not even be the best player at his position. Alex Rodriguez probably has the edge because of his power and superior ability to steal bases. So then, why all the hype? Here's why. Derek Jeter is a "throwback" type of baseball player. He isn't arrogant and boastful about his accomplishments. He hustles on every play and isn't afraid to "get dirty." He plays for the New York Yankees who, by the way, seem to be in the World Series every year. He is very personable to the media and fans. Even if he isn't the best player in the game, Jeter is still considered one of he best overall talents out there and by the way, the ladies seem to like him too. That certainly doesn't hurt.
Derek Jeter's sportscards, autographs, and game-used equipment are extremely hot. His 1993 SP card, Jeter's most desirable card, is extremely difficult to find in PSA Gem Mint 10 condition due to the easily chipped edges. This card is one of the most valuable cards in the entire post-1980 era. Jeter has been signing exclusively for a company on the East Coast and signed items of his sell for nearly double some of his contemporaries. Finally, his game-used equipment is very hot, particularly his bats. His game-used bats continue to bring between $1,600-$5,000 which is amazing for a modern player.
We will just have to wait and see if Jeter continues his level of play and, if he does, there may be no end to the potential of Jeter items.
Recent Prices Realized from the Vintage PSA Market
| | | | | |
| --- | --- | --- | --- | --- |
| Year | Company | Card | PSA Graded | Prices Realized |
| 1909-11 | T206 | Napoleon Lajoie (Portrait) | 8 | $4,840 |
| 1933 | Delong | #22 Chuck Klein | 8 | $2,900 |
| 1933 | Goudey | #216 Lefty Gomez | 8 | $2,396 |
| 1941 | Play Ball | #18 Hank Greenberg | 8 | $2,339 |
| 1941 | Play Ball | #40 Johnny Babich | 8 | $908 |
| 1941 | Play Ball | #61 Vinnie DiMaggio | 8 | $2,200 |
| 1941 | Play Ball | #62 Elbie Fletcher | 8 | $2,420 |
| 1941 | Play Ball | #64 Bobby Doerr | 8 | $1,560 |
| 1954 | Bowman | #84 Larry Doby | 9 | $708 |
| 1954 | Topps | #86 Billy Herman | 9 | $996 |
| 1954 | Topps | #132 Tom Lasorda | 9 | $3,543 |
| 1956 | Topps | #180 Robin Roberts | 9 | $1,037 |
| 1954 | Topps | #201 Al Kaline | 9 | $8,360 |
| 1961 | Topps | #2 Roger Maris | 9 | $6,600 |
| 1956 | Topps | #194 Monte Irvin | 9 | $770 |
| 1957 | Topps | #7 Luis Aparicio | 9 | $644 |
| 1959 | Topps | #395 Elston Howard | 9 | $531 |
| 1959 | Topps | #467 Aaron Clubs W.S. Homer | 9 | $880 |
| 1959 | Topps | #470 Musial Gets 3000th hit | 9 | $943 |
| 1962 | Topps | #5 Sandy Koufax | 8 | $580 |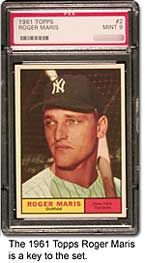 Product Update
Below are the latest press releases from some of your favorite card manufacturers. Check out all the new and exciting products being offered. There's something from all the major sports.
Covered Rookie and Insert Cards Make Mystique Basketball
Debut of Impact Baseball is a Grand Slam
American League Claims 7 of the 10 Spots on 2000 Topps Rookie All-Star Team
Topps Gets an Early Jump on Summer Gold
Fleer Showcase NFL 2000 Goes Deep for the Touchdown
Parade-Goers Receive Commemorative Card