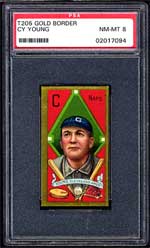 Welcome to Superior Sports Auction's Winter, 2000, "Hot Stove League" Auction of just under 600 outstanding, high-grade baseball, football, basketball, and hockey cards, with a thorough grouping of outstanding complete sets, lots, and PSA-graded cards! Also, there are some wonderful memorabilia items great for any collection.
The "Gallery of Legends" section of this auction includes some of the most incredible individual sportscards available for sale anywhere. There are enormously rare cards of Hall of Fame performers such as Tim Keefe, Cy Young, Christy Mathewson, Babe Ruth, Joe DiMaggio, Ted Williams, Mickey Mantle, and Sandy Koufax! There are unheard of PSA 10's: cards like the '59 Topps Frank Robinson, '61 Don Drysdale, '64 Tommy John rookie, and more. Take some time and really check out these special pieces of our hobby.
The "Pre-War" baseball section features some really rare cards! An ultra high-grade N172 Old Judge of Roger Connor, an equally special N284 Buchner card of "Orator" Jim O'Rourke, a beautiful T205 Frank Baker, and a spectacular 1933 Goudey Babe Ruth card #181.
High-grade Bowman cards of Jackie Robinson, Stan Musial and Willie Mays, and awesome Topps blazers of players like Mickey Mantle, Roberto Clemente, and Hank Aaron round out the "Post-War" section. Don't miss these!
PSA Sets and Lots and Non-PSA Sets and Lots sections contain an incredible assortment of cards, both for PSA mavens and for collectors of sets and ungraded cards. Please look closely over these sections, as there are tons of values to be found.
Finally, we are happy to offer a solid array of vintage Memorabilia, including several team signed baseballs, a Ty Cobb letter, and three beautiful checks from Ty Cobb, Walter Johnson, and Honus Wagner.
As always, you can expect the highest level of service from Superior. We are ready to consult on any lot at our office (231) 922-9862 anytime up until 2:00 p.m. Pacific Time on Tuesday, December 5th. Please make consultation requests prior to this time, as we will be unable to describe specific cards on Wednesday or Thursday of auction week.
Also, we will be happy to e-mail scans of any flat lots (limit of 10 lots, please) until 2:00 p.m. PST on Tuesday, December 5th to an e-mail address of your choosing. Online bidding is available at www.superiorsports.com.
Finally, please carefully review the Terms and Conditions page. A good understanding of our terms and conditions will allow you, the bidder, to enjoy our auction to the fullest!