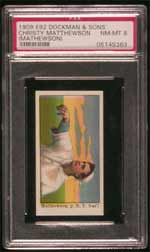 Welcome to the Superior Sports Auction MINT Parade! This auction offers what we believe to be the finest assortment of MINT post-war cards ever offered at one time. From Aaron to Yastrzemski, we cover the landscape with stunningly fresh MINT cards that will blow you away. In addition to the awesome Post-War selection, there's bound to be something for everyone, whether they prefer pre-war cards, complete sets, unopened material or quality autographs and memorabilia.
The first group of 70 lots, our famous "Gallery of Legends," features an assortment of spectacular high-grade cards that boggles the mind. From a rare E92 Mathewson to a MINT rookie card of basketball's Jerry West, this section includes cards that just are not often available and should generate dramatic collector interest.
Next, awesome runs of cards of the great Mickey Mantle and Willie Mays will surely perk up a few sets of eyes. All but one of the 22 Mantle cards grade PSA MINT 9, with all 14 of the cards of the "Say Hey Kid" also grading 9. These are two sections of cards that you will not want to miss.
The next 70 or so lots are from the Pre-War Baseball grouping, and these include dramatic cards such as four ultra-rare T204 Ramlys, a stunning T205 card of Fred Clarke, several low population 1933 Goudeys, a tremendous run of high-grade Diamond Stars, and a spectacular and ultra-rare offering of 1935 Goudeys, as well as the only MINT 1939 Play Ball card of Hall-of-Fame legend Charlie Gehringer.
The awesome Post-War Baseball section features hundreds of mixed grade superstar cards from the most popular sets, and includes specific key cards of heroes like Roy Campanella, Ted Williams, Yogi Berra, Willie Mays, Mickey Mantle, Jackie Robinson, Hank Aaron, and many, many more. We are also strong believers in the value of high-grade cards from the late 1960's and 1970's and 1980's - the "modern" era of cards. We are glad to offer a great number of ultra high-grade, important cards of the legends and future legends from these years.
The Football, Basketball and Hockey Card section isn't packed to the gills for this auction, but does feature some special and highly desirable cards that will be perfect for any fine collection.
Next up are the "Sets and Lots" sections, with the "PSA-graded" groups coming first and followed by "Non PSA-graded" lots. These are multiple card lots and feature some tremendous cards and incredible values. Specific lots feature cards from T3, T206, 1933 Goudey, 1940 Play Ball, various Topps and Bowman issues, and a lot of neat, miscellaneous stuff.
The Memorabilia section features several incredible autographed balls, including a superb Babe Ruth ball that came straight from the one-time little girl that the Babe delivered it to. Also, there are several gorgeous display items, a spectacular Bobby Orr game-used stick, and tons of cool unopened material.
Finally, there are 30 lots of quality material left over from Superior's landmark sale of items from the Bill Sharman collection. These items are superb and unconditionally guaranteed.
As always, the staff of Superior will be here to provide the highest level of professional service. We will provide telephone consultations on any lot at our office number (231) 922-9862, anytime up until 5:00 p.m. EST on September 28th. Also, we will be happy to e-mail scans of any flat lots (limit of ten lots, please) to an e-mail address of your choosing, also up to 5:00 p.m. EST the final night of the auction. As always, we urge bidders to bid early via telephone, mail or Internet so as to avoid last minute hysteria. Please utilize our Top-All and Callback services to increase your odds of winning that special lot.
Sit down, kick back, and have a good look through the Mint Parade auction online. Good luck to all and enjoy the process.
Have fun!