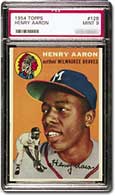 When an auction closes or a show comes to an end, it is usually no surprise when a PSA graded Mickey Mantle or Babe Ruth card makes the biggest noise on the floor. The amazing aspect to this whole sector of the market is the fast and furious elevation of prices over the last couple of years.
It's quite normal for a collectible to show significant price bursts over the course of a few months and maybe half a year. These bursts are usually due to a "fad" that has immediate appeal but no real staying power. Some skeptics have criticized the PSA card market in the past as being a "fad" or one that simply couldn't last. I remember some dealers, years ago, telling me to get out as soon as possible. They would tell me that there is no way collectors would continue to pay 3-5x NM-MT price for a PSA Mint 9 or 10. Boy, were they wrong!
First of all, PSA has been around now for nearly a decade proving clearly that the buying and selling of graded cards is no fad. I have to admit, although I was a PSA supporter during the early years of grading, I didn't think prices would increase this quickly. I remember arguing with collectors in the mid-1990's about the fact that I thought prices for truly rare, high-grade cards were much too low, but many of them laughed and told me that the people paying a premium for the high-grade cards were crazy. I think we all wish we could go back in time, only a few years ago, and act "crazy" like those collectors did.
Second, fads tend to come out strong, accelerate fast and burnout fast. PSA prices and submissions continue to soar and while the pace has certainly picked up in the last 2-3 years, the service has been going strong for nearly 10. The increase in raw submission numbers has also surprised me. I didn't realize, several years back, that submissions would rise from around 3,000-5,000 per month in the early to mid-1990's to approximately 50 times that number today.
Potentially, the current number of submissions should increase even more in the near future. The key reason for the increase is that collectors have realized the value in getting their modern cards graded as well as the vintage gems.
PSA, Prices and Prosperity
Now let's get to the heart of the matter, prices. The difference in the prices being paid today, in comparison to prices paid only a year or so ago, is staggering. It is not uncommon for cards to have doubled, tripled or increased by an even bigger percentage over the last year or so. Let's take a look at a dozen of the many cards that have jumped in value by large margins (prices in the 2000 column are examples of approximate prices realized this year).


| | | | | |
| --- | --- | --- | --- | --- |
| | Card | PSA Grade | Sept 99 Value | Sept 00 Price |
| 1 | T206 Christy Mathewson portrait | 9 | $7,750 | $84,000 |
| 2 | 1934 Goudey Jimmie Foxx | 8 | $9,250 | $31,000 |
| 3 | 1948 Leaf Satchel Paige | 8 | $16,000 | $70,000 |
| 4 | 1948 Leaf Babe Ruth | 9 | $16,500 | $65,000 |
| 5 | 1949 Bowman Satchel Paige | 9 | $7,800 | $35,000 |
| 6 | 1954 Bowman Mickey Mantle | 9 | $6,600 | $38,000 |
| 7 | 1957 Topps Yankee Power Hitters | 9 | $3,250 | $27,000 |
| 8 | 1958 Topps Willie Mays | 9 | $2,500 | $26,000 |
| 9 | 1962 Topps Mickey Mantle | 9 | $3,250 | $18,000 |
| 10 | 1963 Topps Power Plus | 9 | $375 | $6,500 |
| 11 | 1964 Topps Mickey Mantle | 9 | $1,550 | $18,000 |
| 12 | 1965 Topps Pete Rose | 9 | $1,100 | $6,500 |
Remember that this is simply a sampling of dramatic price jumps in high-grade PSA cards. It's just mind-boggling to think that one year ago you could have bought a 1964 Topps Mantle for just under $2,000 and now the card sells in the $20,000 range. That was only one year ago! I remember a dealer asking $1,700 for that exact card last year, the increase is amazing.
The two main reasons for the upswing seem to be a combination of new faces and the magnification of rarity. If you talk to dealers and auction houses, the one thing they seem to all be in agreement with is the fact that more and more collectors are entering the hobby. This is mainly due to the security factor that exists with 3rd party grading as opposed to the lack of "card policing" taking place several years ago. Buyers feel comfortable and that helps open up their checkbooks.
Second, rarity has really come into focus. With the help of the PSA Population Report and education on the collectors' behalf, people now realize that rarity can be had in many eras. Today, you might see a 1960's Hank Aaron sell for more than an example from the 1950's if the card is scarcer. This is an occurrence that simply didn't take place 5-10 years ago. It seems as if the hype about certain cards is diminishing and collectors are focusing more on the facts when it comes to rarity.
The bottom line is that the very rare continue to climb. Where will it stop? Nobody knows.
PSA T206 Doyle Variation Sets Price Record
The famous 1909-11 T206 White Border Joe Doyle "N.Y. Nat'l" variation card, graded Good 2 by PSA, sold for $178,598 at a Ron Oser auction this past week. According to most experts, this card is actually scarcer than the famed Honus Wagner card from the same set. In fact, there are only believed to be about 8-10 examples in existence.
The card, after selling for the strong price, now becomes part of the top 20 PSA graded cards to ever sell at auction or private sale. Here's a peak at the list.


| | | |
| --- | --- | --- |
| | PSA Items | Price |
| 1 | T206 Honus Wagner PSA NM-MT 8 | $1,265,000 |
| 2 | T206 Honus Wagner PSA VG-EX 4 | $325,000 |
| 3 | T206 Eddie Plank PSA NM-MT 8 | $203,000 |
| 4 | T206 Joe Doyle Variation PSA Good 2 | $178,598 |
| 5 | 1952 Topps Mickey Mantle PSA Gem Mint 10 | $160,000 |
| 6 | 1952 Topps Mickey Mantle PSA Gem Mint 10 | $121,000 |
| 7 | 1954 Topps Hank Aaron PSA Gem Mint 10 | $110,000 |
| 8 | 1941 Play Ball Joe DiMaggio PSA Mint 9 | $109,510 |
| 9 | 1952 Topps Mickey Mantle PSA Gem Mint 10 | $104,500 |
| 10 | 1933 Goudey Babe Ruth #181 PSA Mint 9 | $100,050 |
| 11 | 1951 Bowman Mickey Mantle PSA 9 Mint | $100,000 |
| 12 | 1933 Goudey Napoleon Lajoie PSA Mint 9 | $95,700 |
| 13 | 1953 Topps Willie Mays PSA Gem Mint 10 | $94,798 |
| 14 | 1953 Topps Mickey Mantle PSA Gem Mint 10 | $94,000 |
| 15 | 1933 Napoleon Lajoie PSA Mint 9 | $91,466 |
| 16 | 1952 Topps Mickey Mantle PSA Mint 9 | $88,217 |
| 17 | 1933 Goudey Sport King Babe Ruth PSA Mint 9 | $85,174 |
| 18 | 1952 Topps #1 Andy Pafko PSA Gem Mint 10 | $83,870 |
| 19 | 1863 Harry Wright Benefit Card PSA Authentic | $83,542 |
| 20 | 1952 Bowman Mickey Mantle PSA Gem Mint 10 | $74,911 |