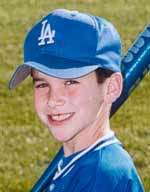 At the age of 10, Kevin Ruane has an appreciation for baseball history that most 25 year olds don't. He knows about many of the past legends even though he isn't old enough to have seen them play. His collection may not be worth a million dollars, but the enjoyment he receives from collecting is worth more than any dollar figure. He collects because he loves it.
Kevin not only loves to collect baseball memorabilia, but he also loves to play the game as well. As a catcher, he hopes to pursue his dream of playing baseball for his favorite college someday. What is his favorite college you might ask? It's UCLA, the college where both of his proud parents went to school. I'm sure that one day Kevin will be gunning out runners at Jackie Robinson Stadium. For now he is content collecting his favorite major leaguers and going to Anaheim Angels games. Kevin was kind enough to spend some time will us to talk about collecting.
Kevin, when did you start collecting baseball cards?
I think I was about 6 or 7 years old. I started by collecting baseball cards mostly and then I got some cards from other sports too.
Do you have any favorite players or teams?
I really like the Angels. Some of the players I like are Adam Kennedy and Darin Erstad, but Troy Glaus is my favorite. He's a great player and I really like watching him hit. He also went to UCLA and that's my favorite college. I also like Barry Bonds. He's a great all-around athlete. He can steal bases, hit homers and play defense. He's really fun to watch play because he can do everything.
I heard that you like to collect stars from the past, too?
Yeah, I like Mickey Mantle, Sandy Koufax, Johnny Bench, and other players too. I have a Sandy Koufax card from the 1950's that was graded PSA 2 and a Mickey Mantle League Leader card from the 1960's. I also got a Johnny Bench autographed ball at the National show. He was a great catcher. When I handed him the ball he smiled and said, "Your not old enough to have seen me play." Then he laughed and gave the ball. It was really cool. The ball even has the PSA/DNA sticker on it.
How did you find out about PSA?
I saw your booth at the show and I saw a lot of PSA cards at the dealer tables. When I looked at the PSA graded cards I said, "How did they make the holders?" I thought that the dealers made them with computers or something, but then they told me that PSA made them. I sent my Sandy Koufax card in to be graded and it got a PSA 2. I think the holders are really cool with the labels at the top. I also got a Troy Glaus card and an All-Star pack that had Piazza, Ripken, McGwire, and Griffey in it. I got all these cards at the show and they were all PSA graded, too. The show was really fun and I got a ton of cards for my collection.
Is there anything else that you really want to get?
Yeah, I really want to get a Troy Glaus bat, because he's my favorite player. I also want to get an autograph of Mickey Mantle. I already have a Mickey Mantle card but I want to get an autograph, too. Collecting is a lot of fun and I want to collect for as long as I can.