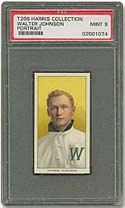 The National Sports Convention was a real eye opener, the Harris collection is being auctioned as we speak, and Tiger Woods reaches new heights in the card market.
Let's take a look at some of the top stories in the sports marketplace.
PSA Dominates at National Convention
If there was any doubt as to which grading service was the true industry leader, it's now long gone.
PSA absolutely destroyed the competition at this summer's great event. Taking in over 20,000 submissions over the weekend, many collectors and dealers were left stunned. "I knew PSA was the most respected grading service but this is amazing," explained shocked collector Rob Renfro. "On Thursday morning, there must have been about 100 people in line to submit cards and the show just started."
Perhaps the most staggering statistic is that the 20,000 submissions PSA took in over the course of the weekend are more submissions than most grading services receive in a month. PSA President Steve Rocchi was more than pleased. "This showing of support just reinforces the fact that PSA is the hobby leader," explained Rocchi. "We took in nearly 300,000 cards last month and that number exceeds what most other services receive in a year. The collector response made this National a great show."
Taking submissions was one way that PSA dominated the show but it wasn't the only way. Prices realized for high-grade PSA cards were nothing less than incredible. Here's a sampling of some standout PSA sales.


| | | |
| --- | --- | --- |
| Card | PSA Grade | Price |
| 1911 T205 Christy Mathewson | 9 | $75,000 |
| 1912 T202 Ty Cobb (variation) | 8 | $12,000 |
| 1935 Goudey Babe Ruth | 8 | $12,000 |
| 1948 Leaf Babe Ruth #3 | 9 | $65,000 |
| 1952 Bowman Carl Furillo #24 | 9 | $1,500 |
| 1957 Topps Yankee Power Hitters #407 | 9 | $27,000 |
| 1959 Topps Willie Mays #50 | 9 | $8,000 |
| 1959 Topps Ernie Banks #350 | 9 | $2,500 |
| 1960 Topps Hank Aaron #300 | 9 | $10,000 |
| 1960 Topps Roger Maris #377 | 9 | $2,500 |
| 1962 Topps Willie Mays #300 | 9 | $19,000 |
| 1962 Topps Mickey Mantle AS #471 | 9 | $6,500 |
| 1965 Topps Pete Rose #207 | 9 | $6,000 |
Can you believe some of those prices! Obviously, the market is very hot right now. In comparison to the 1996 Anaheim National, this show had much more to offer to the high-grade collector. There were more key cards in high-grade than I have ever personally seen at one show, much more. It was a lot of fun to see the great cards on display.
In addition to the cards for sale, PSA was able to acquire several incredible pieces for display at the big show. PSA displayed Babe Ruth's equipment bag, a game-used/autographed Mickey Mantle from 1958, the finest run of Mickey Mantle Topps cards, two 1952 Topps Mantles graded PSA 10, Mark McGwire's 1998 All-Star Jersey, a fabulous run of high-grade rarities, a game-used ball from Don Larsen's perfect game in 1956 the World Series, a Wilt Chamberlain game-used college jersey and many more.
Two items, however, received the most attention by far. One item was Babe Ruth's home run notch bat circa 1927-1931. The bat had 11 home run notches on it. The other item was the most famous and valuable card in the world; the T206 Honus Wagner graded PSA 8. The card just sold over a week ago for $1,265,000!
All in all it was a great show for PSA.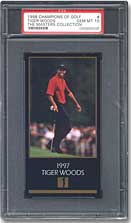 Tiger Woods Making Waves in the Hobby
If I told you that a golf card sold for $20,000, you probably wouldn't believe me. Then you might think to yourself that it could have been a Bobby Jones 1933 Sport King or a 1932 U.S. Caramel Jones in high-grade because those cards are in very popular and tough sets.
Think again!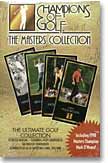 You might want to sit down for this one. The first Tiger Woods card graded PSA 10 from the 1998 Champions of Golf/Master's Collection set sold for that price. $20,000! Wow! PSA has just recently started grading the large-sized golf cards, and with that tough black border on the front and back, this card is rumored to be extremely hard to find in mint condition. The card was also packed at the base of a shrink-wrapped set, which makes it very susceptible to corner damage. Keep your eyes on this one. We will be adding this card to the SMR soon.
The seller, Craig Jones of All-Star Cards, sold the card via the Internet. While he was surprised at the final number, he wasn't surprised at the interest. "The card is very tough and with Tiger playing the way he is, the card reached a tremendous level," explained Jones. "If Tiger wins another one, the card might sell for $25,000."
We will keep you posted on the market values for this card.
Harris Collection Up for Grabs
The Kirk Harris collection, regarded as the finest T206 set in the world, is currently being auctioned through Sportscards Plus of Laguna Niguel, CA. Every card in the set has been graded by PSA with the vast majority grading PSA 8 or better. The first 240 lots have closed but the remaining cards have one day to go. When the final numbers are in for the second half, we will give you a full report.
Here's a sneak peak at some of the notable prices from the first day.


| | | |
| --- | --- | --- |
| Card | PSA Grade | Price |
| Ty Cobb (Bat off Shoulder) | 9 | $77,055.75 |
| Walter Johnson (Portrait) | 9 | $38,358.25 |
| Ty Cobb (Green Back) | 8 | $40,250.00 |
| Christy Mathewson (White Cap) | 9 | $29,161.70 |
| Napoleon Lajoie (Throwing) | 9 | $11,500.00 |
| Cy Young (Portrait) | 8 | $13,591.85 |
Check back with us and we will give you a full recap of the bidding action.