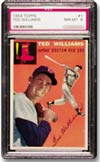 They're at the top - each card dubbed the leader of an important set. It's an honor for most players, but a nightmare for most collectors.
These tough number one cards represent some of the most popular and valuable cards in the hobby. There are several factors that come into play, some of them obvious and some not so obvious. Let's break the number one card fascination down.
First, and perhaps the most obvious factor, is the condition rarity associated with most number one cards. Overhandling and rubber bands damaged most number one cards from days past. Before the plastic sleeves and screwdown holders came along, many collectors would organize their cards by number or by team. In either event, the number one card would always end up at the top of the stack. Wrap a few rubber bands around a stack of cards and see what happens to that top card. The card gets mangled, plain and simple.
Second, the first slot was often given to star players. Imagine combining the condition rarity factor and some star power. Those cards are exceptionally desirable. Some players were given several number one slots like Ted Williams. Check out the list below and you will see what I mean.
Third, the overall set popularity has a lot to do with the value of the number one cards even when that first card is a non-star. The set builders need that number one card to complete their set and the tougher that card is, the higher the value no matter who graces the face. This is especially noticeable when a high-grade example surfaces. If collectors want a uniform set, all graded NM-MT 8; then the battle begins over these tough cards.
Finally, some of the low number series cards were short printed which increases the difficulty of these number one nightmares. It's not like these number one cards needed any additional problems, but the short printed examples make them even more desirable.
Now that we have a basic understanding of these number one cards, let's take a look at some of the more popular examples.
1933 Goudey Benny Bengough - Part of one of the most popular sets in the hobby, this common player is a star amongst sportscards. The red background and crisp picture make this card a visual delight. There is only a handful of PSA NM-MT 8's or better on this card.
1933 Goudey Sport Kings Ty Cobb - A PSA Gem Mint 10 example of this card sold for over $50,000 a few years ago and today that same card would probably bring a lot more. The Sport Kings set is incredibly popular because it contains cards from many different sports and the designs are very attractive. This Cobb, though after his career, remains a popular choice because of the overall appeal of the card.
1934 Diamond Stars Lefty Grove - If this set contained Ruth and Gehrig, this grove card might sell for an absolute ton. Without the two big New York stars, the Grove card still offers condition rarity as the number one card in a very collectible set. He is a Hall of Famer so keep that in mind.
1934 Goudey Jimmy Foxx - This card has really picked up steam over the last year. It was overlooked for a while, but now the card has jumped in value to over $20,000 in PSA 8 with no 9's graded to date. The 1934 Goudey set may not be as popular as the 1933 set but it still is considered one of the most visually appealing sets out there.
1940 Play Ball Joe DiMaggio - The only thing that might be considered a negative on this card is the fact that it is black and white. Besides that, it has everything going for it. A number one card in a pre-war set with Joltin Joe on the face; it can't get much better than that. Recently, a PSA 9 brought over $30,000 at auction. The set also contains a tough Ted Williams and Joe Jackson card.
1948 Leaf Joe DiMaggio - Joe rears his head again and this time he even has color on his side. The lime-green background can be very attractive if you can find one with strong color. The 1948 Leaf set overall is tough, packed with Hall of Famers and key rookie cards. Need I say more?
1951 Bowman Whitey Ford - The Ford has been a fairly popular choice with collectors. Two key factors here; he's a popular Hall of Fame pitcher and the set has the only true rookie cards of Willie Mays and Mickey Mantle. Wow! The handsome portrait of Ford is a very nice looking card and tough to find centered with those narrow borders.
1952 Bowman Yogi Berra - You can't miss that big smile of his. Berra is pictured in full grin on this beauty and his card has also been one that has picked up steam over the last year. The set is very similar in design to the 1951 set and contains many early star cards. Again, look out for those narrow borders.
1952 Topps Andy Pafko - The king of post-war sets, the 1952 Topps set is a stunning visual pleasure. The Pafko, much like the Bengough of the 1933 Goudey set, is a card that is in such demand that it doesn't matter that Pafko isn't a Hall of Famer. There are just a few PSA 8 or better examples out there with a PSA Gem Mint 10 example bringing nearly $90,000 at auction a few years back.
1953 Topps Jackie Robinson - This set is not far behind its predecessor in popularity so the Robinson receives a lot of attention. It's not as tough as some of the earlier number one cards, but with that black bottom border and set popularity, this Jackie is a keeper.
1954 Topps Ted Williams - Teddy Ballgame not only appeared on the number one card in the set, but he appeared on the last card as well. The number one card, while not as visually appealing as the last card, is now believed to be slightly more difficult to locate in high-grade. The orange background helps make this card an eye-catcher. The set is tremendous as well with key rookies like Hank Aaron, Ernie Banks and Al Kaline.
1957 Topps Ted Williams - Once again Ted Williams rose to the top. His 1957 Topps issue is plagued, like most other 1957 Topps cards, by print "snow" in the dark background. Centering can also be a problem as many of these cards are seen with tilts. The set is also considered a collector favorite that contains a few key rookies like Rocky Colavito, Brooks Robinson, Frank Robinson and Don Drysdale.
1958 Topps Ted Williams - In his last Topps set, Williams was given the number one position, which made it two years in a row. This Williams card is a tough one for a few reasons. The paper stock on these 1958 Topps card is very poor in most cases with the cuts showing inconsistencies. The eye appeal can really range on these cards. Some are have rough-cuts while others are smooth. Some have bold color, but most have dull color. Some have white borders while most have "dirty" ones. If you can find a killer example of this card, don't hesitate. The set is packed with stars and the famous yellow letter variations. When was the last time you saw a Mint 9 Williams offered?
1962 Topps Roger Maris - The year after he broke the Babe's single-season home run record, Maris got top billing. The tough brown borders that surround the entire card make this card extremely tough to find without chipping. The card also offers an outstanding photo of Maris swinging his legendary weapon. There may not be a hotter or tougher set from the 1960's.
1966 Topps Willie Mays - Last but not least is the 1966 Topps Mays. Willie's great smile is the focus on this popular card. The main problem with this one is tilting that leads to centering problems. Even when you find this card sharp, it is often seen off-center. The card is very bright looking, and once again ask yourself, when you have seen a high-grade example offered for sale?
There you have it. Remember this is only a brief list of important number one cards, but the list does contain some of the more popular ones. Number one cards should continue to receive a lot of attention as new set builders enter the hobby. Good luck in your search!