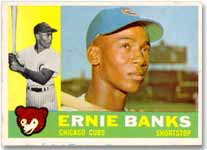 The Player
Ernie Banks loved playing baseball. No matter how poorly his team was playing, Banks came to the park each day with an enthusiasm unmatched by anyone of his era. Banks represents what many sports fans and collectors long for - the way it used to be. Players weren't paid millions of dollars to play the game; they played for the sheer joy baseball offered. Guys like Banks seemed like one of the boys not like some celebrity who walked around wearing expensive suits and driving fancy cars. That is the charm about the older days of the game. The players seemed like normal everyday people and Banks exemplified the players of that era.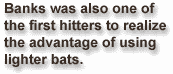 As a tall, skinny kid, Banks did not appear to be the prototype for power, but his incredibly quick wrists enabled Banks to rip line drive homers out of Wrigley Field even when the wind was blowing in. Much like a fellow named Hank Aaron, Banks remained quiet at the plate, but then snapped his wrists with a blink of an eye. Banks was also one of the first power hitters to realize the advantage of using lighter bats. Most sluggers of the day used heavy 35-37 ounce bats, but not Banks. To increase his bat speed and improve his ability to wait on the pitch, Banks began using a bat around the 32-ounce range and the statistics began piling up.
Banks would crush 512 homers in his career while leading the league on two different occasions. He wasn't just a one-dimensional home run hitter though. Banks had a solid career batting average of .274 while collecting 1,636 runs batted in. What may be most impressive about Banks is, while playing during an era that featured many great stars like Willie Mays and Hank Aaron, Banks won two National League Most Valuable Player awards in 1958 and 1959. He won the awards despite playing for a perennial loser, the Chicago Cubs. That tells you a great deal about the professionalism of Banks. He played hard no matter how badly the Cubs were doing.
Amazingly, Banks would never play a game in the minor leagues. He was discovered playing softball at the age of 17 and eventually found himself playing for the Kansas City Monarchs of the Negro Leagues. From there, the Chicago Cubs would make one of their best investments to date by signing the then quiet young shortstop. Eventually, Banks would sharpen not only his batting skills, but his social skills as well. His constant chatter was not only a sign of enthusiasm, but it was also used as a weapon to take other players out of their game. Banks would talk the opposition's ears off and many players would become distracted, frustrated or both. It wasn't trash talk; it was merely relentless conversation.
In the end, Banks was able to win the hearts of many fans despite not playing for a winning team or ever playing in the World Series. He may have played for a perennial loser but he was a perennial fan favorite. Not having a chance to win a championship was something that really bothered Banks, but he never showed his frustration on the field. He carried on through 90-loss seasons and kept drilling bullets out of the yard until he finally lined number 500 on May 12, 1970. In true Banks fashion it would be a line drive to left field with one snap of the wrists. It was that snap that landed him in one of baseball's most exclusive clubs and slugger immortality.


| | |
| --- | --- |
| Name: | Ernest Banks |
| Date of Birth: | January 31, 1931 |
| Position: | Shortstop and First Base |
| Team: | Chicago Cubs |
| Years Played: | 19 |
| Exclusive Club: | 500 Home Runs |
| Elected to the Hall of Fame: | 1977 |
The Cards
Now that we understand how great and popular Banks was as a player, it's time to look at the cards that "Mr. Cub" finds himself on. Like many of our other 500 home run club members, Banks played during a great time period for sportscards. There were great sets and many great stars of the day. You had players like Mickey Mantle, Willie Mays, Hank Aaron, Duke Snider, Harmon Killebrew, Roberto Clemente, Frank Robinson and Ted Williams to name a few. Collecting cards from this era is perhaps the most popular choice for vintage hobbyists. There are many great Banks cards to choose from so let's take a look at some of the more popular ones.


| | |
| --- | --- |
| 1954 Topps #94 | 1961 Topps All-Star #575 |
| 1955 Bowman #242 | 1962 Topps #25 |
| 1955 Topps #28 | 1963 Topps #242 Power Plus (w/Aaron) |
| 1955 Topps Double Headers #31 | 1963 Topps #380 |
| 1956 Topps #15 | 1964 Topps #55 |
| 1957 Topps #55 | 1964 Topps Stand-Up |
| 1958 Topps #310 | 1965 Topps #510 |
| 1958 Topps All-Star #482 | 1966 Topps #110 |
| 1959 Topps #350 | 1967 Topps #215 |
| 1959 Topps All-Star #559 | 1968 Topps #355 |
| 1960 Topps #10 | 1969 Topps #20 |
| 1960 Topps All-Star #560 | 1970 Topps #630 |
| 1961 Topps #350 | 1971 Topps #525 |
| 1961 Topps MVP #485 | |
There you have it. It is an abbreviated list but these cards are amongst the most popular for Ernie Banks. There are some expensive, tough issues and some very affordable examples, so there should be something for everyone on this list.
Let's begin with the 1954 Topps Banks rookie card. This card has always amazed me because of the picture on the front. Banks is so young in the photo that you can barely recognize him as the mature slugger of the late 1950's and early 1960's. The card is part of an outstanding set that contains a rookie card of home run club leader Hank Aaron, a rookie card of Al Kaline, and two great Ted Williams cards. The colorful set has always been an eye catcher. The Banks card, while not incredibly colorful, is very attractive when found with a registered photo. Watch out for centering problems with this one. Top to bottom centering can be difficult to judge at first. This card seems to offer a lot of potential and PSA Mint 9 copies are starting to bring big bucks in the market.
His first Bowman card emerged the very next year and this card, while not as popular as the Topps counterpart, is tough to find in true mint condition. The solid brown borders are virtually impossible to find without chipping. In addition, these cards had their share of centering and staining problems. Patterned after a television-like design, the cards never really caught on to the degree that the Topps cards did. Maybe that is why this was the last we saw of 1950's Bowman. This one might be a diamond in the rough.
Topps had Banks exclusively from here on out and many of his Topps cards are extremely popular. His 1955 Topps card is very colorful and eye appealing. The dark red and blue colors mix well on this visual masterpiece. As only his second major card, this one offers a lot of potential. Banks was also included in the tough, but attractive Topps Double Headers set. It will be interesting to see how these cards fare over the next few years. They are very tough to find in top grades considering that these cards were meant to be folded and handled quite a bit. This may be another Banks card to keep your eye on.
In 1956, Topps produced a very similar Banks card to the 1955 example. While not quite as attractive as the 1955 Topps set, the 1956 set offers more stars. The 1956 Topps set is packed with great star cards so this helps the popularity of the Banks card. If you are looking for a nice Banks card, try to find one that exhibits nice color and gloss. Many 1956 Topps cards are found with very faint color and some of them really lack the eye appeal that most 1955 Topps cards offer. When you do find a real blazer, the difference is quite noticeable.
As Banks continued to drive baseballs out of the park, Topps kept producing nice Banks sportscards. His 1957 Topps card features a close-up of his batting stance. The card is attractive, but as with most cards from the set, print defects are a problem. Print "snow" is probably the biggest obstacle for high-grade collectors. These white dots are found scattered throughout the dark backgrounds on these great cards. Print "snow" can really detract from the eye-appeal so try to avoid cards that have them. The other major problem with the 1957 Topps Banks card is centering. Tilts are commonly seen on these cards so beware.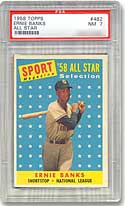 Topps brought collectors more than one Banks card in the 1958 set. Not only does Banks have a regular issue card, but he also has an All-Star card that was featured in the high-number series. The regular issue card has great color with a bright yellow background as the key. Very few true mint examples exist on this card due to the poor production quality of the set. Poor paper stock, inconsistent print qualtiy and varied degrees of rough-cuts appear on these cards. Remember that these cards, like the 1956 Topps card, can vary quite a bit in visual appeal so keep an eye out for the extra nice copies.
His All-Star card, while not nearly as valuable as the regular issue, can be quite difficult in its own right. Print defects are commonly seen on the face. The bright red background is very susceptible to these defects and the coloring of the cards makes the defects very apparent to the naked eye. Don't be surprised if you have a hard time locating a very high-grade copy. These All-Star cards are not easy by any stretch of the imagination.
In 1959, Banks appeared on two cards once again. His regular #350 card is a very popular choice. This card has its share of condition obstacles, but centering seems to be the biggest problem. The green colored background makes this card very attractive if you locate one with strong color. His All-Star card resides in the high-number series. That series contains other great All-Star cards and it is very difficult to find true mint specimens from this run.
The year 1960 brought collectors the first of many Banks cards from the decade. Topps continued to be the only game in town and Banks had two main cards in the 1960 set. The horizontal cards are still not looked upon as the most attractive cards from the 1960's, but they do offer a colorful design. These cards have always been plagued by black print defects that stray across the photos on the front.
Centering and cutting issues can also be problems for the high-grade collector. Some of these cards were manufactured with severe rough-cuts. While the cuts may be factory made, the visual appeal is still hindered by the extreme rough-cut. Banks had another high-number All-Star card that also has the horizontal design. This All-Star card is not nearly as tough as the 1959 Topps example, but the card remains fairly popular.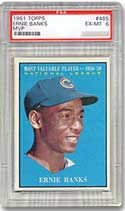 In 1961, Banks was featured on two more cards produced by Topps. This close-up shot of a hatless Banks is not his best photo, but the overall set remains popular. This is one of those sets where his All-Star card is arguably a better choice than his regular card. It's up for debate, but the high-number All-Star Banks is part of a tough series. These cards were designed to look like the front page of a newspaper with a photo of the player in the center. Look out for black print defects on the All-Star cards. The white backgrounds may be adversely affected.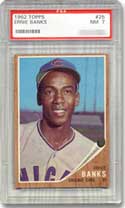 Over the next two years, Banks was featured in two very tough sets from the 1960's. His 1962 and 1963 Topps cards have similar condition obstacles to contend with. The brown borders on the 1962 card and the blue bottom border on the 1963 card are very susceptible to chipping. The 1962 card is a bit tougher because the colored border surrounds the entire card! The typical print and centering issues arise with both cards, but one key to finding a blazer is eye-appeal. Both cards can range fairly dramatically in visual appeal so it is imperative that you seek the bold, glossy examples. Without strong color and gloss, these cards can really appear bland.
Banks was also featured alongside Hank Aaron in the 1963 Topps set. The card was entitled Power Plus and Topps wasn't kidding. Both players had tremendous all-around skills and the combined home run total on this card is 1267! This is a very popular card and tough to find in mint condition like the rest of the set.
From 1964 to 1969, Banks was featured on several cards and many of them are very affordable in comparison to other 500 home run club members of the era. On the 1964 Topps Banks, make sure that the reverse trivia question has not been rubbed off or it will downgrade the card a grade or two.
His Stand-Up card from the same year is a card that seems to be catching on in popularity. There are three reasons behind this. First, the set is very colorful. Second, the set is feasible to complete and is packed with stars. Finally, the set is very tough to locate in high-grade because of the colored borders and perforated design. The cards were meant to be handled because you can "pop" the player up from the center of the card, hence the Stand-Up name. This is one to keep your eye on.
His 1966 Topps card has one major condition obstacle and that would be centering. Tilting is commonly found with cards from this set. His 1967 Topps card is a very popular choice because of the attractive image of Banks, but the card is subject to dark print defects in the bright background so keep an eye out for them. The patterned design of the 1968 Topps borders makes it very difficult to determine corner wear without the aid of a 10x loupe. Check this Banks card closely for wear if you want a high-grade example.
The great career of Mr. Cub was starting to come to an end but he still made it into three more sets. The 1969 Banks is very similar to the 1967 example because of the attractive pose, but centering is more of an issue with this one. The 1969 Topps cards were manufactured with all types of centering on the front; so don't be surprised if finding a gem is difficult.
Banks is swinging his mighty stick and showing his smile on the face of the 1970 Topps card. The gray-colored borders make visible wear an issue, but not as much as the 1962 or 1963 Topps cards. This card doesn't come with a very focused image; so don't be surprised if the photo seems a bit out of register. That's just how they were made.
Finally, Banks appeared in the 1971 Topps set that would be his last card made from his playing days. This card might be the worst looking card of the bunch, however it also might be one of the toughest. Black borders, inconsistent print quality and centering, and an easily chipped green reverse makes this one a real challenge for a card produced in the 1970's. Mint copies won't be surfacing in numbers, so look out on this one.
That about does it. Ernie Banks is in some outstanding sets and his card remains popular. Many of his cards are not only attractive and tough, but Banks himself has the personality that makes him one of the most likable members of the 500 home run club. Many people, including myself, have yet to hear a bad thing about Mr. Cub. The only complaints came from opposing pitchers who wished Banks never came to the plate. Banks will remain a legend.