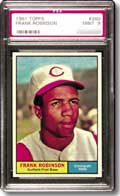 Frank Robinson. He's not a guy that fits the mold of a pure power hitter. That's because he wasn't. Robinson was much, much more than just a power hitter. As the only man in baseball history to win the MVP award in both leagues, Robinson was a tremendous all-around player.
It was Robinson's bat, however, that would give him the most praise. He would win the Triple Crown in 1966, a feat that is rarely accomplished. Consider that the only players to win the Triple Crown in the American League are Ty Cobb, Jimmie Foxx, Lou Gehrig, Ted Williams, Mickey Mantle and Carl Yastrzemski. That is major company! Nine times he would hit over .300, he led the league in scoring three times and in slugging four times. His 586 career bombs places him 4th on the all-time list, which is quite impressive for a player who was not considered a big man. Robinson would also fall only 57 hits shy of 3,000 for his career. Wow!

Beside the incredible statistics Robinson amassed, he was also known for his intensity and leadership. Known for crowding the plate, Robinson would get hit a great deal but he never backed down. Even after getting struck in the temple by a Camilo Pascual fastball during a preseason game in 1958, Robinson would come back to terrorize pitchers. Robinson was also known for sliding aggressively into opposing players. He took pride in beating the opposition in more ways than one and if it was by breaking up a double play, that was fine by him.
Now let's talk about power, and considering Robinson's size, this next story is amazing. On May 8, 1966, Robinson would face pitcher Luis Tiant at Baltimore's Memorial Stadium. Robinson would drive Tiant's offering completely out of the stadium and into the parking lot. The homer was measured at 540 feet! That was the only ball in the stadium's history to clear the stands. Now that's power!
Despite Robinson's great accomplishments, he remains one of the most underrated players in baseball history. He always wanted to be mentioned in the same breath with guys like Mickey Mantle, Hank Aaron and Willie Mays, but it still hasn't happened to this day. Does he deserve it? Absolutely, but we all know how the media plays such a significant part in the perception of players. He just never got his due.

Robinson, on the other hand, would get his due from teammates and opposing players. Even though Robinson was hated by some of the opposing players for his aggressive style, you will hear nothing but praise for this great slugger's ability to play the game. Even "Charlie Hustle" himself, Pete Rose, would often comment about his admiration for Robinson's intense style of play.
Very few players know more about the game of baseball than Frank Robinson does and at the end of his glorious career, he was rewarded for it by being named the first African-Amercian manager in the big leagues. He was a player/manager for the Cleveland Indians and if he would have inserted himself into the lineup more often, he might have reached 600 homers and 3,000 hits, but Robinson wasn't that selfish. The team came first.
It will be interesting how history will treat Robinson, but as time goes by, his accomplishments should speak volumes for his greatness. He truly was one of the best players the game has ever seen. He wasn't just a slugger; he was a great all-around talent.


| | |
| --- | --- |
| Name: | Frank Robinson |
| Date of Birth | August 31, 1935 |
| Position: | Right Field, left field, first base, third base, designated hitter |
| Teams: | Cincinnati Reds (1956-1965), Baltimore Orioles (1966-1971), Los Angeles Dodgers (1972), California Angels (1973-1974) and Cleveland Indians (1974-1976) |
| Years Played: | 21 |
| Exclusive Club: | 500 Home Runs |
| Elected into Hall of Fame: | 1982 |
Frank Robinson played during a great era and there were many outstanding cards produced in that era. The one great aspect to collecting Robinson cards is the affordability of most of his issues. Keep in mind Robinson's outstanding accomplishments mentioned above. When you consider those accomplishments, it makes Robinson's cards seem drastically undervalued. Let's take a look at a checklist of Robinson's best cards.


| | |
| --- | --- |
| 1957 Topps #35 | 1966 Topps #310 |
| 1958 Topps #285 | 1967 Topps #100 |
| 1958 Topps All-Star #484 | 1968 Topps All-Star #373 |
| 1959 Topps #435 | 1968 Topps #500 |
| 1960 Topps Cincy Clouters #352 | 1968 Topps Bird Belters #530 |
| 1960 Topps #490 | 1969 Topps #250 |
| 1961 Topps #360 | 1969 Topps Supers #2 |
| 1961 Topps #581 All-Star | 1970 Topps #700 |
| 1962 Topps #350 | 1971 Topps #640 |
| 1962 Topps #396 All-Star | 1972 Topps #100 |
| 1963 Topps #400 | 1972 Topps #754 Traded |
| 1964 Topps #260 | 1973 Topps #175 |
| 1964 Topps Stand-Up | 1974 Topps #55 |
| 1965 Topps #120 | 1975 Topps regular and mini #580 |
There you have it. Remember that this is only an abbreviated checklist and may not include some regional cards, league leader cards or specials. There are some fantastic cards in the aforementioned list, let's take a closer look.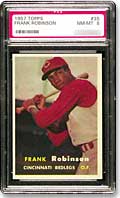 The 1957 Topps Robinson rookie is, hands down, one of the most undervalued cards in the hobby. The set, overall, is very popular with other rookies such as Rocky Colavito and Brooks Robinson. A very young Frank Robinson is pictured, and although he doesn't look like much of a slugger in the photo, boy could he swing the lumber! The two major condition obstacles include centering and print defects. Tilting and print "snow" are very common for this issue. The difficulty of his rookie and popularity of the set make this card a keeper.
Robinson's next card, the 1958 Topps example, is one that is also very tough. The 1958 Topps cards, in general, have very poor paper quality. In addition, many examples are found with dull appearances, severe rough-cuts, print defects and a huge variance in border color. Some are found with bright white borders, but most are seen with toned or off-white ones. The key for the Robinson is to find one with great eye appeal. It's not easy but when you find one; it jumps out at you. The nice combination of yellow and red colors can be very aesthetically pleasing.
Robinson was also included on an All-Star card in the high-number series. Don't overlook this card. The All-Star cards generally sell for a lot less than the regular issue cards do, but these cards are not easy to locate in high-grade, especially mint examples. Print is found all over these cards and it really can detract from the face of the card. Find one that is clean and you will have a small treasure in your hands.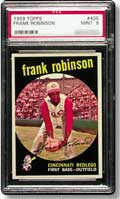 The 1959 Topps Robinson is another great card of this great slugger. The black background that frames his image really makes this card an eye catcher. A picture of Robinson fielding a groundball graces the face. This is another one that can really range in appearance. If you can locate one that has strong gloss and color, it can really be a great looking card. Many of them are found with a dull look, much like the 1958's but not quite as drastic. Also, keep an eye on those borders. Some are seen very white, while others appear almost yellowed. If you are looking for a high-grade example, try to avoid the examples with yellowing borders because it can detract from the visual appeal.
The 1960 Topps Robinson is attractive and very affordable. The horizontal design returned for Topps after a 3-year absence. This card has a nice array of colors on the face and features two images of each player much like the 1956 Topps cards. As far as condition problems are concerned, black print spots and a crude cutting process are responsible for a few obstacles. The backgrounds have a combination of light and dark colors, which allows the dark print defects to be seen, especially near Robinson's face. Also, I have seen many of these cards removed from packs and they seem to exhibit rough-cuts fairly often. Rough-cuts are not a problem and some collectors actually prefer them, but if they are severe, it will take away from the eye-appeal.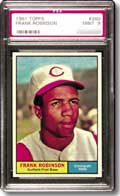 Even though Robinson was not featured on an All-Star card, he was featured on another multi-player card entitled Cincy Clouters, which remains a popular option for collectors. His next card, the 1961 Topps issue, features a close-up of Robinson. This card can be very attractive if the card has retained a nice amount of gloss and is free from print "snow" that can affect the black background on the face. Presentation examples occasionally come up for sale and those usually have tremendous eye-appeal. Not considered a real condition rarity, this card remains very reasonably priced in comparison to other great players of the day.
The 1961 All-Star series included Robinson this time around and that series is considered fairly tough. In fact, some of the All-Star cards are valued higher than the regular issue cards, which is very uncommon. The cards are designed to appear like front pages of newpapers and as a result, centering is hard to judge at first glance. Make sure to take a close look at the centering before you commit to buying one.
Perhaps the single most undervalued 1960's Robinson card is his 1962 Topps example. Ask any dealer, this card is surprisingly tough in high-grade. The fact that it is a 1962 Topps card makes it difficult enough with those brown borders that are so easily chipped, but this card takes difficulty to another level. Much like the Willie Mays card from the same year, the Robinson has print and centering difficulties to contend with as well. In addition, you just don't see this card all that much considering it is a 1960's card. His All-Star card from the same set is not nearly as tough, but still presents a challenge.
The year 1963 produced a collector favorite for Robinson fans. Topps produced a very colorful and bright design for the 1963 set and Robinson's card is definitely an eye-catcher. The orange colored bottom border is tough to find without visible wear and the face is prone to print as most other 1963 Topps cards are. The set popularity, due to the attractive design and rookie cards of Pete Rose and Willie Stargell, make this Robinson card one of his most popular.
The 1964 Topps Robinson is not really considered a condition rarity but it can really look nice if it is found with thick gloss and bold color. Look for a deep red color on his uniform for maximum eye-appeal. The "scratch-off" trivia on the reverse is also something to watch for. Make sure your example has the trivia intact. Topps produced a Stand-Up set in 1964 as well. This set continues to gain popularity due to its great color and genuine difficulty. It is also feasible to complete the set, which increases collector interest.
From 1965-1969, Robinson's Topps examples are very affordable in NM-MT condition. The 1966 Topps Robinson is very popular because that was the year of his Triple Crown. Tilt problems plague the 1966 Topps cards in general, so beware. Patterned borders surround his 1968 Topps card. The strange design and dark coloring makes is hard to detect corner wear with the naked eye. Robinson's 1969 Super card is his most valuable card from the late 1960's in NM-MT condition. This popular test issue set is colorful and rare, but when you find the Supers, they are usually in nice shape to the naturally rounded corners.
The 1970's brought us a few fairly tough Robinson cards. His 1970 Topps high number is a popular choice. This card is tough for two main reasons. First, the grey colored borders make wear easily visible to the naked eye. Second, I remember finding a stack of 50 Robinsons years ago and every single one was off-center! For a 1970's card, it is tough. The next year, Topps produced those black-bordered nightmares. Any 1971 Topps card in true mint condition is a rarity. The terrible centering and commonly found print defects are added obstacles to finding a mint treasure.
Between the years 1972-1975, Robinson appeared on his last baseball cards with some being semi-tough. The 1972 Topps set has always been popular with collectors because of the great visual appeal and his high-number traded card is still considered tough by 1970's standards. In his last season, Robinson appeared in the 1975 Topps set and mini variation. The dark colored borders make these cards tough to find without signs of edge wear but they still remain extremely affordable. After 1971, Robinson's cards drop significantly in price much like that of Willie McCovey and Harmon Killebrew. What does that mean for collectors? Bargains, and lots of them.
Frank Robinson will always represent the finest in batting greatness. He showed his versatility by changing positions and leagues and demonstrated his baseball intellect by his fast promotion to management. He may have been a nightmare for opposing players with his aggressive style of play, but all of his opponents will tell you that, despite dreading his appearance, they all had great respect for him. He's the kind of guy you wanted on your side in a bar fight, and more importantly, in a baseball dogfight. Robinson should remain a legendary figure in the 500 home run club.