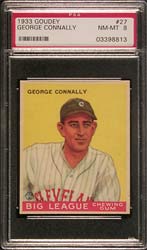 S as inSTOP! The Superior Sports Auctions "The Boys of Summer Sale" is Thursday, June 29. That means you can't delay if you want to participate in one of the year's finest sports auctions!
U as in UNIQUE! Yes, there are truly unique items in "The Boys of Summer Sale," such as the only NM-MT 8 George Connally #27 from the 1933 Goudey set. The minimum bid for this treasure? Less than $600!
P as in PSA-graded! There are 938 lots of PSA-graded sportscards, with many individual rarities as well as large lots for store stock, trading, or expanding your collection. In addition, there are nearly 200 additional lots of non-PSA cards and other memorabilia!
E as in EXCITING! Every Superior Sports Auctions sale is filled with excitement, as there's always something for everyone. Whether you're looking for Benny Bengough, the Mick, Ty Cobb or the Babe, you'll find one and all in "The Boys of Summer Sale."
R as in RARITY! How about a Mint 9 1941 Play Ball Ted Williams? What about a 1948 Leaf Joe DiMaggio #1 card in NM-MT 8? How about a 1953 Bowman Color Mickey Mantle in Mint 9? What about...oh, you get the idea!
I as in INTERNET! Yes, you can bid right on the Internet in a Superior Sports Auctions sale. Or call us directly to update your bids, ask questions, or find any information that you might need. Superior Sports Auctions is here for you!
O as in OUTSTANDING! From beginning to end you'll find "The Boys of Summer Sale" is filled with outstanding values and a great selection. There are autographed baseballs, signed documents, game-used bats, yearbooks—virtually anything a sports aficionado could possibly want!
R as in RIGHT NOW! It's time to do your bidding NOW! This amazing auction ends on June 29! Contact a Superior Sports Auctions representative at once by calling 231-922-9862 or Click here to proceed with the bidding process online.