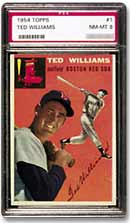 The Player
If you had to pick the greatest hitter in the history of the game, whom would you pick? There's Babe Ruth, Hank Aaron, Stan Musial, Willie Mays, and a slew of others that you could make an argument for. The fact of the matter is that most people would pick Ted Williams. Are most people correct in their selection? You better believe it. Ted Williams is simply the best all-around hitter this game has ever seen. There were guys who were much better on defense, much faster on the bases, and much stronger than Ted, but no one could swing the lumber like "Teddy Ballgame."
Ted Williams began his career as a tall, skinny kid who had an endless amount of confidence. Nicknamed the "Splendid Splinter" because of his toothpick-like frame, Ted would often boast about the type of hitter he was. Unlike most people, Williams could back up his claims. From the beginning, Williams could hit. In his rookie season, he posted a .327 batting average, clobbered 31 homers and drove in 145 runs. Talk about a first impression! He never let up during his career. Only once, during his 19-year career, did he ever hit under .300, and at the age of 40, he led the league in batting with a .328 average.
Probably the most interesting note to Ted's career is the fact that he missed five full seasons during his prime to military duty in World War II and the Korean War. Could you imagine what his career numbers would look like if he played during that time period? The all-time career home run mark would have certainly been in jeopardy. With 521 career homers, Williams would have certainly made a run at 700 or more. Regardless, his accomplishments are amazing. His lifetime batting average was .344. He ranks second in walks with 2,019 despite missing the five years mentioned above. He ranks fourth on the all-time home run percentage list and he only trails Babe Ruth in all-time slugging percentage.

Players of today are always compared to those of the past and the arguments can go on for days. Who's better, Willie Mays or Barry Bonds? Would you pick Babe Ruth or Mark McGwire? One of the more ridiculous comparisons that I've heard in the last few years involved Mr. Williams. A very popular sports magazine tried to compare Tony Gwynn to Williams. No offense to Mr. Gwynn because Tony is a great contact hitter, but the comparison is absolutely ridiculous. People forget that Ted Williams was one of the best power hitters of all-time, not just a singles hitter. Even when it comes to pure batting average, Williams is superior to Gwynn. That was the amazing part of Ted's game. He was capable of almost anything at the plate, and to compare him to any pure average hitter just doesn't make sense.
Ted's hitting prowess is best exemplified by his performance in 1941. Williams entered the last day of the season with a batting average of .3995. That number would be rounded off to an even .400 if Williams decided to not bat again. There was a doubleheader planned that day. How many players would risk losing a .400 batting average just to play on the last day of the season? I assure you that most players would not. Joe Cronin, Ted's coach at the time, asked him if he wanted the day off or if he wanted to play. Williams didn't hesitate one bit and made sure Cronin put him in the lineup not only for one, but both games. Williams, in true legendary fashion, went 6 for 8 in the two games raising his batting average to .406! This is what separates the best from the rest. Ted Williams could handle a bat like no other.
During that same season, Joe DiMaggio broke a major league record with his amazing 56-game hitting streak. DiMaggio went on to win the MVP that year despite the heroics of Williams. The fact that DiMaggio played in New York didn't exactly help Ted's chances, but many still argue that Williams had the better season. Williams finished with a better batting average, slugging average, on base percentage, more homers, walks, and runs than did DiMaggio. Which key number is really more impressive? Is it the 56-game hitting streak or a .406 average that has to be accomplished over the course of the entire season? DiMaggio's streak is looked at, even today, as a top example of hitting consistency. The funny thing is that it is Williams that remained more consistent over the course of the whole year. Williams didn't simply have a streak of consistent hitting; he had an unbelievably consistent season!
Despite being overlooked for the MVP in 1941, Williams is certainly not overlooked by the fans of baseball history. There may never be another player who can measure up to the hitting prowess of "Teddy Ballgame," but anytime a great hitter comes along, they will always be compared to Williams. He wasn't just a great player; he was a real American icon. Forget about his hitting for a moment. This guy was almost killed during the Korean War when his plane was struck by enemy fire. He barely escaped the burning wreckage after his plane fell from the sky. Can you even fathom in today's day and age, what it would be like to hear that Mark McGwire has been summoned as a fighter pilot for a war? Williams didn't complain and he served our country on two separate occasions. His name will be a part of baseball legend forever.


| | |
| --- | --- |
| Name: | Theodore Samuel Williams |
| Date of Birth: | August 30, 1918 |
| Position: | Left Field |
| Team: | Boston Red Sox |
| Years Played: | 19 years |
| Exclusive Club: | 500 Home Runs |
| Elected into Hall of Fame: | 1966 |
The Cards

The sportscards of Ted Williams are amongst the most popular in the hobby today. His cards are considered to be a part of an elite group. You have your cards of Mickey Mantle, Babe Ruth, Lou Gehrig, Jackie Robinson, and Ty Cobb. Williams fits right into this select group. Each member of this group offers more than mere colossal statistics; they offer legendary stories. That is what sets them, including Williams, apart from the average Hall of Fame players.
A great aspect to collecting Williams cards is that the number of cards from his playing days, is relatively small. That's the good news. The bad news is that you better be prepared to pay up for a quality example because Williams is not only extremely popular with collectors, but the sets he appears in are popular as well. In fact, some of his issues are incredibly tough to find in high-grade, so completing a run of Williams cards poses a real challenge for collectors. Let's take a look at a checklist of the "Splendid Splinter's" best cards.
1939 Play Ball #92
1940 Play Ball #27
1941 Double Play #57 and #81
1941 Play Ball #14
1948-49 Leaf #76
1950 Bowman #98
1951 Bowman #165
1952 Red Man Tobacco #23A
1954 Bowman #66
1954 Topps #1 and #250
1954 Wilson Franks
1955 Topps #2
1955 Topps Double Headers #69
1956 Topps #5
1957 Topps #1
1958 Topps #1
1958 Topps #321
1958 Topps All-Star #485
1959 Fleer #68
1960 Fleer #72
The list seems short, but it is not easy to complete. Rarity and popularity make these cards stand out from the average star cards of the same era. There are some spectacular cards on this list, so let's take an in-depth look at Ted's cards one by one.
Every legend has a beginning and Ted's beginning is captured on his 1939 Play Ball card. This black and white rookie card has remained popular with collectors throughout the years. A young, skinny Williams is pictured in full swing and it was that magical swing that gave Williams his legendary status. Poor paper quality, centering problems, and a crude cutting process make this fairly tough in high-grade. Many examples that you find were not cut with very sharp edges thus leaving the appearance of blunt corners. What seems like edge and corner wear may simply be a result of the manufacturing process.
The dark picture in the center of the card, along with the light colored borders, make this card susceptible to eye appeal problems. In other words, the card cannot conceal any centering deficiencies because of the great contrast between the picture and the borders. Even if the card is only slightly off-center, it is very noticeable and may appear worse than it actually is. The interesting thing is if this card were in color, it would probably sell for at least double what it currently sells for. Despite the black and white design, it is the only rookie card of the great Ted Williams. That reason alone makes it a great card.
Ted's next card is the 1940 Play Ball example, which is also a black and white card. The picture features a young portrait of Williams, instead of the batting pose used in the prior issue. Ted's second card is subject to many of the same problems that his rookie card is. Many times, you will find this one off-center or toned. The borders are often seen with yellowed or browned borders. This can really diminish the eye appeal of the card. Again, if this card were designed in color, it would bring a much greater premium than it does today. Despite the design, this card remains a difficult one. Check your PSA Population Reports, there aren't too many to go around.
Williams is featured twice in the 1941 Double Play set and another player accompanies him on both cards. Joe Cronin and Jim Tabor share the stage with Williams one time apiece. The black and white color in conjunction with the multi-player design doesn't help this set when it comes to popularity, but it certainly represents a good bargain in the market. Like the 1935 Goudeys, the Double Play design never really caught on with collectors but logically, the value is there. These are not easy to locate in nice shape and they do feature a very young Williams. This may be a diamond in the rough, so keep your eyes on the market.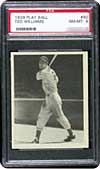 The 1941 Play Ball card is, perhaps, Ted's most desirable card. It commemorates his great season, one that will go down in history as one of baseball's best summers. This card also offers outstanding visual appeal; the 1941 Play Balls are spectacular to look at. This card features the exact same pose as the 1940 version, but this time they used art and color. The background of the portrait can range from a deep orange to a near-pink color. If you can find one with a fresh look that really accentuates the artistry, you really have something. Look out for print defects because the light colored background makes any existing print marks easily visible. This card still has some room to grow in the market, because the demand will almost certainly always outweigh the supply on this one.
Ted's next major card, the 1948-49 Leaf issue, is an extremely difficult card to locate in high-grade. This great card is unfortunately subject to major centering, print, and paper quality obstacles. The set is currently one of the hottest sets on the market because of the difficulty and great selection of star players. The set includes Babe Ruth, Satchel Paige, Joe DiMaggio and rookie cards of Jackie Robinson and Stan Musial to name a few. The key to look for is visual appeal. The color and picture quality can vary on the cards more than any other baseball set in the hobby. Some can be found with vibrant colors and great picture quality, but for the most part, they are found with toned borders and dull color.
Centering is also a major problem with these cards. Picture tilts are very common on this issue and many tilts are so severe that the cards are downgraded significantly. These cards are also found with varying degrees of print problems. Black print defects can really be an eyesore when placed against the orange background. This Williams card offers great potential if you can find one that is PSA Near Mint 7 or better.
Williams appeared on his first Bowman card in 1950 and this card has always been popular with collectors. This card features Williams after he has completed his incredible swing. The colorful image is a classic. One major condition problem with all 1950 Bowmans is centering. The borders are extremely narrow, and if the image is just slightly off to the left or right, the centering appears to be much worse than it really is. This causes major problems for the visual appeal of the card.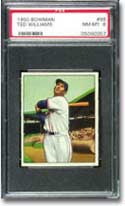 In 1951 Bowman used the 1950 image once again, but this time they changed the dimensions of the card. The 1951 issue is taller top to bottom and more narrow than its predecessor was. The same problem plagues this Williams card: centering. This is a fantastic looking card if you can find one that is centered. This Williams is not really considered a condition rarity, but it is deceptively tough in high grade.
Red Man Tobacco produced a Williams card in 1952 that turned out to be the only Williams card produced that year. The unusual dimensions on these nationally distributed tobacco cards made it difficult to preserve this issue in nice shape. The Williams is extremely colorful and it was the only time he appeared in a Red Man set even though the company produced sets between 1952-1955. Finding a Red Man card without chipping and with the coupons or tabs intact is key. This Williams offers a great deal of potential due to its visual appeal and difficulty to obtain in high-grade.
Williams did not appear again in a regular issue set until 1954 but when he did, he appeared on a few very desirable cards. The 1954 Bowman Williams is considered one of the best post-war cards in the hobby. Due to a contractual dispute, the Williams card was pulled from production after a short period of time. Jim Piersall replaced him on the #66 card. The fact that it is a fairly scarce card that happens to involve Williams makes this one very desirable. Centering and print problems seem to be the biggest problems here. Also, keep an eye out for wax staining on the reverse.
For the first time, Topps featured Williams in one of their sets. They liked Williams so much that they decided to use him as a "bookend" for the set. The first and last cards in the 1954 Topps set belong to Williams and both of these cards are tough and attractive. The #1 card is probably the tougher of the two despite many years of speculation that the #250 card was more difficult. The large size of the 1954 Topps cards make them very susceptible to corner and edge wear. The green colored reverse is constantly found with chipping and the orange top border on the face of the card meets a similar fate.
Another condition problem is, once again, centering. Topps cards from the 1950's were cut with all types of centering. The left to right centering on these cards, if it's off, is easily noticed because of the orange background. The #250 card is the more popular of the two cards because of the outstanding assortment of colors and great picture of Williams. You could argue that this is Ted's best looking card. It certainly is a collector favorite. The yellow background helps conceal centering problems so look out! Make sure you take a close look.
A problem that both cards encounter is wear from rubber bands. As the first and last cards in the set, these cards were often damaged by rubber bands because many collectors stored their cards that way. The first and last cards of any grouping end up getting the worst of it. Sorry, Ted. Regardless, both of these cards are outstanding in every respect, so give serious consideration to these examples.
The last card that featured Williams in 1954 was the regional Wilson Franks issue. This is, without question, the toughest Ted Williams card of all. The Wilson Franks are virtually impossible to find in nice condition. They were placed in hot dog packages of all places! Even if you find one that is sharp, the borders are so narrow that centering is a nightmare. The borders are so small that you might not even notice them. To find one of these cards in PSA Near Mint 7 or better is a major accomplishment.
Now that Bowman was out of the picture, Topps had Williams all to themselves from 1955-1958. The 1955 Topps Williams is another collector favorite because of the wonderful eye-appeal and overall set popularity. Again, like the 1954 Topps #250 card, the yellow background color helps conceal centering problems. Topps also decided to rerun the same photo that appeared on the 1954 #250 card, but instead of a vertical card, Topps went with a horizontal design. You should look for examples with strong color and gloss. This card is seen with a wide range of visual appeal, so keep an eye out for the exceptional examples.
In 1955 Topps also produced a throwback set called Doubleheaders. Much like the 1911 T201 Mecca Double Folders, these cards featured two players and each card is perforated through the middle allowing them to be folded. Williams is featured with Hal Smith on this unique card. The beautiful artwork on these cards make them very appealing, but the difficulty in finding nice examples makes them a tough challenge. Look for future upswing on this obscure Williams card.
The 1956 Topps Williams was for years an overlooked card, but now it has really picked up steam in the market. Very similar to the 1955 design, this Williams can also have a wide range of visual appeal. This card, if found with thick gloss and deep color, can really be an eye catcher. Topps decided to once again use the same photo they used on the 1954 #250 card. I guess what Topps was trying to tell us was if it isn't broke, don't fix it. The 1956 Topps cards were subject to a very crude cutting process, and as a result of this, you find some cards with severe rough-cuts and others that were cut somewhat smoothly. It comes down to personal taste, but I would suggest avoiding those cards that have extreme rough edges.
Over the next two years, Williams would find himself at the front of each set. We have already discussed the significance of #1 cards several times, but add to that the fact it is Williams in the #1 slot, and you have yourself a great card. The 1957 Topps Williams is part of a very popular set and that makes this card even more desirable. Unfortunately, the 1957 Williams card has a host of manufacturing problems to deal with. The dark backgrounds on all 1957 Topps cards are subject to printer "snow" or light colored defects that are very noticeable on the face.
Centering is another serious issue. Tilting is common among these cards, and with the narrow borders along side the dark framing, eye appeal is a problem. There is no hiding centering problems with these cards. Last but not least, occasional blunt cutting makes many of these Williams cards appear to have corner wear. Technically, that may be how the card was processed, but most high-grade collectors don't seem to care. Keep you eye out for crisp examples.
Topps made its last Williams card in 1958. There are three Williams cards to choose from in the set. His #1 card is one that is in high demand and there are several reasons for it. The obvious reasons, the fact Williams is the #1 card in the set and it is the last Topps card of "Teddy Ballgame," are important but other key factors exist. The 1958 Topps cards were produced on very poor paper stock, maybe the worst paper stock of the 1950's Topps issues. Add that to the fact that these cards, much like the 1948 Leaf cards, seem to have a great range of picture quality and you have a very tough card. Some 1958 Topps cards are found with bright color, white borders, and great gloss while others have a very dull, soft look. It seems as if these cards were printed by two totally different companies; the range of picture quality is that wide on this issue.
Two special cards of Williams are offered in the set including a card that pairs him with slugger Ted Kluszewski called Sluggers Supreme. Collectors have always found this card appealing because both players were fan favorites and the card offers the ultimate contrast in hitting styles. You had the brute strength of Kluszewski on one side and the sweet swing of the slender Williams on the other. Williams is also featured on an All Star card at the end of the set. The All-Star card is prone to print defects and many of the problems mentioned above. This card is very affordable in comparison to his regular issue card and offers a great value at current price levels.
With Topps out of the picture, Fleer was able to capture Williams between 1959-1961. In fact, Fleer devoted their entire 1959 set to Williams! For those us who never saw Williams play, Fleer's actions should tell you a lot about the player he was. The set includes 80 cards and features everything from Williams hitting a baseball to flying a plane. Williams is pictured with Babe Ruth (twice), Jim Thorpe, and Jimmie Foxx to name a few, but the most desirable card in the set is the #68 card Ted Signs for 1959. Always considered a tough card because of an early pull from production, the legend of the card just continued to grow. Even though this set is not particularly tough in high-grade, it is very popular and many of the cards in the set are very reasonably priced. Consider this; you can buy a Ted Williams card from the 1950's for under $50. Sounds like a good value to me.
Perhaps the most mind-boggling card on the list is the 1960 Fleer Williams card. Even though the set contained cards of past legends and was somewhat commemorative in nature, it did include an active playing card of Ted Williams. It is the only Williams card available from 1960, yet it sells for a fraction of what it would if he were featured in a Topps set. Someone explain this one to me! I realize that the 1960 Fleer set is not that popular as a whole because the rest of the set contained retired star players, but this card should be valued much higher than it is today. The card is subject to centering problems especially since it doesn't have very defined borders. This Williams card may be a diamond in the rough.
There you have it. Ted Williams will always be one of the most celebrated athletes of the 20th century because of his uncanny ability to hit a baseball. His sportscards are amongst the most popular in the hobby and many of them are legendary in their own right. Some are more rare than others are and some have more eye appeal, but all of them are great. Williams once said that one day, he would want people to recognize him as the greatest hitter who ever lived. Mr. Williams, I don't think you have to worry about that one.
To view PSA's pop report on Ted Williams cards, click here.