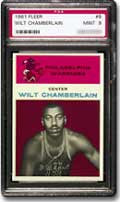 As the high profile auctions continue, the legends of the ring seem to be getting hotter and one nasty lefty continues to impress.
First, let's take a look at some recent auction results.
Last week, another multi-million dollar auction closed with some interesting results. Grey Flannel Auctions, which primarily deals in game-used memorabilia, held a two-day telephone auction where many high quality items were offered. Although their selection of high-grade cards was small, a PSA Gem Mint 10 Roberto Clemente sold for $37,041.
There were several key pieces of sports memorabilia that brought strong prices. Yankee and Dodger items were amongst some of the hottest in the auction. Here's a peak at 30 selected lots.


| | | |
| --- | --- | --- |
|   | Item | Price |
| 1 | 1951 Roy Campanella Game-Used/Autographed All-Star Bat | $11,572 |
| 2 | 1955 Duke Snider Game-Used/Autographed Bat | $6,486 |
| 3 | 1952 Gil Hodges Game-Used Road Uniform | $18,485 |
| 4 | 1952 Pee Wee Reese Game-Used/Autographed Road Jersey | $18,040 |
| 5 | Early 1960's Bill Russell Game-Used Home Jersey | $63,393 |
| 6 | 1962 Wilt Chamberlain Game-Used Jersey | $33,613 |
| 7 | Early 1960's Elgin Baylor Game-Used Road Jersey | $37,041 |
| 8 | Tony Lazzeri Game-Used Bat | $11,827 |
| 9 | Phil Rizutto Game-Used/Autographed Bat | $5,376 |
| 10 | Yogi Berra Game-Used/Autographed Bat | $8,222 |
| 11 | 1963 Whitey Ford Game-Used/Autographed World Series Bat | $4,927 |
| 12 | Roger Maris Game-Used Bat | $7,448 |
| 13 | Thurman Munson Game-Used Bicentennial Bat | $3,703 |
| 14 | Derek Jeter Game-Used/Autographed Bat | $3,693 |
| 15 | Harmon Killebrew Game-Used Bat | $5,060 |
| 16 | 1933 Jimmie Foxx Game-Used Bat | $15,306 |
| 17 | Larry Doby Game-Used Bat | $4,307 |
| 18 | 1946 Ted Williams Game-Used Bat | $22,182 |
| 19 | 1940's Hank Greenberg Game-Used Bat | $6,772 |
| 20 | Pete Rose Game-Used/Autographed "Singles Record" Bat | $8,602 |
| 21 | 1963 Mickey Mantle Game-Used Jersey | $110,078 |
| 22 | Gale Sayers Game-Used Jersey | $23,526 |
| 23 | 1987 Walter Payton Game-Used Jersey | $16,837 |
| 24 | 1997 John Elway Game-Used Home Jersey | $10,185 |
| 25 | 1999 Brett Favre Game-Used Road Jersey | $8,944 |
| 26 | 1988 Joe Montana Game-Used Home Jersey | $11,385 |
| 27 | 1991 Barry Sanders Game-Used Road Jersey | $8,837 |
| 28 | Babe Ruth/Lou Gehrig Signed Baseball | $57,500 |
| 29 | Jimmie Foxx Signed Baseball | $35,149 |
| 30 | 1957 Willie Mays Game-Used Home Jersey | $54,231 |
A few of the prices realized were particularly astonishing. The Jimmie Foxx signed baseball was one of them. The price was without question, the highest price ever paid for a signed Foxx baseball. Jimmy Spence, head autograph authenticator for PSA/DNA, was hired by Grey Flannel to inspect all of the autographed pieces in the auction. Spence, while certainly surprised at the bid level the ball got to, wasn't surprised at the interest in the ball. "The Foxx ball was one of the nicest I have seen in all my years of autograph authentication," explained Spence. "Foxx signatures are very hard to come by and nice single-signed baseballs are virtually impossible to find. This one was a killer example."
Another key autographed baseball, the Ruth/Gehrig example, also brought a strong price which is typical of fine Ruth/Gehrig signed pieces lately. You may recall that a PSA/DNA certified Ruth/Gehrig signed photo sold for over $100,000 a few weeks back, breaking all known price records for Ruth/Gehrig photos. Another signed Ruth/Gehrig ball also sold well in excess of $50,000 recently, so interest in the dynamic duo seems higher than ever.
Across the board, judging by the prices realized for game-used items, that area of the market seems to be picking up steam. As always, there was strong interest shown for Yankee and Dodger items, but they weren't the only items that closed with strong prices. Bats and jerseys alike brought very strong numbers, and as each major auction closes, the numbers continue to escalate. For instance, Ted Williams game-used bats were routinely bringing around $10-$12,000 one year ago, but now several Williams bats have sold at auction in the range of $15-$25,000 in the past 8 months. In addition, this was the second time in a year that a Mickey Mantle game-used jersey has sold for around the $100,000 mark. The first example was a 1958 road jersey and this one was from the 1963 season.
We all know that key pieces, whether it's a high-grade sportscard or piece of memorabilia, seem to always sell for huge premiums, but items related to the lesser-known stars seem to be really generating an unusual amount of interest. Just check the latest auctions for prices realized on high-grade PSA cards and memorabilia of players like Gil Hodges, Phil Rizutto or Moose Skowron and you will see what I mean. In the next Market Report, we should have even more prices to discuss. A few major sports auctions will be closing in the next few weeks, including one from Superior Sports, so we will keep you informed.
A few jabs from the world of boxing.

Boxing memorabilia is becoming increasingly hot on the auction and retail circuit. With the state of boxing as a sport today, many people wonder how that could be. Many people forget that boxing was probably the most popular sport in America for many years. Title matches would routinely fill huge stadiums with fans, 100,000 people or more in some cases. Boxing is very important from a historical perspective as one of the most popular sports in U.S. history.
We are pleased to announce that we will soon be adding the 1948 Leaf and 1951 Topps Ringside sets to the SMR price listings. Both sets deserve recognition and are filled with cards of several legendary fighters like Rocky Marciano and Joe Louis. In addition, both sets are reasonable in size so it is feasible to complete both sets. The interest in these sets, according to several national dealers, is already picking up because of the true rarity and selection of stars.
Vintage Boxing memorabilia has always been popular, and in many cases the section devoted to boxing in major auction catalogues is actually larger than sections devoted to most other major sports with the exception of baseball. Autographed items from legendary fighters like Jack Dempsey and Muhammad Ali have always sold well. Vintage boxing photos are also becoming a hot item. Old wire photos that were once traded at the $20-$25 level are now bringing a few hundred dollars a piece.
Nasty Lefty Gaining Hobby Respect
If you were a major league pitcher, could you imagine your own rookie card being worth nearly $500 without ever having started 20 major league games? For St. Louis pitcher Rick Ankiel, that is exactly the case.
Ankiel's cards are really catching the eyes of collectors because of his devastating breaking ball and uncanny composure on the mound. Ankiel's 1999 Ultimate Victory card seems to be the favorite of collectors. This card is bringing roughly $450-$500 in PSA Gem Mint 10 while his 1999 Fleer Update card is selling around the $100-$125 mark in the same grade. This is amazing considering his limited major league experience, but collectors see many positives about the potential of his cards.
First, Ankiel has clearly established himself as a real major league talent. Opposing hitters have consistently been impressed by Ankiel's stuff, especially his breaking ball. Already, many hitters have been seen shaking their head as they walk back to the dugout after a called strike three. He really does have exceptional ability.
Second, Ankiel has shown maturity well beyond his years. To see the composure Ankiel possesses is a rarity and very important to his development as a pitcher. There have been several pitching prospects who possessed great talent, but their lack of maturity lead them down a road of trouble and lead to an inability to learn. Ankiel seems to be levelheaded.
Third, Ankiel is playing for a winning team that has a great shot at postseason play. The exposure can do nothing but help Ankiel's cards because the more he is in the limelight, the more collectors will notice his ability. As a lefty, he should get some solid playing time if the Cardinals should make it to the playoffs. St. Louis is a great baseball town. The fan support should help Ankiel.
Finally, Ankiel can learn how to deal with stardom from fellow star and teammate Mark McGwire. If there is someone in baseball today who knows how to handle media pressure more than Mark McGwire does, I'd like to see it. Ankiel has so much to gain by just playing on the same team with McGwire, not only from the exposure, but also from having the pressure focused on Big Mac. With the constant focus on McGwire, Ankiel should be able to relax and perform without too much pressure.
The bottom line is Ankiel certainly has major potential. Collectors are keeping a very close watch. It will be interesting how the market changes as the season winds down towards the playoffs.
Check back with us for the next Market Report in two weeks. A few major auctions will be closing and we will keep you posted on the results.