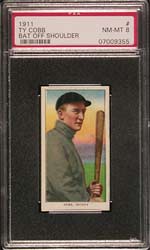 Superior Sports Auctions "The Boys of Summer Sale" features spectacular rare and important vintage sports trading cards and memorabilia. The "Gallery of Legends" section includes some of the most incredible individual sports cards available for sale anywhere! Highlights from this spectacular group include a gorgeous T206 Bat Off Shoulder Ty Cobb, a priceless 1914 Cracker Jack of Ty Cobb, the ultra-rare 1933 Goudey Benny Bengough, two spectacular Goudey Babe Ruths, an almost unthinkable PSA 9 1941 Play Ball Ted Williams, an awe-inspiring 1951 Bowman Ted Williams, an incredible 1953 Bowman Color card of Mickey Mantle and numerous other special and unique cards!
Internet bidding is available now. "The Boys of Summer Sale" will end on Thursday, June 29, 2000 with a live telephone auction ending at 7pm Pacific Time. For more information, visit the Superior Sports Auctions website or call 231-922-9862.
The following are just a small sampling of some of the incredible rarities waiting for you at this sale:
Gallery of Legends
Lot 2
1911 T206 Ty Cobb Bat Off Shoulder NM-MT 8
Ah, here it is! A beautiful card of the greatest batsman that baseball has ever seen. The greatest player to ever have such a controversial, hate-filled career, who still, by virtue of his extreme talents, attained the highest number of votes in the very first balloting for the Hall of Fame, in 1936. Fancy this - in the past 50 years, only eight players have hit for a higher average in a single season than Cobb's average over his entire career! His incredible .367 lifetime mark will surely be the standard for years to come, possibly forever! Such a player was Cobb by the end of the century's first decade that the American Tobacco Trust included four versions of his likeness in their T206 baseball card offering. This copy, the "Bat off Shoulder" variety, known for its spectacular array of colors and depiction of Cobb's unusual gapped batting grip, is infinitely popular with virtually all collectors of vintage cards. The card features tremendous visual appeal due to its stark depiction of Cobb's gray uniform and brown bat set against the layers of pastel in the background. The surfaces are exceptionally smooth, with no wear or pitting anywhere. The registration is nice but remains a touch away from flawless. The borders are a classic T206 chalk-white with no toning evident. The four corners are very solid 8 quality corners, remaining quite square and true but not razor sharp. Finally, the Piedmont 350 reverse is clean and well-centered with no material defects. Once again, this critically important card is highly recommended for collectors who enjoy beautiful and important items! Minimum bid $7,590. Bid Now!
Lot 3
1914 Cracker Jack Ty Cobb 030 NM-MT 8
Baseball fans have idolized Ty Cobb since his first game as a Tiger in 1905, but his career and post-playing days have always incited as much acrimony as appreciation from his fans and peers. Lost in all of the historical cynicism toward Cobb is the fact that he was undisputedly the class hitter of his era, a great fielder, and a great team leader. The Detroit teams of 1907, 1908 and 1909 all played in World Series and Cobb led his team to a mini A.L. dynasty during those years. In 1914, Cracker Jacks continued with the tradition that the tobacco companies had begun, which was creating these colorful little cards and inserting them as a gimmick into their products in an attempt to build sales. Obviously, the cards were not protected from the candy, and what few cards have survived to this day remain, for the most part, forever coated with light caramel stains, mostly on the reverse of the cards, but sometimes coming through to the front. This card, the #30 card from the 1914 series, is almost incomprehensible when the entire picture is taken into account. The paper-thin card has an absolutely spectacular image of the great player, with textbook perfect color, definition and focus! Every element of the card retains fully original vintage appearance, from the bold, fully filled tomato-red background to the creamy-white, consistent borders. The corners, somehow, have retained a squareness and trueness that's not seen often. They're not perfect, but astonishingly close! The reverse is perfectly printed and centered and, as is almost always seen, has several areas affected by light residue that has remained unchanged since that fateful day that this card was placed into its box! The appeal, scarcity, and overall importance of this card are close to unparalleled, so please consider this vital part of our hobby for your collection! Minimum Bid $16,800. Bid Now!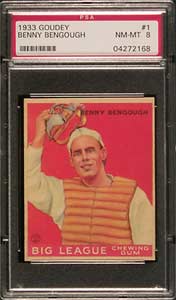 Lot 4
1933 Goudey Benny Bengough 001 NM-MT 8
Collectors everywhere love to romanticize the "scarce" #1 cards from many sets, but of course the reality is that the cards aren't any scarcer than the other cards from the same series, it's just that they're scarcer in high grade! For this card, the incredible scarcity of the low numbers from the 1933 Goudey set only exacerbates the difficulty of finding this in high-grade. Somehow, six copies have survived to this day in NM-MT 8 condition, but that number is far short of the number of collectors of the set and collectors of rare, high-grade cards in general! This card is an absolute knockout! The four corners are sharp, square and clearly NM-MT quality! The card's surface is untouched and offers the viewer clear focus and bold, clean coloring! Each of the four borders is a beautiful vintage cream color, which gives the card almost unbeatable eye-appeal! The reverse is well-printed with no distractions to lower the appeal. This outrageous card is destined for a great baseball card collection - will it be yours? Minimum Bid $24,000. Bid Now!
Lot 12
1941 Play Ball Ted Williams 014 MINT 9
Always known as a tremendous hitter, Williams has admitted that he could see the pitcher's grip as he released his pitch, allowing Ted the advantage, if he could exploit it in time, of the knowledge of the speed and type of pitch. Furthermore, Ted's incredible .344 lifetime batting average is enhanced by his equally incredible 2,019 career bases on balls, which added up to a mind-boggling .483 career On Base percentage! .483! This means that Ted made it safely to at least first base ALMOST EVERY OTHER AT BAT over his 19-season career! In 1941, Ted's third year in the Big's and the year of issuance of this incredible card, Ted slapped 37 homers with 120 Ribbies while batting a brisk .406. You should be able to tell by now from all of this buildup that we're talking about an exceptionally important baseball card, and we are! This card of Ted, #14, is graded MINT 9 by PSA, and I must say that we wholeheartedly agree! There simply is nothing wrong with the card, and the elements that constitute the grade are all firmly in place! The first impression is that of a fresh, vintage card with very nice creamy-white borders surrounding a focused, true image of the young superstar. A closer exam reveals flawless placement of the elements of color and detail on Ted's face and uniform, and very rich peach/orange background coloring. The card is centered 55/45 L/R and 45/55 T/B, with uniformly bright borders on all four sides and four corners that are sharp and square and are legit "9" corners. The reverse is printed perfectly, centered, and is very, very close to utter perfection, showing uniformly all around with no surface wear or toning. All told, Ted Williams is absolutely one of the biggest names in the history of baseball, this card is rarely offered for sale, and cards of this magnitude are rarely offered anymore, it seems, in PSA 9. Prepare to bid aggressively for a chance to own this incredible treasure! Minimum Bid $21,000. Bid Now!
Lot 17
1953 Bowman Color Mickey Mantle 059 MINT 9
There are premiere cards, and then there are showstoppers, and finally there are jaw-droppers. This card is all three! Possessing the marquee effect of a premiere card, the incredible eye-appeal of a showstopper, and the impossible condition rareness of a jaw-dropper, this card fits the definition of every collector's ideal of desirability! Wow! This card will blow your socks off! Very, very close to 50/50 both ways, no one could possibly be displeased with the centering. The photo of the Mick is clear and focused, with the colors, shadows and textures vividly defined on his body and uniform. Three very, very minor print specks exist and are addressed for the sake of full disclosure. They in no way reduce the stunning visual appeal of the card. The card's borders are uniformly creamy-white all around and enjoy that special formula for consistency. The four corners are sharp, square and of outstanding quality. The reverse is flawlessly printed and very cleanly presented. Overall, this is an incredibly important, undervalued card that should absolutely be owned by anyone claiming to have a serious baseball card collection! A less desirable 1954 Bowman Mantle card, also in PSA 9, recently sold for around $40,000, and for this card to attain a final price approaching that figure should come as no surprise to collectors. This is one of the very best, ever! Minimum Bid $10,500. Bid Now!