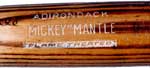 The latest addition to Sports Collectors Universe is the new game-used bat price guide. All of the top bat experts, dealers, and collectors were consulted in putting this guide together. It should prove to be educational at the least. As far as I can remember, a game-used bat price guide has never been offered on a continuous basis. There have been a few books, but never an up-to-date guide for the collector. We are proud to be the first.
The new offering includes two sections: the guide and the price listings. The game-used bat guide is a great reference tool for collectors thinking about starting a collection of game-used bats or for collectors who simply want to learn more about them. This section helps explain the different factors that come into play when evaluating bats. It is extremely important that you read this section first before going on to the price listings. The guide should help answer many collector questions.
The second part to our new guide is the price listings. There are three sections to choose from. You can click on
Hall of Famers,
Vintage Stars,
or
Modern Stars
for the list that intrigues you most. The listings will be updated as needed so we hope you find this guide helpful in assembling your prized collection. Like no other piece of baseball equipment, bats are extremely personal. Hats, jerseys, gloves, wristbands, etc. are all standardized apparel for the major league player. With the exception of his name or number embroidered on the piece, each item is a clone used by several players throughout the league. This is not so with bats.
There are many different manufacturers, models, colors, lengths, weights, and personal alterations when it comes to bats. Two players may use the exact same brand, but one has the handle shaved while the other uses a unique taping method to enhance his grip. Some players use massive amounts of pine tar, others don't use tar at all. Some players use the same model every year; others change bats each plate appearance. Almost every player's bat is different in some way or another. It's part of what makes baseball unique.
So come learn about the weapons that made these modern-day swordsmen famous. Enjoy the game-used price guide.