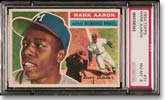 Throughout our great country's history, we have been either idolized or scorned around the world for the competitiveness with which we Americans do just about everything. From the ballfield to the boardroom, our thirst for competitive success has constantly bred the finest efforts from combatants striving to conquer all challengers in the quest to be the best. It is with this background that Topps and Bowman waged a four-year duel-to-the-death for supremacy of the trading card and gum business of America's youth in the early 1950's.
Now that nearly a half-century has passed, we are left to look back and speculate as to the reasons for Topps' victory and the demise of Bowman. Was it that Topps so ingrained itself into the indelible minds of kids with their larger, more dramatic looking cards in 1952? Was it the purported problems with distribution that Bowman suffered, or even that the 1954 and 1955 Topps offerings were clearly aesthetically superior to their competition? The answers probably lie in all of these factors and perhaps others as well.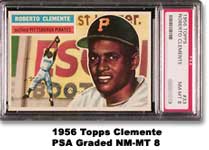 Nevertheless, the year 1956 was, for collectors, the first time in years that they could attack one set and eventually find a card of nearly every important major league player! No more questioning with your friends was necessary, for example, if they had seen a Duke Snider or Roy Campanella from a certain set that year, or if it could only be found in one set or the other. For four years, contractual or other issues had kept every single major set from the two companies from reaching its full potential! Even the titanic 1952 Topps set lacked vital cards of Stan Musial, Ralph Kiner, and Ted Williams! Subsequently, each of these sets lacked several key players, and please note that each year the list gets longer (!):
1952 Bowman: lacking Ted Williams, Billy Martin and Jackie Robinson.
1953 Topps: lacks Stan Musial, Duke Snider, Richie Ashburn, Ted Williams and Gil Hodges!
1953 Bowman: no cards of Willie Mays, Ted Williams or Jackie Robinson!
1954 Topps: without Mickey Mantle, Pee Wee Reese, Stan Musial, Bob Feller, Ralph Kiner and Roy Campanella!
1954 Bowman: missing Warren Spahn, Jackie Robinson, Stan Musial and all three of the key rookies that Topps included in their set: Aaron, Banks and Kaline!
1955 Topps: no Mickey Mantle, Roy Campanella, Whitey Ford, Billy Martin, Ralph Kiner, Stan Musial, Bob Feller or Pee Wee Reese! Wow!
1955 Bowman: lacking Duke Snider, Jackie Robinson, Billy Martin, Warren Spahn, Stan Musial and Ted Williams!
Obviously, the competitive nature of both companies reached its apex in 1955 and fierce contractual lines were drawn between the two sets. Collectors by this time must have been innocently scratching their heads and wondering what the big deal was. But, as we've seen, Topps prevailed and after the 1955 baseball and football issues completed their runs, Bowman's business was done and Topps purchased what was left.
Certainly it was the end of an era, and the loss of competition would eventually lull Topps into placidity (see 1964 cards!), but for 1956 the result was a bonanza. Beautiful, full-color, large-sized cards of an amazing 340 different players and teams entrenched Topps firmly as America's card producing icon. Established superstars like Ted Williams, Whitey Ford, Roy Campanella, Mickey Mantle, Jackie Robinson, and Duke Snider complemented gorgeous action poses of young phenomenons like Hank Aaron, Roberto Clemente, Sandy Koufax, and Herb Score. This set had everything – even full-color team cards for the first time, two unnumbered checklists, and cards picturing both leagues' Presidents. This set was heaven! Following all those years of missing superstars, this set featured every large name in the game with the exception of Stan Musial. Finally! If you've been thinking of building a reasonably priced, unbelievably popular set of cards, all PSA-graded and from the 1950's, the 1956 Topps set offers it all. Happy collecting!