One Hall of Famer and one player that probably should be in the Hall are making waves in the hobby.
In case you haven't heard, the famous T-206 Honus Wagner is going to be auctioned off within the next several weeks. Graded NM-MT 8 by PSA, this Wagner is the highest graded example known to date. In fact, many experts believe this is the finest example in existence. So far, PSA has yet to grade another T-206 Wagner in PSA 6 or better with most of the authentic examples grading extremely low.
The card's history is very interesting and controversial to say the least. As part of the incredible T-206 set, this card became legendary. The set contained over 500 cards and the cards were issued over a three-year period from 1909-1911. One card was contained in each pack of American Tobacco cigarettes and that's where the controversy begins. Many believe that Wagner had the company pull the card out of the packages because he didn't want to condone tobacco use. This is hard to believe considering that Wagner himself was an avid tobacco user during his career and is even pictured chewing some on his 1948 Leaf card. Maybe it was just a contractual dispute? No one knows for sure.
Despite the controversy, papers of the day support the first theory. During that time period, it was reported that Wagner refused to be a part of a card set that promoted tobacco use with kids despite his own personal desire to use tobacco products. This is the theory that most people stand by today. Considering what we know now about the health risks with tobacco, it makes the card that much more interesting.
This example has received a great deal of attention in the past. The card first gained national recognition when hockey legend Wayne Gretzky and former Los Angeles Kings owner, Bruce McNall, purchased the card for $451,000 at a Sotheby's sale in 1991. Later, it was sold privately to Wal-Mart for an undisclosed amount. The card was used as part of a national contest and the winner of the contest immediately put the card up for auction through Christies in 1996. The winner, Michael Gidwitz, won the card for a whopping $640,500. Now the card is up for auction once again.
With the way the market has changed in the last few years, hobbyists are already trying to predict at what level the Wagner will close. Rumor has it that this card should approach and surpass the $1,000,000 mark easily, with the $2,000,000 mark not out of reach. We can only wait and see. As soon as the auction closes, we will give collectors a full report of the sale.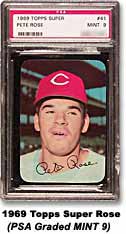 The second topic of note is the fairly recent movement of Pete Rose material. Rose, the all-time hit leader, has always enjoyed a fairly strong following, but the recent trend has vaulted Rose-related items to another level.
Only a few years ago, Rose items were somewhat "lukewarm." That has changed. Collectors have forgotten about his controversial past and now are concentrating on his baseball accomplishments. You may remember the now infamous television interview during the World Series. It was clear by the outpouring of support for Rose, that the public is not interested in discussing his past gambling problems. That interview seemed to spark even more interest in his collectibles. Average fans know that Rose is the all-time hit leader and part of the All Century team. In their mind, he is already a member of the Hall of Fame. There is no question that he was one of the best on the field.
The collector response to Rose memorabilia is similar to the approach collectors have to Shoeless Joe Jackson memorabilia. Jackson is also not in the Hall, but his legend carries on regardless. The two areas where Rose-related material is really hot are high-grade PSA cards and game-used bats.
Recently, PSA card auctions have seen Rose examples continue to out-perform prior price records. The interest in his high-grade cards extends from his popular 1963 Topps rookie to more modern issues of "Charlie Hustle." Here's a quick look at some of Pete's more popular issues and the difference between the PSA "8" and "9" price.
| | | |
| --- | --- | --- |
| Card | SMR "8" Value | SMR "9" Value |
| 1963 Topps #537 | $1500 | $5100 |
| 1964 Topps #125 | $150 | $1500 |
| 1965 Topps #207 | $275 | $1500 |
| 1966 Topps #30 | $95 | $500 |
| 1967 Topps #430 | $195 | $800 |
| 1968 Topps #230 | $130 | $725 |
| 1969 Topps #120 | $65 | $500 |
| 1970 Topps #580 | $125 | $450 |
| 1971 Topps #100 | $100 | $500 |
| 1972 Topps #559 | $70 | $300 |
As you can see, the mint examples have really picked up steam and are selling for a significant premium above the NM-MT 8 examples. The Mint "9" price on the Rose rookie is probably conservative, because one has not come up for public sale in quite some time. If a Mint 9 example did become available, you would certainly see a tremendous price realized.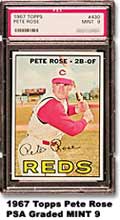 Pete Rose game-used bats have also been a hot item in the market. It makes a lot of sense. Here you have the major league record holder for career hits. What better Rose collectible to have than the weapon he used to get there? In a recent auction, a Rose bat from the late 1970's brought over $8,000. Granted, this bat was a very nice example, but $8,000 is a strong price for a bat from that era. Earlier Rose bats from the mid-1960's have been consistently bringing $3,500-$6,000.
All in all, Rose material has been very hot on the auction and retail circuit.
These are two interesting topics to keep your eye on. Will Rose cards continue to escalate despite his absence from the Hall of Fame? Will the Honus Wagner break $1.5 million? Only time will tell. We will do our best to keep the collectors informed about the latest hobby trends so check back with us soon. Until next time, have fun with the hobby!