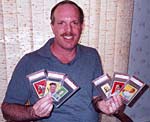 Brian Seigel had the chance of watching the likes of Mickey Mantle and Willie Mays as a kid. Most of us can only dream about what that experience must have been like. Seigel turned his passion for baseball into collecting as a young boy, and after almost two decades away from the hobby, he started again as an adult. This time, he decided to pursue the cards he had only heard about as a young collector. Legends such as Ty Cobb and Walter Johnson were only names seen in old baseball books. They almost seemed godlike.
It is the pursuit of these legends and baseball history that has brought Seigel to this new level of collecting. If it's rare and popular, Seigel wants a piece. He was kind enough to spend some time with us discussing his collecting goals and why PSA has meant so much to his wonderful assortment of pre-war beauties.
When did you start collecting?
Well, I started when I was very young. I began collecting in the mid-1960's, but I lost interest by the end of the decade. In the late 1980's, I started to get interested again and that's when I decided to start building the collection I have today.
What is the focus of your collection?
My main focus is high-grade pre-war cards. I really try to obtain the keys cards and Hall of Famers from this era. Out of 75 Hall of Famers in the T-206 set, including all poses, I have 64 in PSA NM-MT 8 or better. It's taken me five years to do this. With the 1915 Cracker Jack set, I have 26 of the 31 Hall of Famers in PSA NM-MT 8 or better. I also try to collect runs of some of the better players. I have all four 1933 Goudey Babe Ruth cards in PSA 8 and the Sport King Ruth in PSA 8. I also have three of the four T-206 Ty Cobb's in PSA 8 including the tough green back variation. I also collect cards outside of the pre-war era. I have a run of PSA 8 Ted Williams cards that start with his rookie card in 1939 and extends through 1955. I also have every Joe DiMaggio card from 1938 Goudey to 1948 Leaf.
It sounds like you have a great collection, but if you had to pick a few favorites, what would they be?
That's a tough one, but I guess I really enjoy the true rarities along with cards that have exceptional artwork. The greenback T-206 Cobb is one I really enjoy because of the scarcity. There are only a handful of PSA 8's on this one and I feel fortunate to have one of them. Another is my 1915 Cracker Jack Walter Johnson. That one is graded a Mint 9 and the artwork is fantastic. The #53 1933 Goudey Ruth is one that stands out for me. It's the classic Ruth pose on his toughest card from the set. I have that one in a PSA 8. My final two favorite cards are PSA 8's of the 1934 Goudey Lou Gehrig #37 and the 1948 Leaf Joe DiMaggio #1 card. Both have great eye appeal and are, again, very tough in high-grade. If I had to pick a set, it would have to be the T-206 set as a whole. When I have these cards all laid out next to each other in PSA 8's, it's a spectacular site.
What was it about PSA that interested you most?
I initially started buying raw cards in the early 1990's and PSA helped me save money shortly thereafter. I had been burned in the past and ended up losing about $15,000 after buying trimmed cards. I learned the hard way, but by using PSA, I didn't have to worry about a situation like that again. PSA provides a great service.
What are your collecting goals for the future?
I will continue to buy rare pre-war cards. There are plenty of cards out there that I am interested in. I have learned a lot about baseball history by collecting these cards. The great thing is that you can learn so much, not only about guys like Ty Cobb and Cy Young, but also about other lesser-known Hall of Fame Players like Ed Walsh who was the last pitcher to win 40 games. I never saw these guys play, so it's a lot of fun to read about them and enjoy their history through cards. Most of my friends really enjoy looking at these great cards. They get a chance to learn about the players that made headlines long before even my parents were born.
Brian welcomes any trading inquiries and you can reach him via email at [email protected].