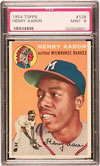 The Player
He's simply the king. He's the king of the most prestigious club in sports. He is nicknamed "The Hammer." He is Hank Aaron. Like Babe Ruth, Aaron's name is synonymous with the home run. When you hit 755 of them, it's easy to see why. Aaron may have not been the prototype for a power hitter, he only weighed in around 180lbs, but his lightning-quick wrists would whip the barrel of his lethal bat around so fast that it seemed like a blur. Physically, he may not have been as imposing as Mantle or McGwire, but Aaron had incredibly strong forearms that helped him produce such tremendous bat speed.
Even though Aaron will always be remembered for his home run resume, which includes hitting 40 or more homes eight times, he was also an outstanding all-around player. Aaron could really do it all. He possessed excellent speed, a strong throwing arm, a great batting eye and was an above average fielder. Most surprising was Aaron's ability to hit for average. Most people think Aaron was a pure home run hitter but he was really a line drive hitter who happened to hit a lot of homers. He finished his career with a .305 batting average and 3,771 hits which ranks 3rd all-time! Aaron actually won the batting title in 1956 and 1959. Many players and teammates claim that Aaron could have probably won more if he wasn't so caught up in the home run race.
Aaron was also a clutch hitter. He had a .364 career World Series batting average and drove in an amazing 2,297 runs which is the best of all-time. Despite Aaron's unreal resume, his popularity suffered for several reasons. He didn't play in a big market town like Mantle or Mays. He also played at a time when racial tensions were high and, like Mays, he suffered because of this. Most importantly, he was chasing a record held by the most popular player to ever play the game, the beloved Babe Ruth. It seemed as if no one wanted him to break Ruth's career home run mark, but on April 8, 1974, the fans came to their feet to honor the man who just parked Al Downing's pitch over the left field wall.
Hank Aaron is probably the most underrated player in baseball history and his sportscards and memorabilia have suffered because of this. There are many oddities in the hobby with many cards seemingly undervalued and some overvalued but Aaron's case is one that really boggles the mind. He overcame tremendous pressure, including death threats, to accomplish the things he did but for some reason collectors refuse to place him amongst the upper echelon of players. I will leave you with this; 755, .305, 3,771, 2,297, 2,174, and 23. Goodbye.
The Cards
Many of Hank Aaron's cards are extremely collectible, but in the overall scheme of things, very undervalued by collectors. His cards span three decades and several of his cards are featured in some of the most popular and desirable sets in the hobby. The Aaron checklist provided is merely an abbreviated one. For space purposes, thanks to Aaron's incredible longevity, we have limited the list to Aaron's more popular and desirable cards.


| | |
| --- | --- |
| 1955 Bowman #179 | 1964 Topps #300 |
| 1955 Topps #47 | 1964 Topps #423 (with Mays) |
| 1956 Topps #31 | 1964 Topps Stand-Up |
| 1957 Topps #20 | 1965 Topps #170 |
| 1958 Topps #30 | 1966 Topps #500 |
| 1958 Topps #30 (yellow letter) | 1967 Topps #250 |
| 1958 Topps #351 (with Mathews) | 1968 Topps #110 |
| 1958 Topps #418 (with Mantle) | 1969 Topps #100 |
| 1958 Topps #488 | 1969 Topps Supers #34 |
| 1959 Topps #380 | 1970 Topps #500 |
| 1959 Topps All-Star #561 | 1971 Topps #400 |
| 1960 Topps #300 | 1972 Topps #299 |
| 1960 Topps All-Star #566 | 1972 Topps #300 |
| 1961 Topps #415 | 1973 Topps #100 |
| 1961 Topps #484 | 1974 Topps #1 |
| 1961 Topps #577 | 1975 Topps #1 |
| 1962 Topps #320 | 1975 Topps #660 |
| 1962 Topps #394 | 1975 Topps Mini #660 |
| 1963 Topps #242 (with Banks) | 1976 Topps #1 |
| 1963 Topps #390 | 1976 Topps #550 |
Whew! There are a lot of Aaron cards to collect and this was only an abbreviated list! There are several regional and more obscure cards on which Aaron was featured, but this list should provide most of his significant and popular cards. Let's begin.
Every legend has a beginning and Aaron's start came in the form of his 1954 Topps #128 card. This card, a classic in the hobby, offers two youthful images of the great slugger. Bowman really missed out on this one. This Topps example, when found with a rich, orange background, really provides tremendous eye appeal. Aaron's rookie card, while not extremely difficult to locate, is hard to locate in top condition for a few reasons.
First, most cards in the 1954 Topps set are found with very rough looking edges that can sometimes extend into the corners of the cards. Second, the bright-colored background is susceptible to print marks as any defect is easily detected. Finally, many of the cards are found with poor centering either top to bottom or left to right. The narrow borders make this a nightmare for high-grade collectors. For these reasons, mint examples are virtually impossible to find.
The 1954 Topps set is an outstanding set in its own right and this fact just makes the Aaron rookie even more desirable. Collectors just love the design of these great cards and several key cards are found in this set. Besides the Aaron rookie, you also have rookie cards of Ernie Banks, Al Kaline, and the popular Ted Williams cards that act like bookends for the set. The Aaron rookie simply has a lot going for it and it offers a great value at current price levels, but don't wait too long because the market has really started to pick up on this legendary rookie card.
The 1955 Topps Aaron is an interesting study. The card might even be more visually appealing than his rookie card and the set, overall, might be more popular than its 1954 counterpart. Despite these facts, his 1955 Topps card is very affordable in NM-MT condition. Again, this card may not be the toughest card to find but it certainly isn't easy to find in high-grade, especially in true mint condition. Two great images grace the front of this card, with the main image the exact same one that appeared on his rookie card.
The keys on his second year card, for those looking for high-grade examples, are very similar to his rookie card. Look for this card with bright colors because the yellow background can really jump out at you if you find a pack-fresh example. The yellow is even more susceptible to detectable print defects than his rookie card, so be wary of them. As I mentioned above, the 1955 set is extremely desirable because of the fantastic eye appeal and the key cards that are included. Roberto Clemente, Harmon Killebrew and Sandy Koufax got their start here. Not too shabby! Aaron's second year Topps card is really a great card.
Bowman was able to produce a second year Aaron card after failing to produce a rookie card for the Home Run King. This card lacks the visual appeal that the Topps card offers and the set doesn't measure up to the Topps version but, again, this second year Aaron card is also an undervalued specimen. The tough brown borders make this card almost impossible to find in mint condition. The slightest bit of chipping will be readily apparent. Bowman, unfortunately, did not include any of the aforementioned rookie cards or a Ted Williams card so the set suffers in comparison to the Topps issue. Oops!
Once again, the 1956 Topps Aaron features the same main image as the prior two Topps issues. This card seems to have significant problems with the overall appeal on the face of the card. Many of these Aarons have a dull look to them, so when you find them with deep color and thick gloss, you shouldn't hesitate. Bowman was now out of the card business so Aaron's one and only Bowman card was the 1955 issue.
In 1957, Topps finally decided to mix in a new photo of Aaron but now the photo was a reverse negative. In other words, Aaron looks like he is batting left-handed in the picture. This card enjoys more demand than his 1956 Topps issue primarily because it is part of a much nicer set. The 1957 Topps set is highly regarded in the hobby because of the attractive design. There are two major condition obstacles with this one.
First, the 1957 Topps cards are subject to white print defects in the dark background which are usually referred to as print "snow." This can be a major distraction for high-grade seekers. Second, the cards in this set are often found miscut or off-center. The slightest tilt causes these cards to look more off-center than they really are because the light borders are placed next to a very dark background. You just can't help noticing the centering problems.
The 1958 Topps set featured four different Aaron cards and one additional variation. All of the cards in this set are very tough in high-grade. Terrible paper stock and inconsistent paper quality make these a real problem. The regular Aaron card is a tough but beautiful card. Aaron looks like he is about 15 years old in the picture but the green background and red trim make this card really stand out. The key is finding one with deep color because this card will have virtually no eye appeal without good color.
The same card has a yellow letter variation which might be Aaron's toughest card overall. This card already is subject to the problems associated with the entire set but the yellow letter variations are very rare and sell for significantly more than the regular issues. Instead of using the traditional white, some of the cards were printed with yellow lettering on the face. Only a few cards in the set are known to have the yellow lettering but one of them happens to be the ever-popular Roberto Clemente!
Two other cards feature Aaron in the set including an All-Star card and a card entitled Fence Busters which features Aaron with his slugging teammate Eddie Mathews. The All-Star cards are often found with print defects in the background and this Aaron card is no exception. All four 1958 Topps cards offer a real challenge for high-grade collectors.
A collector favorite is the last of the 1958 group which is a card entitled World Series Foes. It's the only card that pictures Mickey Mantle and Aaron together. Print defects love to invade the face of this card. Even if you get by that obstacle, the crude paper and centering problems make this one a great find in NM-MT condition.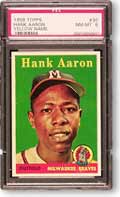 The 1959 Topps Aaron features a head shot of the great slugger which is surrounded by a yellow background. As you might imagine, the yellow background is a magnet for visible print defects. These 1959 Topps cards have better paper stock than the 1958 Topps cards but they are still subject to a poor cutting process. Many of them are found with an extreme rough cut or terrible centering. The yellow background on the Aaron helps cloak any centering issues, but that is even more reason to be wary.
Aaron also has an All-Star card in the high-number series that is very collectible. These cards have very attractive designs and tremendous colors. As with the regular issue Aaron, make sure you look for examples with bold colors and adequate gloss, otherwise, the cards have a real dull look to them. The All-Star Aaron is a great card but deceivingly tough in high-grade.
Well, the 1960's are here and there is still no shortage of great Aaron cards to choose from. His horizontal 1960 Topps card is also a deceptively tough card. Many of the 1960 Topps cards have visible, black print marks that really become a distraction on the face of the card. These cards are also found with very rough edges and terrible centering. I have watched collectors open cello packs of these cards and then watched in horror as the cards consistently had condition problems throughout the pack.
Aaron was also featured on an All-Star card in the same set. Like the prior Topps set, these were also placed in the high-number series. The trick with these cards is the centering. Because of the design, they don't really have defined borders so a card may seem centered as first glance, but in reality, it could be very off-center. The colorful designs and a few key rookie cards, namely Carl Yastrzemski and Willie McCovey, make this set popular and the Aaron cards benefits from that.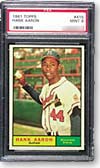 In 1961, Topps produced one regular issue card and one All-Star card. This Aaron gets overlooked most of the time. The set enjoys fairly strong demand but collectors pass over some of the keys, including Aaron, as insignificant. This set is subject to print "snow" because of the jet-black background. Much like the yellow background of the 1959 Topps Aaron, the black background makes it hard to conceal light-colored print defects. This card is one to keep an eye on; it is tough in true mint condition.
The All-Star card, again appearing in the high-number run, is considered a fairly difficult card. Like the 1960 Topps All-Star Aaron, the centering is very tough to judge at first glance. Without very defined borders, you must inspect this Aaron card closely to make sure it fits into the centering tolerance for the grade you desire. Both 1961 Topps Aaron cards are "sleepers" at this point.
The years 1962 and 1963 produced Aaron's best cards from the 1960's. Let's start with the 1962 Topps Aaron. This card is a high-grade collector's nightmare, but when you find a nice one, it really stands out. The brown borders on this one make it tough, chipping being the major bar to higher grades. Black print defects are often found as well, and once again, deceptive centering causes collector frustration. The side-to-side borders are well defined, but sometimes top to bottom centering goes unnoticed. Also, keep an eye out for glossy examples with the darker brown borders. These are extremely eye appealing and usually found in presentation sets.
The 1963 Topps Aaron is also a tremendously popular card. The green bottom border is very susceptible to chipping, but that isn't the only problem. A variety of print problems plague this card. All sorts of distracting print defects are found on the surface that really damages the overall eye appeal. Centering is also a problem, and like the 1962 Topps Aaron, judging the top to bottom centering is a little tricky due to the colored bottom border. Aaron is also featured on a card with Ernie Banks, two of the top sluggers of their day. This card is popular with collectors. Key cards of Pete Rose and Roberto Clemente help the popularity of this set. Both of these cards are outstanding and very tough in high-grade.
In 1964, Topps produced a few different Aaron cards with one coming from an entirely new set. This new set was the 1964 Topps Stand-Up set. The colored borders that surround the card make this one very tough. In addition, many of the cards were actually used (as stand-up displays) and, in turn, bent. All in all, this set may be one of the most undervalued from the 1960's; keep an eye on this one.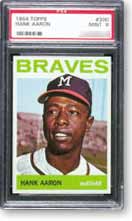 The regular 1964 Topps set produced a couple of great Aaron cards. His standard card from the set is a beautiful card when it is found with nice color and gloss. Chipping on the pink/orange reverse can be a problem as well. There were also "rub-off" facts on the back for collectors to read so many of the cards have already been "scratched" on the reverse. The design, like the 1963 Topps Aaron and others, makes measuring the centering a tough chore. The top of the card takes up more space than does the bottom even when it is perfectly centered, but even though that may be true, make sure you're not too lenient or you will find yourself with an "OC" designation.
The other interesting card in the 1964 Topps set in one where Aaron shares the front with fellow slugger Willie Mays. This card is entitled Tops in the NL. This is the only card that features these great stars together on one card. This card remains popular with collectors. The card contains a total of 1415 home runs between two guys. Wow!
There was just one key Aaron from 1965 but it is a very attractive card. The 1965 Topps Aaron is an outstanding card that features very nice eye appeal. Tilt problems are a concern here as well as reverse chipping on the green colored back. The set is a very popular one because of the attractiveness of the photos. The 1966 Topps Aaron is a deceptively tough card. Again tilt and centering defects create problems for this card because the borders are fairly narrow. This card looks fantastic with nice color and gloss.
Aaron is seen finishing his smooth swing on the face of his 1967 Topps card. Again, like the 1966 Aaron, this card is deceptively tough in true mint condition. The bright white borders allow print defects to be easily seen by the naked eye. Chipping on the green reverse might be an issue but not in comparison to the 1965 Topps reverse. This is a very attractive card when found centered and sharp.
The 1968 Topps Aaron shows "The Hammer" in a batting pose and this one, while not extremely tough in PSA NM 7 or PSA NM-MT 8, is not easy in mint condition. The dark, patterned borders make it difficult to see wear on the corners and edges. Black print lines seem to be fairly common on these cards and collectors should be wary of the top to bottom centering. The bottom border is intentionally larger than the top border, which causes confusion for collectors, especially if you are looking for high-grade examples.
In 1969, Topps produced two different sets with one being fairly rare. The regular issue Aaron card is not talked about much but it isn't easy to find centered. The 1969 Topps cards are notoriously off-center with many of them having tilts. The pink reverse will tend to show chipping but it isn't a major concern. The beautiful 1969 Topps Super Aaron is part of a test issue that was produced in very limited numbers. The cards have round corners so finding high-grade examples isn't usually a problem. Finding them at all is the problem!
The 1970's brought us several Aaron cards as his career started to come to an end. Before it did, Aaron had some damage to do to the record books. His 1970 Topps card, like the 1966 Topps Aaron, is deceptively tough in mint condition. The gray borders make wear easily visible to the naked eye. However, when you talk about chipping problems, the 1971 Topps Aaron takes the cake. The black borders that surround Hank's face make this one a condition nightmare. In addition, judging the top to bottom centering is another problem because of the natural design of the card. The top is naturally larger, but make sure the difference isn't too dramatic.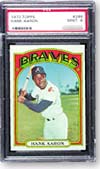 Aaron's 1972 Topps card is very popular with collectors because the set is considered one of the most visually appealing sets in the hobby. The designs are very colorful on these cards. Aaron also has an In Action card that immediately follows his regular card in the set. While not as popular as his regular card, the In Action series is very collectible. Look for centering problems on these great cards.
The next few Aaron cards, the 1973 and 1974 Topps cards, are not the most visually appealing cards, but print defects and centering problems still make them desirable in high-grade. The 1974 set features Aaron as the #1 card and we know what collectors did to those cards. Rubber bands! Ouch!
Aaron's final two years gave us a few different cards to choose from. The 1975 Topps set, as well as the more limited mini-set, used "The Hammer" at both ends of the set. His #1 card commemorates his record breaking home run and the last card in the set, #660, belongs to the great slugger as well. Both of these cards are tough to find in mint condition. The colored borders, much like the 1971 Topps cards, will show even the most minimal wear to the naked eye. Also, because of the array of colors used on these cards, print defects reek havoc on the surface.
Aaron's final card is featured in the 1976 Topps set. This set has never been extremely popular with collectors, but the final Aaron card is an important one. "The Hammer's" final numbers can be viewed, and let me tell you, it is an amazing site. The set also includes a highlight card of Aaron in the #1 slot. The final card on our checklist shows an older Aaron, no longer the young, skinny prospect that entered the major leagues in 1953. After 755 trips around the bases, Aaron would now call it quits.
Hank Aaron was a model of consistency and perseverance. Forget about the numbers for a minute and ask yourself how many people you know could have withstood the pressure that Aaron endured while chasing Babe Ruth's career home run mark. In 1998, when Mark McGwire was chasing Roger Maris, the fans embraced him and everyone was cheering for Big Mac to do it. In 1974, the world wasn't giving Mr. Aaron anywhere near the amount of support that McGwire received. All Aaron wanted was respect, and in this writer's opinion, he still doesn't get the respect he deserves. There are a lot of options when it comes to collecting cards from Aaron's great career and any of them would be a wise choice.