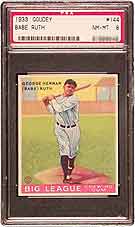 Brian Drent, President of Mile High Card Company in Colorado, held another successful sportscard and memorabilia auction that closed on April 24th grossing $410,897. Once again, the high-grade PSA cards stole the show with many cards breaking all known price records for particular examples. Let's take a look at some of the highlights.
To begin with, the vintage cards were on fire! Ty Cobb's 1914 Cracker Jack card, graded PSA NM-MT 8, brought $39,249 while a PSA Mint 9 1954 Bowman Mickey Mantle brought $39,202. Drent wasn't so surprised at the price realized for the Cobb but the Mantle was a different story. "The Cobb is one that didn't surprise me because of the legendary status of that card," explained Drent. "That card is a known rarity in any grade and, to have one graded PSA 8 is something special. The Mantle, on the other hand, surprised me a little because I thought it would get a lot of attention but not that much. The Mantle is deceptively tough in high-grade and a PSA 9 example hasn't been offered in a while so it seems that collectors really did their homework."
There were several other strong prices. A 1933 Goudey Babe Ruth #144, graded PSA NM-MT 8, realized $28,050. A 1952 Bowman Yogi Berra, graded PSA Mint 9, realized $15,231, which is a record price, paid for that card. It may come as no surprise to some because of the fact that it is the #2 card in the set making it a condition rarity. A PSA 8 example of a 1951 Bowman Ted Williams realized a solid $3,520 as well. "Williams has been hot for some time now and there doesn't seem to be an end in sight, " explained Drent. "His cards have so much to offer because most of them are tough, attractive and he was such an amazing player."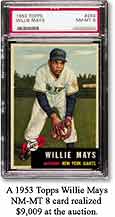 Two other rarities were offered. A 1954 Wilson Wieners Nellie Fox, graded PSA NM-MT 8, sold for $2,888. Those cards are incredibly tough so that one wasn't much of a surprise. On the other hand, a 1971 Kelloggs Roberto Clemente, graded PSA Gem Mint 10, sold for an amazing $3,230. Wow! Anyone have any old boxes of cereal?
Willie Mays also seems be hot. His 1953 Topps card, graded PSA NM-MT 8, realized $9,009, which is a very strong price, paid for that card but, with the famous Gem Mint 10 example selling for nearly $100,000 last year, maybe this one's a bargain. Other notables, all graded PSA Mint 9, were: 1954 Topps Al Kaline ($8,470), 1954 Topps Moose Skowron ($1,429), 1956 Topps Dodger Team ($3,786), 1957 Topps Frank Robinson ($4,950), 1957 Topps Billy Martin ($1,139), 1960 Topps Stan Musial ($3,951), 1960 Topps Roberto Clemente ($2,420), 1962 Topps Ernie Banks ($3,520), 1963 Topps Stan Musial $2,932, 1965 Topps Roger Maris ($1,139), and a 1965 Topps Bob Gibson ($1,123).
To look at all the prices realized, click here.