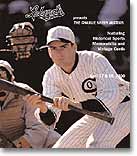 Editors note: Read the latest news update about the Leland sale involving the stop of the sale of the Chamberlain ball. Click here
New York - Fueled by a huge burst of national attention for both the Wilt Chamberlain "100-point" basketball and the high-profile collection of actor Charlie Sheen, Leland's two-day spring auction brought in record prices for some of America's most intriguing sports items. The total revenue realized by the April 27-28 auction was $4.1 million.

The Chamberlain ball, with which he scored 100 points in Hershey, Pa. in 1962 (playing for the Philadelphia Warrior against the New York Knicks), had a reserve of $25,000 but soared over six figures by late afternoon. Wilt Chamberlain's "100-point" ball was auctioned for $551,844. According to Leland's Auctions, it is the most ever paid for a basketball, and one of the highest prices ever paid for a sports item at auction.
On the second day of the auction, items offered included Charles White's 1979 Heisman Trophy, George Foreman's Heavyweight Championship Belt, Roger Maris's 1961 home uniform, a ball signed by 7 of the "8 Men Out" from the Black Sox, a Ty Cobb game-used glove, and a game-worn Red Grange football helmet.
Many of the key items came from the private collection of actor Charlie Sheen.
Some of the auction highlights are listed below (prices include the 15% buyer's premium):


| | |
| --- | --- |
| Description | Price Realized |
| Roger Maris's 1961 home Yankee uniform | $58,752 |
| Game-used Ty Cobb mitt | $62,301 |
| Ferguson Jenkins Cy Young Award | $35,250 |
| Eddie Collins One-Of-A-Kind T206 proof card | $24,930 |
| 1945 Hank Greenberg game-worn Cap with handwritten letter | $18,725 |
| Signed Nolan Ryan game-worn 1969 Mets jersey | $84,186 |
| Charles White Heisman Trophy from 1979 | $184,000 |
| 1972 undefeated Miami Dolphins Super Bowl ring | $18,337 |
| George Foreman heavyweight belt ("Down Goes Frazier" fight) | $46,000 |
| Roberto Clemente signed game used bat | $16,675 |
| 1964 Beatles phonograph | $8,891 |
| Wilt Chamberlain's "100 point" ball | $551,844 |
| Babe Ruth's 1916 World Series award | $62,618 |
| Babe Ruth signed insurance policy when he joined Yankees | $13,559 |
| Babe Ruth's last will and testament | $31,971 |
| Lou Gehrig single signed baseball | $56,648 |
| The "Mookie Wdson/Bill Buckner" ball | $63,945 |
| Bill Buckner's cleats from 1986 World Series | $14,914 |
| Bill Buckner glove from 1986 World Series | $19,851 |
| Ball from final out of 1927 World Series | $9,359 |
| 1927 New York Yankees Team signed photo | $35,863 |
| Babe Ruth game-used bat | $20,177 |
| Lou Gehrig game-used bat | $26,940 |
| Piece of Joe DiMaggio/Dorothy Arnold 1939 wedding cake | $1,742 |
| Ty Cobb signed photograph by Conlon | $22,225 |
| Babe Ruth's "white mink" coat | $26,422 |
| Lou Gehrig game-used cap | $75,386 |
| Ted Williams 1941 uniform | $120,097 |