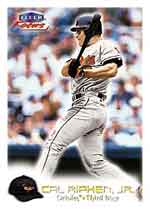 Press Release
MT. LAUREL, NJ - Fleer Trading Cards is doing all it can to assure kids of all ages that the classic game of "baseball card flipping" lives well on into the 21st Century.
Appearing in local hobby shops across the country this summer is the 2000 FLEER BASEBALL CARD FLIPPING CHALLENGE. "We took an existing program from last year and made it even better", said Andrew Lilien, Director of Marketing for Fleer. "The fact that we are expanding our relationship with Major League Baseball and thousands of kids, makes this year's program very exciting."
The 2000 Fleer Baseball Card Flipping Challenge, will be staged at more than 400 hobby shops nationwide from May 1 through June 15. In all, more than 50,000 youngsters (ages 8-18) are expected to compete in local in-store tournaments as well as regional tournaments at six MLB stadiums and MLB's All-Star FanFest.
The winners from each shop will also be entered into a drawing for a trip to the 2000 MLB All-Star Game and All-Star FanFest in Atlanta, GA to participate in a Card Flipping Challenge tournament against winners from the Atlanta area. One hobby shop owner will also win a trip including All-Star Game tickets and a free dealer table at the All-Star FanFest.
Card flipping, which challenges two competitors to face-off and match each other's flips (heads or tails) in a best of three series, is another way Fleer is getting kids involved in the age-old hobby of sports card collecting. "This is the fifth consecutive year that we have held card flipping events and it has been a great tool for creating interactivity in the hobby among young collectors," said Lilien. "Card flipping has become very popular among children."
Behind the support of Fleer and Major League Baseball, hobby shops will get all the tools needed to stage an in-store tournament. Merchandising kits will include banners, posters, t-shirts, sweepstakes entries, copies of Sports Cards Magazine, program handbooks, and prizes including Fleer MLB cards, MLB game tickets and Fleer autographed cards.
As an added bonus, MLB sponsors, including Oreo (Nabisco) and Twizzlers (Hershey) will donate more than 50,000 product samples and promotional items.
Fleer Trading Cards, based in Mt. Laurel, NJ, is privately owned and is one of the world's leading producers of sports and entertainment trading cards. It currently produces sports trading cards for NBA, MLB, NFL and WNBA. Entertainment properties include Star Trek and Babylon 5.