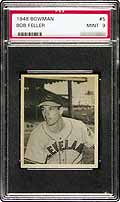 Bob Feller, Al Kaline, Mel Ott, and Carl Scheib (yes, Carl Scheib) share a baseball accomplishment that is rarer than Chicago Cub victories in World Series games. Any idea what it might be? Read on and you will discover . . .
The thought of Ozzie Smith, Brooks Robinson, or Bill Mazeroski likely conjures up images of quick hands, acrobatic agility, and faultless fielding guile. The Gold Glove Award, which was established by the Rawlings Sporting Goods Company in 1956, became the virtual private domain of these three players at their respective positions -- Robinson winning sixteen consecutive times from 1960 to 1975, Smith thirteen consecutive times from 1980 to 1992, and Mazeroski eight times between 1958 and 1967. These players have become synonymous with fielding excellence, and their place in baseball history is ensured because of these skills. But ironically several of their contemporaries have accomplished greater single season fielding feats.
Craig Nettles lost out to Brooks in the Gold Glove race in 1971 despite a single season record 412 assists. Larry Bowa owns four of the top ten fielding averages of all-time, and bested Ozzie head-up in '78,'79 and '83. Bill Mazeroski's highest single season fielding average (.989) is topped both by Jerry Adair (.994) and Tim Cullen (also .994), two players who played in Mazeroski's shadow, but who own spots on the top ten list.
Occasionally a great athlete will attempt to participate at the major league level in two different sports. Deion Sanders and Bo Jackson immediately come to mind, and they had a degree of success in both football and baseball. But more often these players succumb to the demands of this dual participation and turn their attention to only one sport. Carroll Hardy was of this breed.
Carroll was selected as a defensive back by the San Francisco 49'ers in 1955, but soon found himself sharing time in the offensive backfield with future Hall-of-Famers Y.A. Tittle, Hugh McElhenny, Joe Perry, and John Henry Johnson. Perhaps the competition was too intense, because by 1958 Carroll had gravitated to the Cleveland Indians. An outfielder with a career .225 average, Carroll continued to link his name with great stars of the era by making pinch hit appearances for Roger Maris, Carl Yastrzemski, and, believe in or not, Ted Williams. Carroll stepped in for Ted on September 30, 1960, after the "Splendid Splinter" fouled a pitch off of his leg. Carroll then secured his place on the bench by lining into a double play.
And now the answer to our trivia question: Carl Shieb may not be as famous as Mel Ott, Bob Feller, or Al Kaline, but like each of them he went directly to the majors from high school without the benefit of college or semipro experience. Feller, Kaline, and Ott further distinguished themselves by being enshrined in the Hall of Fame, playing their entire careers with the same team.