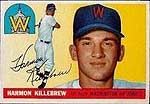 Harmon Killebrew, much like Jimmie Foxx, had a nickname that didn't seem to fit his personality. They called him "Killer" because of what he would consistently do to hanging curves and grooved fastballs. As a person, Harmon was anything but a killer. Harmon was widely regarded as one of baseball's classiest and well-liked individuals. Although not a huge man, Killebrew had the presence of a giant. He could crush the ball with his compact swing and many players, including Hank Aaron, refer to Killebrew as perhaps the most feared pure home run hitter of his era. In fact, Harmon has hit many legendary clouts with several of his bombs setting ballpark records for home run distance.
To his credit, Killebrew overcame a lot of doubt regarding his ability to play in the big leagues. Many scouts felt that Killebrew was too slow, didn't have much of a throwing arm and was basically a defensive liability. When you hit 573 career homers, I don't think you need to run all that much! Although not a spectacular fielder or base runner, Killebrew made sure he was in the lineup every day because of his lethal bat. Killebrew hit 40 or more homers eight times! He is also second on the all-time home run list in the American League behind the one and only Sultan of Swat, Babe Ruth. As a right-handed hitter, Killebrew is the American League's all-time leader. He was also the Most Valuable Player in the American League in 1969 and was elected to the American League All-Star team 13 times. Probably the most telling statistic for Killebrew is the fact that he ranks 3rd on the all-time list for home run percentage per times at bat. The only retired players ahead of him are Babe Ruth and Ralph Kiner.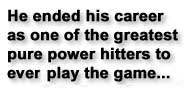 As Killebrew's career headed into the early 1970s, his knees began to fail him. Finally, in 1975, he decided to call it quits after 22 years in the big leagues. He ended his career as one of the greatest pure power hitters to ever play the game, but most observers say that Killebrew would have hit even more homers if he hadn't played his early years in the cavernous Washington ballpark. Over the next 10 years, Killebrew would find obstacles at every angle. From family tragedy to financial and physical hardship, Killebrew endured. The one thing that remained a constant with Killebrew was the way he treated others. When you hear teammates and opposing players talk about Killebrew, they always seem to give the "Killer" the highest praise. "(Killebrew) was the absolute nicest man, the finest gentleman I think I ever met on or off the field...," said former Baltimore Oriole star Boog Powell. Enough said.

The Cards
Harmon Killebrew is featured on several key cards during his career and many of them are extremely undervalued considering his accomplishments. Killebrew was a key figure during the "Golden Age" of baseball and, despite being considered one of the premier sluggers of his time, he remained overshadowed by the players who played for media-hungry cities. Mickey Mantle, Willie Mays and Duke Snider were examples of players who stole a bit of the "Killer's" thunder. Through it all, Killebrew's cards have remained popular and here is a quick look at some of his more popular issues.


| | |
| --- | --- |
| 1955 Topps #124 | 1967 Topps #460 |
| 1956 Topps #164 | 1968 Topps #220 |
| 1958 Topps #288 | 1968 Topps All-Star #361 |
| 1959 Topps #515 | 1968 Topps #490(Super Stars) |
| 1960 Topps #210 | 1969 Topps #375 |
| 1961 Topps #80 | 1969 Topps Supers #19 |
| 1962 Topps #70 | 1970 Topps #150 |
| 1963 Topps #500 | 1971 Topps #550 |
| 1964 Topps #81(w/Fox) | 1972 Topps #51 & 52(In Action) |
| 1964 Topps #177 | 1973 Topps #170 |
| 1964 Topps Stand-Up | 1974 Topps #400 |
| 1965 Topps #400 | 1975 Topps #640 |
| 1966 Topps #120 | 1975 Topps Mini #640 |
Keep in mind that this is only an abbreviated list and several regional, obscure and league leader cards were left off. The wonderful thing about Killebrew's cards is that he is featured on some very affordable issues. Let's start from the beginning and take a closer look at these "Killer" cards.
Killebrew's rookie card, the 1955 Topps issue, is a collector favorite for a few reasons. First, it appears in a terrific set that contains other key rookies, such as Sandy Koufax and Roberto Clemente. Second, it is a rookie card of a member of the 500 home run club, which makes it special. Finally, the aesthetic quality of the card is outstanding when found in high-grade. The 1955 Topps set, as a whole, is a very attractive set, but this card is especially appealling. A young Killebrew is pictured against a deep, bright yellow background. The photo really jumps out at you and the card is worthy of serious attention.
The 1956 Topps Killebrew is often overlooked. This set has a similar design to the 1955 set, but it lacks the visual quality that the 1955 set offers. That is not to say that it is lacking visual appeal because some of the nicest looking cards in the hobby appear in this set. It simply isn't on the same level as the card company's previous production. The 1956 Topps Killebrew is deceptively tough and very few true mint examples are circulating. This is one to keep an eye on.
Killebrew did not appear in the 1957 Topps set, but reappeared one year later in the 1958 Topps set. This is one card, like the 1955 Topps Killebrew, that looks outstanding in high-grade. Killebrew is once again pictured against a bright yellow background and the other colors (especially the red) really jump off the card. Unfortunately, the yellow background makes it easy for print defects to be seen, which causes many examples to receive lower grades or qualifiers. The 1958 Topps paper stock is very poor and the cutting process further complicated things. These cards are found with varying degrees of color strength, sharpness and whiteness of the borders. Some 1958 Topps cards have rough-cuts and others have smooth cuts. All of these factors make the Killebrew example tough, yet desirable. When was the last time you saw a mint example of this card?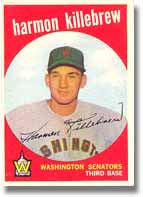 The 1959 Topps Killebrew is one of his most valuable and scarce cards in high-grade. The card was printed in the high number series and it has several condition obstacles that make this one a real challenge for "Killer" collectors.
There are three keys to this card. First, look for examples with deep red color in the background. Many of the examples are seen with an orange or pink tone to the background that doesn't give the card the appeal that the solid red color offers. Second, be wary of centering difficulties as many of the cards come with a tilt to the image. Finally, print marks seem to be commonplace with this card and the red background won't help conceal any of these print-related problems.
The next two issues, 1960 and 1961 Topps, do not receive a ton of attention, but are absolute steals at current market levels. The 1960 Topps Killebrew is a very colorful and popular set. If you can avoid print defects, these can be quite attractive. The 1961 Topps Killebrew may be the most overlooked 1960s Killebrew in the bunch. While not a terribly difficult card, the bottom line is that it is a 40 year-old, regular issue card of a 500 home run club member. This card, in near mint to mint condition, can be obtained at a lower price than most modern prospects who have never set foot on a major league field before.
Unlike the last two issues, the 1962 and 1963 Topps Killebrew cards are tougher and more popular "Killer" cards. The 1962 Topps cards are all subject to chipping with those solid brown borders that frame each image. Add the commonly found black print defects and you have yourself a challenge if you are hunting pristine treasures. The 1963 Topps Killebrew, like the 1962 version, is subject to chipping along the colored bottom border, as well as print that plagues the face of the card. Both are great cards of Killebrew.
The next few cards on the Killebrew checklist, the 1964 Topps issue and the Stand-Up card, are very different when it comes to difficulty. The 1964 Topps card is definitely not easy to find in high-grade, but in comparison to other Killebrew cards, it may be one of the easier ones to locate. Two things to look out for are centering and reverse chipping on the orange border. The Stand-Up issue is a lot tougher because of the colored borders that surround the entire card and the fact that many collectors actually used the feature on the card by popping the player out from the center of the card. This could only be done by bending the card entirely and this would basically prevent any card from entering a high-grade PSA holder.
From 1965 to 1969, Killebrew kept smashing home runs, but this is where his cards start to show a fairly consistent pattern of affordability. The 1965 Topps Killebrew is one exception. This card is known as a fairly tough issue from the 1965 Topps set and high-grade copies definitely do not come cheap.
From 1966 to 1969, Killebrew cards are very underpriced with the exception of the 1969 Topps Super. Again, you can pick up many of these examples at a lower price than most modern prospect cards; they really represent great value. The 1969 Topps Super Killebrew is the last Killebrew that is listed with a significant price attached. If found, this popular test issue is not hard to find in high-grade. The challenge is finding it at all! This set is still a tougher issue to locate.
Starting in 1970 and continuing to Killebrew's last card in 1975, his cards can be acquired with little damage to your financial stability. The interesting aspect to some of these cards is that some of them are even tougher than earlier Killebrew examples. Killebrew's 1971 Topps card is very tough to locate in mint condition because of those pesky black borders. Finding this card with no wear along the edges can make for a very special piece. The 1975 Topps cards, the regular and the mini, can also be subject to edge wear because of the multicolored borders. Regardless, any of these cards can be added to the average collection without much trouble and you can be the proud card owner of a 500 home run club member for a low price.
As with some of his fellow 500 home run club members, such as Willie McCovey and Eddie Mathews, many of Killebrew's cards are curiously undervalued. For the collector with average financial resources, this is a godsend. Harmon Killebrew will not just be remembered as an exclusive club member, he will be remembered as one of the best home run hitters of all-time. He may have been overshadowed by the likes of Mantle or Mays, but Killebrew was never overmatched by the power of any slugger during his playing days. Killebrew will always rank as the premier right-handed slugger of his time.

To read more vintage profiles on other 500 home run club members, click on
Remembering Eddie Mathews -- Tough and Overshadowed
He Captured Our Attention - Willie Mays, American Legend

For other sportscard values, subscribe to the Sportscard Market Report (SMR) or consult the SMR Online Price Guide .