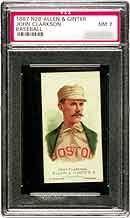 Imagine a sportscard set with full color lithographs on thick stock, featuring a roll call of baseball players that is 60% Hall-of-Famers, yet politically correct enough to include a woman sports star as well. If this sounds like something from a 1990s promotional department, it's not. It's the 1887 Allen & Ginter set (N-28) known as "The World Champions."

Tobacco cards were all the rage in the 1880s, but their pre-sports "girlie" theme was infuriating to many women and became a "cause" for those who considered themselves morally upright. In response, many tobacco companies changed to sportscards as their premium. Allen & Ginter of Richmond, Virginia, was one of the first.
The 1887 set included 50 different cards, ranging from ten baseball players to ten oarsmen, from wrestlers and pugilists to Buffalo Bill and Annie Oakley. The cards measured 1-1/2" by 2-3/4" and were inserted in cigarette boxes. An album picturing all 50 cards was also offered, probably as a mail-in premium. The cards were unnumbered, but the back of each card provided a checklist of all 50 cards in the set.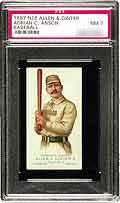 Adrian C. "Cap" Anson is perhaps the most famous of this illustrious group. He is pictured with bat in hand, his mustache in flowing splendor, and a cap on his head. Anson is considered by many to be the 19th century's greatest star as both a player and manager. He averaged over .300 in 24 of his 27 seasons, including hitting .388 when he was 42 years old. He is credited with introducing the hit-and-run play, the pitching rotation, and spring training.
John Clarkson was Cap Anson's star pitcher, winning 53 games in 1885, followed by 36 and 38 win seasons. Before the 1888 season started, he was sold to Boston for $10,000. In 1889, he posted a record of 49-19, and led the league in ERA, strikeouts, and innings pitched (620!!). He won 327 games in eleven seasons.
Charles Comiskey was a lifetime .264 hitter, but he made his mark as an innovator, manager, founder, and owner. He led the St. Louis Browns to four consecutive pennants, helped Ban Johnson found the American League and owned the Chicago White Sox for its first 31 years.
Timothy Keefe is another Hall-of-Famer from the 1887 Allen & Ginter set. Keefe won 342 games in the American League his 14-year career, mostly getting them out with his change-up. In 1888 he reeled off 19 consecutive victories, then won four games in the World Series while posting an ERA of 0.51. On July 4, 1883, Keefe won both ends of a doubleheader, pitching a one-hitter followed by a two-hitter.
Mike "King" Kelly was another of Cap Anson's stars on the Chicago White Stockings and was also sold to Boston for $10,000 along with John Clarkson. He was the subject of the pop song of the day, "Slide, Kelly, Slide." He was a catcher and outfielder, but played any and all positions if needed. In 1886 he hit .388, and scored 155 runs in only 118 games.
John Montgomery Ward led the National League in ERA as an 18-year old rookie. The following year he won 47 games, then, in 1880, one of his 39 victories was a perfect game. An arm injury ended his pitching, but not his playing. He learned to play shortstop, rapped out over 2,100 career hits, and later became a player-manager.
1887 N-28 Allen & Ginters

 

VG-EX 4

EX 5

EX MT 6

NM 7

NM MT 8

MT 8

Complete Set (10)

$4,950

$6,340

$8,435

$13,500

$38,100

$78,500

Singles:

$175

$240

$325

$500

$2,000

$3,500

Cap Anson

$1,250+

$1,500+

$2,000+

$3,600

$11,000

$21,000

John Clarkson

$550

$715

$950

$1,400

$3,500

$7,500

Charles Comiskey

$650

$835

$,1050

$1,625

$4,000

$9,500

Tim Keefe

$550

$715

$925

$1,350

$3,500

$7,500

King Kelly

$700

$900

$1,260

$2,100

$4,600

$11,500

Monte Ward

$550

$715

$950

$1,425

$3,500

$7,500

Source: May 2000 Sports Market Report
The other four baseball players in "The World Champions" set include Charles W. Bennett, R. L. Caruthers (a pitcher extraordinaire, with a lifetime .688 winning percentage and two 40-win seasons), Captain John Glasscock, and Joseph Mulvey.
"It's one of the prettiest of all the sportscards sets," commented one sportscard dealer. "Fortunately, a few truly mint examples still exist."
The N-28 Allen and Ginter set of "The World Champions" can be collected as a ten-card baseball set, a six-card Hall of Fame set, or as a 50-card set of sports stars. No matter which collecting route is chosen, the set offers beauty, rarity, nostalgia, and the fun of a challenge.
For other sportscard values, subscribe to the
Sports Market Report (SMR)
or consult the
SMR Online Price Guide
.