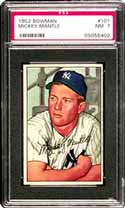 When you read an auction preview article or a press release about the sale of a particular card, it almost always involves a card that has been graded PSA NM-MT 8 or higher. We all know the importance and rarity of high-grade vintage sportscards; demand outweighs the supply by a great margin. Premium quality sportscards will always be in high demand, so they also will steal most of the headlines and the attention of collectors. But what about the mid-grade cards? I have to admit, most of my focus has been devoted to writing articles discussing the value of high-grade material. Now it's time to address the mid-grade cards. There are many PSA cards in the market that fall into this overlooked category.
Here are 5 reasons why collectors should give serious consideration to cards graded between PSA VG-EX 4 and PSA NM 7.
1. These Cards are Nice.
Before PSA redefined the standards for card grading, most collectors considered a card of PSA NM 7 or PSA EX-MT 6 quality to be mint. Most collectors, even today, would look at a 1933 Goudey Babe Ruth in a PSA NM 7 holder and feel that it is a very nice card. The card may simply have just a tad too much corner wear or may just miss being an "8" because of centering. A card that makes it into any of the mid-grade categories may still have tremendous eye appeal and satisfy most collectors. Just as a test, take a few PSA graded cards and cover up the grades on the label. Without knowing the PSA grade, look at each card and ask yourself which ones would you consider to be nice.
The problem is that many collectors may simply not consider collecting cards that are not in PSA 8 or better holders, just because of the number. Go back to the basics of collecting and remember that you have to enjoy the card, so take the time to examine the card. I challenge collectors out there to judge each card on its own merit. PSA 8s and better are great, but don't forget to look at the quality of PSA 6s and 7s--they might surprise you. Give them a chance.
2. These Cards are Affordable.
All right, so maybe these cards aren't exactly cheap, but they are certainly very reasonably priced in comparison to the PSA 8s, 9s and 10s.
Here's an example: the 1933 Goudey Babe Ruth #181. You can purchase a PSA NM 7, a very sharp looking card, for somewhere between $5,000-$6,000 today. A PSA NM-MT 8, a very high-grade card, sells for somewhere between $25,000-$35,000 depending on the strength of the card. That means you can buy a card that is only one minor corner touch or centering percentage away from being an eight for about 1/5 the price. Think about that one for a minute. You could buy the same card in PSA EX-MT 6 for about 1/9 the price and one in PSA EX 5 for about 1/12 the price. Now some of you will never be satisfied with a card that grades less then NM-MT, but most collectors would be satisfied with an EX-MT or NM card if they look at the card and not simply focus on the number.
Also, some collectors may also consider adding more cards to their collection for the same price they would spend on a high-grade card. Think of the quantity of cards you could put together for the price of one gem in NM-MT or better condition. If I asked someone if they would take one 1933 Goudey Ruth in PSA NM-MT 8 or all four Goudey Ruths in NM 7, which option would they choose? Most would take all four cards and sacrifice a minor corner touch or two. Either option would cost about the same price.
3. These Cards are Rare.
We all realize that PSA 8s and better are extremely rare, but how rare are PSA 7s and lower? The key is learning as much as you can about the sportscards you're interested in collecting. Some issues are condition-sensitive and thus, high grade issues command more attention. Yet, if collectors really look at the availability of certain issues, they'll realize that there are many cards in PSA 7 or lower grade that are rare and available. This makes them attractive additions to some collectors.
Vintage cards in PSA 7 and lower grades are still tough to locate. Yet compare the rarity of vintage PSA EX 5 cards to Mint 9 or Gem Mint 10 modern examples. With the exception of certain tough modern issues, most vintage cards that grade only EX 5 are far more rare than modern cards in Mint or Gem Mint condition. Check the PSA Population Report and you will see what I mean. Even if your 1948 Leaf Stan Musial only grades PSA EX 5, it's still a much tougher card than most modern rookies in Gem Mint condition are. That should mean something to collectors, even if some people prefer the highest of grades.
Rarity is always a key factor when determining value. Although PSA NM-MT 8s and better will always command attention, remember that mid-grade material is also tough to find. I'll give you an example. You could own a 1939 Play Ball Ted Williams rookie card graded PSA NM 7 for about $1,000 less than a Mark McGwire rookie graded PSA Gem Mint 10. I am not saying that one card is better than the other. Collectors should simply consider this type of scenario.
4. You Can Own Great Pieces.
As kids, many collectors could only dream about owning a T-206 Ty Cobb or a 1938 Goudey Joe DiMaggio in Mint condition. As adults, most of those same collectors can still only dream. Many collectors still want those special cards, but they simply can't afford them in the condition they dreamed about as kids.
Stop for a minute.
You can still own these cards, you just have to be more open minded about the grades.
If Joe DiMaggio was your childhood hero and you've always wanted his rookie card, think about one that grades EX 5 to NM 7. Most of us can't afford a Mint 9 example at $40,000-$50,000. Do you realize that you can still own that same special card in very nice shape for around $2,500-$3,000 in a PSA EX-MT 6 holder? You can still own the cards you once dreamed about if you are satisfied with a card that only grades a mere EX-MT 6. So you can't afford the Mint 9 Babe Ruth card that sold for over $100,000 in Superior's last auction. So what? Why not consider that same card in a lower grade? Do you realize that you could own the exact same card, though not as pristine, for about $2,500 in a PSA 5? For those of you who don't have an extra $97,500 to spend on your childhood dream, think about that option.
Dreams can still come true. You just have find examples that fit your budget. People get a thrill out of vintage cards no matter what the grade is, so realize that you can still own a Babe, Mickey, Willie, Cy, Ty or Jackie without spending your life savings.
5. Avoid Auction and Retail Headaches.
Auctions are exciting, but sometimes a collector could use about 20 Advils at the close of a sale. The high-grade PSA card market is extremely competitive and fierce. The top of the line PSA 8s and better bring out an adrenalin rush and such emotions that some bidders find themselves staying up until 3am waiting for the auction to end.
That is not the case with the lower grades in the current state of the market. Whether you are buying directly from dealers or participating in auctions, the atmosphere is far less stressful if you are interested in anything graded lower than PSA NM-MT 8. The premiums on the cards are not as high, the wait to purchase your card is not as long. Moreover, the opportunity exists right now if you want to take advantage of the lull in the market.
Many of the hobby's best cards, those in the highest grades, are set aside for auction without the chance of straight purchase. With most cards graded PSA NM 7 or lower, you can find dealers willing to sell their inventory to you right now. This might be one option for those who want to avoid the hassle and competition of the high-grade market.
In conclusion, collectors should really consider buying cards in these grades. Most of you would be surprised at the quality of some of these cards, a PSA EX 5 with nice eye appeal can be a surprisingly beautiful card. The price gaps in the current market are drastic between the PSA 8s to 10s and the mid-grade PSA 7s and lower. This really allows collectors to take advantage of the price gaps and allows them to add some great cards to their prized collection. Don't forget about the mid-grade material, there are many vintage gems looking for a home.