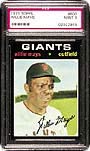 The recent auction held by Goodwin & Co., Saint Louis on April 6, further demonstrated a strong demand for high grade 1960s and 1970s PSA sportscards. While demand still remained high for 1940s and 1950s sportscards, the auction results showed that interest in high-grade cards from the '60s and '70s is picking up.
The April sale focused on a select group of 24 sportscards, which ranged from a 1948 Bowman #5 Bob Feller card in PSA 9 to a 1972 Reggie Jackson in PSA 9. All of the cards were graded by PSA and were in Mint 9 condition, except Lot 8, a Gem Mint 10 1948 Leaf #88 of Frank Gustine. The majority of the lots, the last 16, were from the 1960s and early 1970s. The auction closed at $70,340.
"The market for high-grade, 1960s and 1970s sportscards is exploding compared to the market two or three years ago," said dealer Bill Goodwin. "Besides the results of this auction, this is a trend that I noticed in our regular sales."
When asked what could be attributed to this change, Goodwin replied, "New people who are coming into the market are looking for pristine cards and an affordable alternative to high-grade 1950s cards. The 1960s and 1970s high-grade cards fill that need by offering collectors exactly that."
Another reason for the change may be the finite number of vintage, pre-1960s cards and the competitiveness of collectors. Given the opportunity to own top quality sportscards featuring star players, many collectors find that high-grade cards from the '60s and '70 meet their standards of quality.
Among the pre-1960 lots for sale came some outstanding results:
One of the scarcest single-print cards from the 1948 Leaf set is Frank Gustine #88. This issue is condition-sensitive due to the paper stock and printing methods used by the manufacturer. A PSA Gem Mint 10 sold for $4,410. This is also the only known card in this condition graded by PSA.
One of the most difficult Topps baseball sets to find in high-grade is the 1962 Topps Baseball set. The borders picture a brown wood-grain design that is susceptible to chipping, thus making it difficult to find cards in top condition. Lots 10-14 featured several PSA MINT 9 cards from the 1962 Topps Baseball set which performed strongly.
As we cross the threshold into the millenium, the market may be opening up to collectors of so-called "recent" vintage. For 1960s and 1970s cards, more dealers and collectors are seeing demand for legendary players and condition-sensitive sets extending beyond pre-1960s vintage.


Goodwin & Company, St. Louis

April 6th Auction Prices Realized

Card Description

PSA Grade

Price

1

1948 Bowman #5 Bob Feller

Mint 9

$3,687

2

1951 Bowman #7 Gil Hodges

Mint 9

$4,536

3

1951 Bowman #183 Hank Bauer

Mint 9

$550

4

1952 Topps #392 Hoyt Wilhelm

Mint 9

$12,967

5

1956 Topps #166 Dodgers Team

Mint 9

$5,180

6

1941 Playball #23 George McQuinn

Mint 9

$890

7

1948 Leaf #82 Johnny Lindell

Mint 9

$880

8

1948 Leaf #88 Frank Gustine

Gem Mint 10

$4,410

9

1960 Topps #316 Willie McCovey Rookie

Mint 9

$1,760

10

1962 Topps #50 Stan Musial

Mint 9

$3,800

11

1962 Topps #140 Gehrig & Ruth

Mint 9

$1,331

12

1962 Topps #218 Joe Torre Rookie

Mint 9

$1,074

13

1962 Topps #317 Musial's 21st Season

Mint 9

$847

14

1962 Topps #320 Hank Aaron

Mint 9

$9,862

15

1963 Fleer #42 Sandy Koufax

Mint 9

$2,910

16

1963 Topps #380 Ernie Banks

Mint 9

$3,003

17

1964 Topps #29 Lou Brock

Mint 9

$967

18

1964 Topps #182 Sox Sockers Yastrzemski/Schilling

Mint 9

$418

19

1964 Topps #250 Al Kaline

Mint 9

$532

20

1965 Topps #250 Willie Mays

Mint 9

$4,192

21

1966 Topps #420 Juan Marichal

Mint 9

$501

22

1970 Topps #640 Al Kaline

Mint 9

$650

23

1971 Topps #600 WIllie Mays

Mint 9

$5,052

24

1972 Topps #435 Reggie Jackson

Mint 9

$859

Total Auction:

$70,340