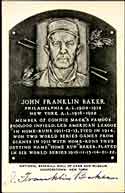 The first induction of the National Baseball Hall of Fame was held on June 12, 1939 in scenic Cooperstown, NY. The Baseball Writers Association of America and the Baseball Hall of Fame Committee on Baseball Veterans selected the charter inductees each year from 1936-1939. The ceremony was organized outside the newly erected Hall of Fame building. The "greats" of the game were honored by displaying game used artifacts and individual bronze plaques of their bust images with printed noteworthy career achievements below.
Sepia Plaques - One Year Wonders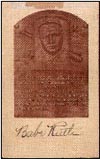 The museum's modest gift shop sold small commemorative souvenirs and postcards. 3½" x 5½" regulation size postcards were issued honoring each of the charter members with a sepia-toned front picturing the player's plaque that hangs on the inside walls of the building. The back has a printed vertical address line that reads "Published by the National Base Ball Museum" in addition to a "Place Stamp Here" stamp box. These plaque postcards were sold individually or by the entire set. Few of these cards exist today with most plaque postcard collectors unaware of their existence.
At the time, it was not popular even to have them signed by the honorees. For whatever reason the Hall of Fame did not produce updates on subsequent years or produce the sets in masses. Fellow dealer, Phil Marks of Merchantville, NJ, has the entire set with the original 1939 postmarked mailing envelope. Surprisingly, right after the big "shin-dig" in 1939, neither committee chose candidates in 1940 and 1941. Hornsby was the sole inductee in 1942, but again in 1943 there were no electives. 1944's sole selection was Kenesaw Mountain Landis who passed away the same year on November 25, 1944.
With prosperity reclaiming America, the ceremonies resumed from 1945 to 1949 and new inductees were honored in the small, quiet hamlet of Cooperstown. 1950 and 1958 were the only years of the decade that didn't produce any new members.
Albertype - "The Finest American Made View Postcards"
To the best of my experience and knowledge in the hobby and a little help from the Hall of Fame archives, if I had to put a date on the phoenix of the plaque postcards it would be 1947, printed by the Albertype Company.
Recently, an old-time collector, Lloyd Kellam from Virginia, came forward with postmarked plaque postcards from his 1949 mailings. He had a small brochure price list from the Hall of Fame that indicates the year 1947.
The new black and whites had four holes in each corner of the printed plaques. Lower case letters were used in the word Cooperstown, NY. The images were smaller in size with ample room to place a signature at the top and marginal room on the bottom. The back had an arched "Artvue" logo and a vertical address division line of printing noting the printer name and NYC address. For six years (1947-1952) the plaques were produced of each member (living or deceased) and slowly became a poplar medium for signature gatherers.
Fountain pens initially and later ballpoints (post-1948) were virtually the only choices of writing implements used in signing these cards. Fiber tip markers were invented in 1964 after the cards were printed; however, they were used later, especially by Hank Greenberg, Edd Roush, Bob Feller, and Joe DiMaggio. I can't even remember seeing one signed in pencil. I particularly favor the signed cards that were also stamped and postmarked on the back by collectors who went to another level of provenance.
The Artvue Buyout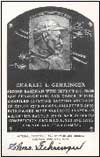 The class of 1953 began a new era in the postcard manufacturing process. Artvue Postcard Co. of New York bought the business from Albertype and continued to produce them annually until their final year of 1963.
Artvue's versions were similar, however the image of the plaque was larger, giving more area at the bottom and less at the top for an autograph. The words COOPERSTOWN, NY were in all upper case letters. They obviously marked the back vertical address line with their own company's name. This version was consistent through 1955.
In 1956, the plaques sustained a subtle change. Small bronze baseballs were added to the four corners of what were once empty holes. The seams on the small bronze balls were random, mimicking the bolt coverings in which fastened the actual plaque to the wall.
Later in 1960 (1959?) all four balls were aligned vertically. These plaques in particular were produced in larger than previous quantities.
Signing Habits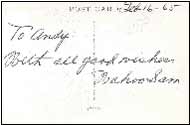 Most players would assist autograph collectors by penning their signatures on the bottom open space of the plaque. Sam Rice and Mel Ott probably exclusively signed over their bust. "Wahoo" Sam Crawford would over-accommodate by signing the front, writing an inscription on the verso along with an additional autograph and date. Crawford would sometimes adjust his hit total (3) to exceed the number credited to him on the plaque. He felt that his early numbers in the American Association should have been counted. Ray Schalk tended to personalize and Larry Lajoie enjoyed dating his signature. Joe McCarthy would often sign, personalize, and date.
By definition, the rarest signed plaques in existence would be that of Grover C. Alexander (died 11/4/50) and Eddie Collins (died 3/25/51). With such a small window for them to have an opportunity to sign, these two inductees are scarce and highly desirable.
A Word To the Wise...
According to a 1953 Hall of Fame program, the newly elected inductees were to be printed in the summer of 1954. Ed Barrow died December 15, 1953 and Charles "Chief" Bender died May 22, 1954 thus making it impossible for them to have signed their postcards. The dates of issuance of these plaques were not diligently made available on induction day like their gold successors. Other inductees that are impossible are obviously those whose date of death proceeded their induction date. I have seen national sports auction houses sell purported signed plaque postcards of Lou Gehrig (died 6/2/41), Kenesaw M. Landis (died 11/25/44), Herb Pennock (died 1/30/48), Mordecai "Three Finger" Brown (died 2/14/48), Walter "Rabbit" Maranville (died 1/15/54), and Eppa Rixey (died 2/28/63). These signed cards would all be classified as outright forgeries.
Lou Gehrig was selected in late 1939 by a special election. There was no induction ceremony and there is no proof that he ever visited the Hall of Fame up until his death on June 2, 1941. This late entry of induction precluded him from ever being part of the 1939 sepia-tone postcard set.
Unknown to the hobby is why there wasn't any postcard (black and white or gold) produced to honor the Class of 1964 (Luke Appling, Urban "Red" Faber, Burleigh Grimes, Miller Huggins, Tim Keefe, Heine Manush, and John Montgomery Ward). With such a large membership, one would assume a need for printing these additions.
Autographed black and white postcards are still and always will be desirable and lucrative investments due to their under-abundance in the market place. The possibility of having 50 signed makes it attractive to supplement or add signatures to their perennial set of gold plaques. With the exception of Bob Feller (elected 1962), all electives honored by this set are deceased.
While setting up at a card show across the street during a Hall of Fame weekend, a local memorabilia shop owner told me the story of a large purchase of Artvue black and white Hall of Fame plaques that the Hall sold to him back in the mid-1980s. These were overstock from the Hall of Fame Gift Shop that were still in pristine white, cellophane wrapped condition consisting almost exclusively of deceased electives that Hall of Fame visitors had no interest in purchasing. They wanted to clean out their stockroom and only sell their gold versions off the rack or by mail order. These postcards were the most current black and white versions with the vertically aligned baseballs.
The price was right so the storekeeper bought the entire inventory and found a place for them on his showroom floor. A few months passed with little activity until a man from Long Island, New York, came and offered to buy the entire lot. The storeowner was all too happy to rid himself of these three-legged dinosaurs and a deal was made.
Not long after, signed versions of the exact cards spread throughout the New York area card show market. Collectors began to gobble up these "treasures" attracted by their perfect condition and bold autographs. A prominent New York area dealer bought a large portion of these thinking he was making a real score. When the truth was exposed, the forger disappeared down to Florida and the dealer discreetly sold his stock slowly through auctions. To this day the legacy of now deceased forger R.D. still permeates the hobby of collecting black and white National Baseball Hall of Fame plaque postcards.
To read more about Baseball Hall of Fame Postcards, click here...
Baseball Hall Of Fame Gold Plaque Postcards