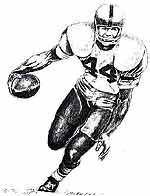 Editor's Note: A collector's favorite team, favorite player, or a memorable season, are often the focus of collecting sportscards. The following story highlights a valuable NFL rookie card for a player who never played a single professional game, and yet would currently command $600 in a PSA Mint 9 if you could find one. His card is not the rarest of the 1962 Topps football set by any means. It is nearly impossible to find in Mint or Gem Mint condition, but so are the rest of the cards in the set. The reason this player's card is so highly valued is because he was a hero of a different sort. Fred Reed takes us back to 1962 and shows us just why card the rookie on card #36 was so special...


Ernie Davis -- NFL Rookie Who Never Was

Card

EX 5

EX MT 6

NM 7

NM MT 8

MT 9

1962 Topps #36

$32

$55

$110

$325

$600

 

Source: April 2000 Sportscard Market Report (SMR)

Number of Cards Graded by PSA

EX 5

EX MT 6

NM 7

NM MT 8

MT 9

0

4

*24

*20

0

Source: PSA Population Report -- 1999

 
Running Back Barry Sanders announced he was retiring from professional football because the game didn't interest him any more. Sanders is just short of becoming the greatest rushing back in NFL history.
Oh, if Ernie Davis had ever had the opportunity Sanders did, oldtimers contend. Davis, the first Black Heisman Trophy winner, is surely the greatest pro running back who never was, they say.
A protégé of all-time great, Cleveland Browns fullback Jimmy Brown, Davis was recruited to Brown's alma mater, Syracuse University. Fresh from a glorious high school career, young Davis was not daunted to follow in the footsteps of so great a running machine as Jimmy had been for the Orangemen.
According to Brown, himself, the young runner's only concern was whether the Syracuse schedule in upcoming seasons would be tough enough to test his mettle. Brown says Davis' concern was not youthful bravado, he merely wanted to compete against the fiercest opponents available.
Davis did play and well, too. He led the high-powered Syracuse offense to an undefeated season, and personally devastated Texas in the 1960 Cotton Bowl scoring on long runs and intercepting passes.

Breaking the Color Barrier: The Heisman Trophy

By the time his collegiate career was done, Davis had broken all of Jimmy Brown's records at Syracuse, led the Orangemen to a national championship, and in 1961 became the first black man to win the Heisman Trophy -- an honor denied even Brown due to his race.
Davis averaged 5.5 yards per carry his senior year, and set Syracuse career records for TDs, points scored, rushing yardage and all purpose yardage. His last game as a collegian was against the Miami Hurricanes in the Liberty Bowl. Davis ran for 140 yards and a TD in the 15-14 victory.
At 6' 2" and 210 pounds, Number 44 was swift as a jaguar and elusive as a weasel, according to oldtime fans for the Syracuse Orangemen.
Graduating in four years, the soft-spoken Davis turned down lavish riches from the upstart American Football League . . . again because he wanted to test himself against the best competition, according to Brown.
As the most publicized rookie in the class of 1962, he was also the most coveted new acquisition. Brown's Cleveland Browns, the team of the '50s seeking a return to past glories, got Davis' rights after a blockbuster trade by relinquishing future Hall of Famer Bobby Mitchell and a Number One draft pick.
Davis became the highest paid NFL rookie and even Brown admits some apprehension about sharing carries with so talented a young back. But those are far from the reasons for Brown's high opinion of Ernie Davis. The man who wanted to play against only the toughest competition around never gained even a single yard of NFL turf.
For you see, the object of Jimmy Brown's high opinion died before ever suiting up in tandem with Brown in the Cleveland Browns' dream backfield.
On the eve of the annual college All Star game which opened the summer training season for the NFL back then, this publicized rookie was diagnosed with a blood disorder. Doctor's sidelined him from playing against the world champion Green Bay Packers.
When the Pack thrashed the upstart collegians without Davis, the winners generously awarded Davis the game ball. This honor stemmed no doubt in recognition that Ernie Davis was suited up against an even more formidable foe than the Packers -- blood cancer, leukemia.

I'll See You Around

Incredibly Davis found out about his deadly diagnosis from a stranger at a movie theater who'd heard about it on the radio. Given only two or three months to live, Davis refused to play the victim to his incredible circumstances. He confounded medical authorities by living each day focused on his return to football. He practiced long and hard and traveled with the team. His rookie year came and went while he charted plays on the Browns' sidelines.
Nine months after the fatal diagnosis, the illness felled Ernie Davis where no mere mortal could. Davis checked himself into a hospital quietly after leaving notes for friends. "I'll see you around," the notes said.
"Ernie Davis was not afraid to die. . . . To the end he was determined to live as a man with a future. Without show, without an ounce of self-pity, he refused to quit in his corner," is the way his friend, Jimmy Brown, eulogized the younger man's heroic struggle against impossible odds.
The greatest pro who never was, Ernie Davis, is memorialized by only two vintage football cards. In 1961 Nu-Cards #143 idolizes Davis the collegian for his power and speed as "the best back in the country." This card (not listed in the Sportscard Market Report) sells for more than $150 in choice condition.
Davis' the only card witnessing the NFL career that never was, is his 1962 Topps #36 rookie card, which would have the first card of a promising career, had the fatal disease not taken its toll. This card books for more about $325 in PSA 8 condition, one of the highest priced cards in the set.
All that without ever playing a down in the NFL. If only the greatest pro running back who never was -- had been, what glory might Barry Sanders have chased then? Maybe he'd still be interested in the game, afterall.