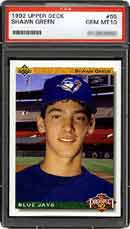 Note: The following interview originally appeared in the April 2000 issue of the Sportscard Market Report. Shawn Green was traded with second-base prospect Jorge Nunez by the Toronto Blue Jays to Los Angeles for Raul Mondesi. He was recently signed to a six-year, $84 million contract with the Dodgers.
Shawn Green's rise to stardom has come fast and furious. His name may not be as popular as Sosa or Griffey, but Green has put up numbers the last few years that would make any major league All Star proud to own. Green offers a combination of power and speed that very few players can match. While other sluggers muscle the ball out of the yard, like Bagwell or Piazza, Green drives the ball out of the park with a smooth, fluid swing. Green doesn't try to overpower the ball; he simply meets it with a graceful smack as the ball sails over the fence.
If you close your eyes for a minute, Green almost reminds you of a modern day Ted Williams. No need for 20-inch pythons here, it's all in the swing. His days playing for the overlooked Toronto Blue Jays are gone. Now he must perform in Hollywood. Shawn was kind enough to spend some time with us and discuss his new team, his experiences and his hopes for the future.

It seems that it was only a few years ago that you were playing high school ball out here in Tustin. Your progression to the big leagues seems to have happened so rapidly. Could you explain what the transition has been like?
Up until about 1998, the progression was basically normal. My first few years at the major league level were solid, but not spectacular. After that, I put up some pretty good numbers in 1998 and 1999. That's when things started to change and this past winter has been a whole new experience.
You have put up some outstanding numbers the last few years and seem to be getting better. What do you think were the biggest keys to your great improvement? Was it simply experience, playing time or was it physical?
The key for me was simply getting more playing time. I didn't get a chance to play everyday my first few years and I think if I were given the chance earlier, I would have put up these kinds of numbers faster.
Your running game has become a real offensive weapon. Is this something you really worked on the last few years or have you always had the ability to steal bases?
I have really worked on it a lot over the last few years but it has been a combination of those things. Maury Wills (running instructor) helped me a great deal starting in the spring. The key thing for me was really learning how to steal bases and knowing when to go. It's not just about pure speed.
The last few months must have been crazy for you with the big trade. Could you describe for us what a day in the life of Shawn Green must be like?
It really has been overwhelming. In years past, I would relax and rest in the off-season. The funny thing is, now, the start of the season won't come soon enough. (laughs) Then I might be able to relax a little. (laughs)
When the deal was finalized, how did you feel knowing that you were coming back to Southern California?
For a ballplayer, there is no greater thrill then to have the opportunity to play in your hometown. The Dodgers have such a great organization. In the past, my family would have to follow my career through radio and television but now they can come to the games and see me in person. It's a great feeling to have that family support when you're playing.
Like the Yankees, the Dodgers have a rich history. How do you think it will feel to put that uniform on for the first time in front of your home crowd?
It's going to be incredible. I have never played here so it will be all new to me. The other day, the team had an optional workout at the stadium and it was a little torn up but I am sure, when the season starts, that the field will be in great shape.
A lot is made about making adjustments from the American League to the National League. Some say that the American League is a breaking ball league and the National League is a fastball league. First of all, do you think there really is a lot of truth to this and what adjustments, if any, do you think you will have to make at Dodger Stadium?
There is a difference but the difference is not as drastic as some people claim. The 2-3-4-5 hitters in the lineup are pitched the same way in both leagues. Those guys will get a steady diet of breaking pitches as always. The bottom of the lineup is where you see the biggest difference. In the American League, guys at the bottom of the lineup can really hit so they are pitched similarly to the middle guys. In Toronto, Homer Bush was our 9th hitter and he hit over .300, had some pop and could really fly around the bases. In the National League, the pitcher hits 9th and 7-8 hitters usually can't swing the bat like the middle guys can. These guys see a lot of fastballs. That's where the difference is. As far as the stadium is concerned, I am looking forward to playing on natural grass. Dodger Stadium is a little bigger than Toronto but, overall, it's the same game.
How did you like playing in Toronto and what will you miss most about playing there?
I will miss the people the most. I have built some great friendships and it will be a little weird to not have those guys around when you are playing during the regular season. The city is great too; I really enjoyed playing there. Skydome was a nice stadium but I won't miss the turf. (laughs)
You are still a very young player and have many years ahead of you, but if you had to pick one or two favorite moments so far in your career, what would they be?
Meeting Ted Williams at the All-Star Game last year was a standout moment for me. The last few weeks during the 1998 season were probably the time I enjoyed playing the most. We made a serious run at the playoffs but came up just a bit short. That was an exciting time. That same year, I achieved the 30-30 (30 home runs and 30 steals) and that meant a lot to me because I was the first Toronto Blue Jay player to do it.
Some players keep certain items from their career or collect momentos from other players. Do you keep a collection of personal items or from other players? If so, what are some of your favorite pieces?
I collect a little of both. At the All-Star Game last year, the players were presented with a dozen hats that had their names embroidered on them. A lot of the players were trading them with each other. I was able to get hats from Nomar Garciaparra, Derek Jeter, Rafael Palmiero, Manny Ramirez, David Cone and Cal Ripken to name a few. I also was able to get a few signed baseballs that day.
As far as items from my career, my favorite momentos would have to be the base and bat from my 30-30 accomplishment. I also have some baseballs and bats from certain milestone hits like my 100th home run. Unfortunately, I have a pile of unmarked baseballs from some of these milestones, so I don't know which baseballs are from which milestones. (laughs) All of them are together in one group though.
What players have impressed you the most so far?
Rafael Palmiero. I just love watching that guy hit. Alex Rodriguez. To me, he is the best player in the American League and maybe in baseball. Chipper Jones is a player from the National League that impresses me a lot. It's just an incredible time in baseball because of the talent in the game right now. You have shortstops capable of hitting 40 homers; it's amazing. Guys are working out with weights more these days and there are just some outstanding athletes in baseball.
Who is the toughest pitcher you have faced?
Mariano Rivera. His fastball just explodes on you. As a left-handed hitter, Rivera becomes even tougher because he has that easy motion and the ball really cuts in on you. He's really tough.
You mentioned earlier that it was a great thrill to be named to your first All-Star team last year. Could you describe what that was like?
It was great for so many reasons. It was my first All-Star Game, we were playing in one of baseball's most historic parks, they had the All-Century team presentations before the game and the fans in Boston are great.
They have announced recently that you will be participating in a charity home run hitting contest in Las Vegas on Feb 12 and 13, 2000. Could you tell us a little about this?
It's going to be a televised event and it will be structured similar to the old television show "Home Run Derby." This contest will be different than the home run hitting contest that they have before the All-Star Game. It will go inning by inning and each player will get three outs per inning.
Obviously the pressure is going to be on when you suit up for LA. How different do you think it will be playing for LA in comparison to Toronto?
There will be a huge difference. Everywhere you go people have strong feelings about the Dodgers whether they love the Dodgers or hate them. It's going to be a lot of fun to be a part of that excitement. The home fans are great. The media coverage is obviously a lot greater here and everything you do is magnified, but in a way it will be a fun experience. I try not to get too caught up in the hype, so I will keep my distance from it.
Again, I realize it is early in your career, but do you have any career goals whether they are personal or team oriented?
I would love to win a few World Series here in LA. It's really exciting because we have great talent here, so I think we have the potential to turn it around quickly.
Are there any National League Stadiums that you are looking forward to playing in for the first time?
Wrigley Field is one I really looking forward to playing in. There are new stadiums in San Francisco and Houston this year, so it will be fun to see what those parks are like. Of course, I am looking forward to playing in Colorado. (laughs)
When you were a kid, were there any teams or players that you followed growing up? Did you collect?
I was really into collecting while growing up. I started around 1980 and my first set was the 1978 Topps set. For about five years, all I did was collect cards. Every gift for every occasion was a baseball card and, any time I had money, I would buy a card with it. I collected cards of Don Mattingly, Wade Boggs and Rod Carew.
Is the 40-40 feat something that you believe you can accomplish and is it something you are gunning for?
Before the 1998 season, José Canseco told me that I could do it. By the All-Star break, I was just about on pace for it. Last year, I didn't run as much because I had a powerful lefty behind me. I didn't want to take away that hole on the right side. Now, with the new lineup, there may be more opportunities to run but that certainly isn't the focus. The focus is doing whatever it takes to win. If you do that, the numbers will pile up anyway.
If there is one thing that you would want fans to know about Shawn Green what would it be?
I just want people to realize that I am just a regular guy. I have a lot of fun playing baseball and I don't take myself too seriously. It's nice when fans treat you like a real person not just an athlete...that means a lot to me.

To read how Shawn Green and other players did in the Big League Challenge, which benefited the Players Trust for Children, click here...
Heavy Hitters Going Deep for Charity

To read more interviews, click on the name below...
Tom Candiotti
For more information about the monthly publication these interviews originally appeared in, click on the Sportscard Market Report (SMR).

To check the values of sportscards featuring Green, click on Shawn Green Sportscards.