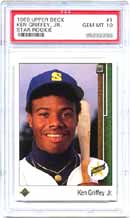 Well, if you want to hit a home run, there's no better hitter's ballpark in America than Mile High Stadium.
With the Cincinnati Red's down by one run in the fourth inning, Griffey drilled his 400th career homer of Colorado Rockies' pitcher Rolando Arrojo to tie the score at one. The Rockies went on to defeat the Reds by a score of 7-5 but the focus remained on Griffey. Griffey not only entered a very exclusive club, but he was also the youngest player to get there. Mark McGwire was the fastest in terms of at-bats, but Griffey, at 30 years and 141 days old, reached number 400 before anyone else. Jimmie Foxx set the earlier record at 30 years, 248 days...
The historic homerun came the day after Griffey connected on his first homer as a Red. That one came before the home folks and many baseball analysts think that blast will help Griffey relax after getting off to a slow start. After the trade that sent Griffey to Cincinnati, many baseball experts were quick to pick the Reds as a favorite for postseason play. With Griffey being the main attraction, the pressure was on. Now Griffey seems more relaxed at the plate and he is sure to put up big numbers at his new home field.
Interestingly enough, Griffey's blast came on his father's 50th birthday and, believe it or not, Griffey has homered four times on his dad's birthday. You may remember that Griffey also went back-to-back with his father while they were both members of the Seattle Mariners several years ago. They homered consecutively against the Anaheim Angels and became the first father/son duo to do it.
Griffey ranks fifth on the active list of 400 home run club members but, more importantly, many feel that Griffey has put himself in prime position for a run at Hank Aaron's career home run mark of 755. There are five active members of the 400 home run club: Mark McGwire (525), Barry Bonds (447), Jose Canseco (431) and Cal Ripken Jr. (403). Time will tell if Griffey remains healthy enough to pursue the all-time mark but, if he hits an average of 40 per year over the next 9 seasons, he will hit number 760 at age 39. With the way athletes condition themselves these days, he stands a great chance.
Griffey's 1989 Upper Deck #1 card is his most desirable but don't overlook his other rookie cards. His 1989 Fleer Glossy rookie card #548 is very difficult to find by modern card standards and his 1989 Donruss Rookies card #3 is extremely difficult in gem mint condition due to the packaging of the sets. The larger sized 1989 Bowman Griffey rookie card #220 is also difficult in mint condition due to the odd dimensions of the card. Bowman decided to stray from the traditional measurements and go with a radical, larger design. This set is very popular with collectors.
The season has just begun so keep your eye out for future milestone accomplishments. Next up for the 400 home run club, Fred McGriff (9 away) and Harold Baines (27 away). See you at the ballpark.
To see a list list of members of the 400 Homerun Club, click here:
Thirty Players Now Belong to the 400 Homerun Club