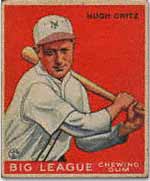 Over the past several years the effect that PSA has had on our hobby has been unmistakable! More and more collectors have realized greater confidence in their own collections and in potential additions to their collections that have been attested to by PSA. With some brief analysis of the Population Report, we can begin to better understand the true number of individual, high grade examples out there of many different types of cards. It has shown us that some cards are much easier to locate than once thought, while at the same time pointing out cards that are surprisingly scarce.
The goal of this article is to point out several of the most elusive cards around! Now, these cards are not standard rarities that you think of immediately, rather, what would otherwise appear to be common, everyday cards. Hopefully, there will be a card or two from this listing that makes you say, "Gee - I didn't realize that this card is so tough!" Anyway, here they are, in chronological order:

1933 Goudey Low Number Commons in PSA 8 or higher
Thirty-three cards fit this description, and only 113 total examples have graded 8, for an average 3 1/2 of each card! Wow! That's tough! Some cards, such as #3 Critz, #4 Schuble, #8 Johnson, #10 Myatt and #52 Cohen have only one example graded 8, with none higher!
1948 Bowman Clint Hartung - PSA 8 or higher
The 1948 Bowman set made up of cards graded by PSA is very collectible, due to the number of key rookie and star cards included, and the low number of cards in the set (48). While some cards have as many as 50 copies graded PSA 8, one number that may slow you down is #37, Clint Hartung. There are only three copies graded 8, with none higher, and only six copies total have been graded by PSA, the lowest of any in the set!
1948 Leaf Satchell Paige PSA 8 or higher
This is the first of a few individual cards of superstar players that are virtually impossible! This is the single printed rookie card of the legendary pitcher, and only one example has gotten the NM-MT 8 grade, with none higher! Wow! Be on the lookout for it!
1948 Leaf Dom DiMaggio (along with #'s 64, 121, 133, 149, 158)
This is a group of exceedingly difficult 1948 Leaf cards, each of which has seen not a single copy get the straight NM-MT 8 or higher grade! Now that's rare! A good digger would make himself very happy if he could find a raw example of any of these in NM-MT or better shape! Happy hunting!
1951 Bowman Whitey Ford in PSA MINT 9
This is the first of two vitally important rookie cards from the 1951 Bowman set that always seem to be found in great shape but aren't quite strong enough to get the 9 grade! As of the Fall '99 Population Report, 138 copies of this gorgeous rookie and #1 card had been graded, with 21 getting the 8, but no 9's or 10's! If one is ever unearthed, it will assuredly bring an astounding price at auction.
1951 Bowman Willie Mays in PSA MINT 9
Similar to the Ford card described above, the Willie Mays rookie card is just not seen in MINT condition! Of 243 examples graded to-date by PSA, only one has had the ingredients necessary for the grade! Now that's a tough card!
1952 Topps Bud Byerly, Eddie Kazak, Roy Smalley, Clarence Marshall and Charley Maxwell
The 1952 Topps set is absolutely the king of all post-war sets, with numerous collectors actively seeking to complete the tough 407 card bonanza! Most collectors prefer higher graded cards and are comfortable with NM 7 or NM-MT 8 cards, but several hardy individuals have tried or are trying to complete the beast in PSA 8 only! Their toughest challenges lie in Bud Byerly cards (#161), Eddie Kazak (#165), Roy Smalley (#173), Clarence Marshall (#174) and Charley Maxwell (#180)! These five cards are the rarest in PSA 8 or better shape, and are the only cards in the entire set with five or fewer examples graded 8 or better! Tough!
1953 Topps Ted Wilks and Dick Groat
The 1953 Topps set isn't quite as sought after as the 1952 group, but rest assured there are many out there who are hot for these cards! Anyway, the set is smaller and there are fewer copies of each card PSA graded on average, and two rarities that jump out from the pages of the Population Report are the cards of Ted Wilks (#101) and Dick Groat (#154), both with only three copies graded PSA 8, with none higher!
Certain 1954 Bowmans in PSA 8 or higher
The 1954 Bowman set is really not nearly as collected as other sets from the mid 50's, but that doesn't mean it doesn't have its own group of rare cards! The following are all supremely tough in PSA 8 or better with no qualifiers: #129 Hank Bauer (1), #130 Milt Bolling (1), #140 Saul Rogovin (1), #153 Whitey Lockman (1), #160 Danny O'Connell (0), and #217 Hank Thompson (1)!
1954 Topps in PSA 8 or higher
The 1954 Topps is a highly collectible set with amazingly subtle rarities. Seemingly simple cards such as #76 Fred Haney (2), #126 Ben Wade (1), #157 Don Lenhardt (2), and #169 Jim Hughes (3) are all exceedingly scarce in straight 8 or nicer! Go find these raw gems and cash in!
1955 Topps Duke Snider PSA 9
The awe-inspiring 1955 Topps set has produced numerous cards that are extremely sought after, such as Roberto Clemente, Sandy Koufax and Harmon Killebrew rookie cards, beautiful Hank Aaron, Ernie Banks and Al Kaline second year cards, and other tough superstar players such as Jackie Robinson, Ted Williams and Willie Mays! None, however, have been as impossible to find in MINT condition as the final card of the set, that of superstar Duke Snider. Nearly 200 copies of this "Duke of Flatbush" #210 card in the 1955 set, have been graded so far by PSA, and not a single example has attained the vaunted PSA 9 or 10! Truly a Population Report rarity!
1957 Topps Dodger Sluggers PSA 9
There are cards all over the place that you see constantly, in dealer inventories and collectors' collections. This is that type of card - it's everywhere, and yet in MINT grade it's nowhere! Over 330 examples of this beautiful four-player card have been sent to PSA, and as yet not a single one has gotten the 9 or 10! Hopefully there's a MINT one out there somewhere.
Certain 1960 Topps Hall-of-Famers in PSA 9
1960 Topps are absolutely one of the company's best issues, in this writer's humble opinion. This horizontal, side-by-side photo, combined with snow-white borders, flawless print quality, razor corners and awesome gloss surely make for a beautiful card! Hall-of-Famers such as #10 Ernie Banks (1), #28 Brooks Robinson (2), #50 Al Kaline (1), #200 Willie Mays (5), #210 Harmon Killebrew (1), #250 Stan Musial (4) and #300 Hank Aaron (4) are exceptionally tough to find in MINT 9 and provide outstanding potential!
1962 Topps Sandy Koufax PSA 9
1962 Topps cards are notoriously difficult to find in PSA 9 or PSA 10 due to their age and their brown wood-grain borders. This card, of spectacular Sandy Koufax, has seen a total of only one copy graded 9, and none graded 10! That's a toughie!
1963 Topps Specials in PSA 9
These "special" cards are often sought out by collectors looking to add to their collections of their favorite player. Several fans are building MINT 9 runs of every Topps card of Roberto Clemente or Mickey Mantle, for example, and these runs can include leader, team and special cards. The 1963 specials, such as #18 Buc Blasters (1), #68 Friendly Foes (0), #173 Bomber's Best (2) and #242 Power Plus (1) are all tough in MINT 9!
1966 Topps Pete Rose PSA 9
Now here's a shocker! It's commonly known that the '66 Rose is a first series, double-printed card, and we know that another key first series card (#50 Mickey Mantle) has 11 copies graded 9, so this must be an easy card, right? Wrong! As of the Fall '99 Population Report, there are zero 9's and zero 10's! Wow!
1968 Topps Nolan Ryan PSA 10
How's this for the ultimate Population Report rarity? An astounding 1,302 copies of this card have been graded by PSA, with 634 EX-MT 6 or less, 422 NM 7, 222 NM-MT 8 and 24 MINT 9, but a grand total of none in the GEM MINT 10 column! If one were to surface, imagine the price it would bring!
1969 Topps Hank Aaron PSA 9
Many 1969 Topps cards are very tough in PSA 9 due to the notorious centering of the cards from that year, and this card of home run king Hank Aaron is the poster child for this scarceness. Only three copies have been graded MINT 9, with zero 10's! That's a tough card for such a recent issue!
1970 Topps Reggie Jackson and Roberto Clemente PSA 9
These cards have got to be easy, right? They're only 30 years old, included in the first few series of the set and as easy to find raw. Well, believe it or not, only one example of the #140 Reggie card has gotten a MINT 9 (with no 10's), and the #350 card of Roberto Clemente has seen only three examples grade MINT 9, making it the rarest regular issue Topps card of the great Clemente!
1971 Topps Superstars in PSA 9
The final group on the list consists of more cards from those sets with pesky background colors which are very susceptible to wear and chipping! The 1971 Reggie Jackson (#20), Pete Rose (#100), Tom Seaver (#160), Johnny Bench (#250), and Brooks (#300) and Frank (#640) Robinson Topps cards have yet to materialize a single copy graded either MINT 9 or GEM MINT 10 by PSA! They've got to be out there! Collectors, go get 'em!
Well, that's it! Hopefully you've enjoyed this listing of some of our hobby's great rarities! Feel free to e-mail me at chris@superior.com if you want to add to the listing! Happy Collecting!